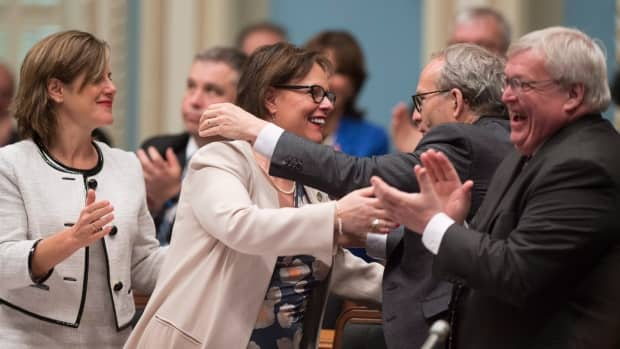 [ad_1]

When Quebec passed its cannabis legislation into law this week, Public Health Minister Lucie Charlebois stressed, not for the first time, that legalizing the drug was Ottawa's idea.
"It's important that Quebecers know that the federal government took the decision, and we are making measures that we think are going to protect the health and safety of the population," she said.
In other words, the province got it done, but not by choice.
Indeed, Quebec will be among the most conservative jurisdictions in the country when it comes to the sale, distribution and consumption of cannabis.
Not backing down on home growing
Quebec's approach most clearly contrasts with Ottawa — and most of the country — on the question of home growing.
The federal government wants to allow people to grow up to four plants at home. But the Philippe Couillard government is against the idea.
The province is one of only three jurisdictions in Canada that hope to ban home growing. Manitoba and Nunavut are the others, though Nunavut, as well, recently walked back that plan.
Last week, the Senate introduced an amendment to the Cannabis Act that would let provinces decide whether to allow home growing. But the federal government rejected that change.
The conflict could lead to a complex legal battle between Quebec and Ottawa. The province has made it clear it has no intention of backing down.
"We're ready to fight," Charlebois said after her government's bill was passed. "That's what people asked for."
Quebecers are worried that if the province opens the door to homegrown cannabis, some people will grow too much for their own consumption and then be tempted to sell it, Charlebois said earlier this year.
They also worry, she said, that teenagers might come across their parents' pot and sample it.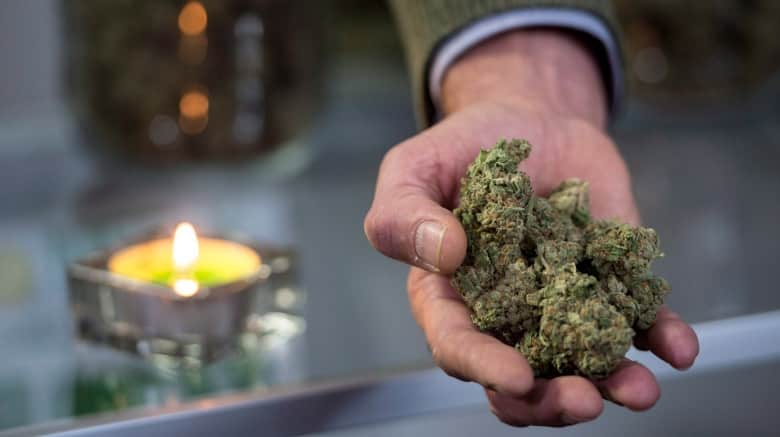 In Quebec, marijuana will only be available for purchase at stores and on a website run by a government corporation. (Paul Chiasson/Canadian Press)
Her comments are reflected in opinion polls, which suggest Quebecers tend to be more wary of marijuana than, say, sharing a bottle of wine while having a picnic in the park (which is permitted in Montreal).
Contrary to Quebec's reputation as the most libertine province in Canada, only 46 per cent of Quebecers are in favour of legalization, compared with 58 per cent in the rest of the country, according to a CROP poll conducted last year for Radio-Canada.
(Quebec ranks near the middle of the pack when it comes to consuming marijuana. The province consumes 18 grams per capita, compared with the countrywide average of 21 grams.)
And while the Couillard government's cannabis rules may be tough, they weren't tough enough to win over the opposition parties, who wanted even more restrictions.
The Parti Québécois argued for tighter controls on where cannabis can be smoked in public (under the new law, it will follow many of the same rules as tobacco), while the Coalition Avenir Québec wanted the age limit raised from 18 to 21.
Only Québec Solidaire, which holds three seats, voted with the Liberals.
No private stores
Quebec is also tightly controlling the sale of cannabis and trails well behind other provinces when it comes to production of the drug.
Marijuana will only be available for purchase at carefully curated stores and on a website run by the Société Québécoise du Cannabis (SQDC), a new government entity overseen by Quebec's liquor board.
So far, Quebec has announced plans for a mere four stores across the entire province, though it hopes to have 20 open by December.
Other provinces, including British Columbia, Alberta and Saskatchewan, are experimenting with private enterprise, which might be more flexible responding to spikes in consumer demand.
Activist Marc Emery opened a string of cannabis stores in 2016, but they were quickly shut down. He has since been ordered to pay $5,000 in fines. (Paul Chiasson/Canadian Press)
Quebec's union of agricultural producers has, in the meantime, encouraged farmers to think about the enormous "economic potential" of growing marijuana.
The group estimates cannabis production in Quebec could generate between $500 million and $700 million annually.
But Health Canada has awarded only eight licences for the production of medicinal marijuana in Quebec, compared with 59 in Ontario.
Not considered a revenue source
Quebec says it isn't looking to make money from cannabis, despite potentially lucrative returns. 
Overall estimates of the Canadian market for pot vary widely, but range between $10 billion (CIBC World Markets) and $22.6 billion (Deloitte) in annual sales.
Even at their low end, estimates suggest a major opportunity.
The parliamentary budget officer recently pegged the annual national demand for recreational pot at 650 to 690 tonnes, for a total retail market of $5.5 to $5.8 billion.
Finance Minister Carlos Leitao told CBC's Daybreak earlier this year that he doesn't expect cannabis to "ever be a huge source of revenue" for Quebec.
The objective, he said, is "to control and hopefully diminish consumption of this product."
Aurora Cannabis opened a facility last November in Montreal, but the province has so far been a minor player when it comes to production of cannabis. (Ryan Remiorz/Canadian Press)
Regardless of how much the government earns on the sale of pot, it is promising $25 million a year will be set aside for health initiatives and research.
Even the government's expectations for its own legislation are conservative.
After adopting the bill, Charlebois pointed out it wasn't perfect — and that, perhaps in future, Quebec would make it legal to grow one or two plants at home.
But, she said, major concerns remain around health, and she stressed that pot is not a "trivial" substance. In other words, Quebec's legislation isn't likely to be relaxed any time soon.
[ad_2]