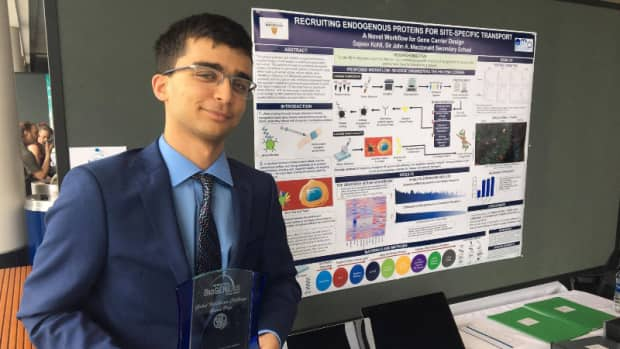 [ad_1]

Waterloo high school student Sajeev Kohli has won the top prize at the 2018 International BioGenius Challenge in Boston for his work using nanoparticles to treat cancer.
Kohli, a grade 11 student at Sir John A. Macdonald secondary school, represented Canada in the challenge. He brought home the top honour and a cash prize of $7,500.
The teen also took first place in May at the Sanofi Biogenius Canada science fair for his research on developing a new form of cancer treatment.
"To be recognized at this international competition as a grand prize winner is truly a very big honour for me, and I am just very appreciative and very grateful that I've received this recognition for this work," said Kohli.
The teen's research was inspired by his uncle's cancer diagnosis last year.
"I witnessed the pain and agony associated with the disease and also associated with existing treatments," he said. "I wanted to research an alternative, non-invasive treatment option to alleviate the pain and suffering of people put into a similar situation."
Sajeev Kohli (second from left) won the Sanofi Biogenius science fair earlier this year. (Submitted by Sajeev Kohli)
After the awards ceremony, Kohli said he had the opportunity to network with professionals in the sciences.
"They were very encouraging," he said.
Kohli said that his project has given him the opportunity to work with researchers in labs at the University of Waterloo and the Sparc BioCentre at SickKids.
And, he said, it is thanks to the Sanofi Biogenius Canada competition that he has had a platform to showcase his research.
In addition to attending his regional and the national science fairs, Kohli was part of Team Canada at the International Science and Engineering Fair in May in Pittsburgh.
"But it was Sanofi Biogenius Canada that gave me the platform to first present my work at the regional level, the national level and finally at the international level. I credit a large part of my success to them for giving me the support I needed to be able to go and showcase my work to professionals in the scientific field," he said.
Kohli hopes to continue this research into his undergraduate studies and beyond, and "to keep working at it and to get it to a point where it can actually take the form of a treatment that can be applied and can help to better the lives of people suffering from different types of cancer."
[ad_2]