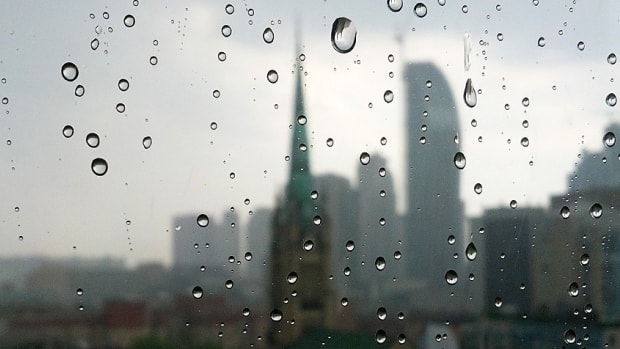 [ad_1]

Muggy weather has settled over Toronto on Monday as a heat warning and a severe thunderstorm watch remain in place.
A severe thunderstorm warning has ended.
Flooding from a quick storm that moved across the Greater Toronto Area shortly after noon on Monday has closed a northbound Don Valley Parkway ramp from Dundas Street East.
"The threat is still there and that's why the severe thunderstorm watch is still in place," says Geoff Coulson, warning preparedness meteorologist at Environment Canada, based in Toronto.
"There is a possibility of more activity this afternoon."
Here's that quick storm that passed through <a href="https://twitter.com/hashtag/Toronto?src=hash&amp;ref_src=twsrc%5Etfw">#Toronto</a> from the <a href="https://twitter.com/CBCToronto?ref_src=twsrc%5Etfw">@CBCToronto</a> harbour cam.<br><br>5 minutes in 20 seconds.<a href="https://twitter.com/hashtag/ONStorm?src=hash&amp;ref_src=twsrc%5Etfw">#ONStorm</a> <a href="https://t.co/ECqs3YUq6m">pic.twitter.com/ECqs3YUq6m</a>

&mdash;@jameswattie
A few areas of Toronto experienced downpours but Environment Canada has not heard reports of strong winds, he added.
Under the severe thunderstorm watch, the federal weather agency says current weather conditions could produce storms that would bring on strong gusts of wind, large hail and heavy rain.
Damaging winds gusts of 100 kilometres per hour and torrential downpours with 25 to 50 millimetres of rain in under an hour are the main threats, Environment Canada said. 
In the watch, the federal agency reminded residents that large hail can damage property and injure people, while strong gusts of wind can break branches off trees and toss debris into the air.
It also said intense lightning can accompany thunderstorms and such storms can produce tornadoes.
I41030 Don Valley Parkway NB North of DUNDAS ST E: Right lane blocked due to flooding. Maintenance crews on scene.

—@TO_DVP
Meanwhile, the heat warning, which was first issued on Saturday, is the first of this year for Toronto and its surrounding area, according to Geoff Coulson, warning preparedness meteorologist at Environment Canada, based in Toronto.
Last year, only one heat warning was issued for the Greater Toronto Area, from Sept. 23 to 26, while seven were issued in 2016.
'Last day of the heat event'
"This is going to be the last day of the heat event. We are anticipating a cold front is going to sweep through late this afternoon and this evening to bring in a cooler and drier brand of air for Tuesday," Coulson said.
"But in the process, we also are going to see some shower activity this afternoon and through the evening hours and likely some thunderstorm activity as well as that cold front goes through." 
On Monday, temperatures are expected to reach into the low thirties and humidex values are expected to be near 40. The high is forecasted to be 31 C, with a low of 16 C at night. 
Storms could continue until 8 or 9 p.m. in the GTA.
The high is expected to be 22 C on Tuesday with a low overnight of 14 C. The high is expected to be 25 C with a low of 13 C on Wednesday.
Environment Canada issues heat warnings when there are two or more consecutive days of daytime highs of 31 C or higher, the overnight lows will not drop below 20 C, or the humidex is 40 or higher. 
More seasonal weather returning to the GTA
The current warm air over Toronto is from the Gulf of Mexico, Coulson said, while the cold front is coming from Minnesota and Lake Superior area. 
(CBC)
Coulson said the cold front means more seasonal weather is returning to the Greater Toronto Area, which should have about five to six days of seasonal weather after Monday.
Following that, warmer than normal temperatures are expected in the last week of June.
Coulson said the long range forecast is calling for a warmer than normal summer.
"Certainly, this year is shaping up to have a bit more of a summer than we had last year," he added.
Heat poses the greatest risks for young children, pregnant women, older adults, people with chronic illnesses and people working or exercising outdoors, Environment Canada added. 
[ad_2]