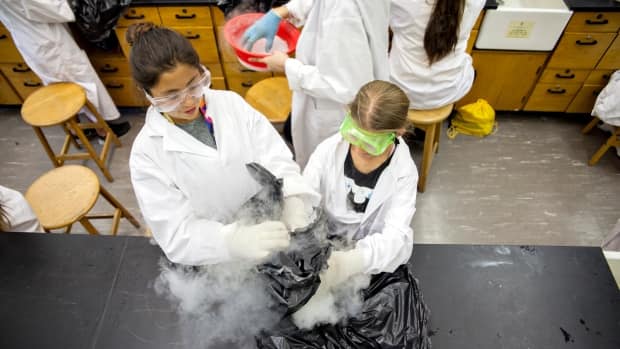 [ad_1]

Emma Smith remembers being a girl on the Western University campus in London taking part in a health sciences camp specifically for Indigenous girls.
Smith, who is Anishnabeg and is from Walpole Island, said the camp "was something that kind of kept with me for a number of years." 
"I think it really led me to do more academic focused work in school and maybe one of the reasons I came to university was that I got to check out a campus that young."
She's now studying at the University of Waterloo student and is preparing to run a science, tech, engineering and math (STEM) camp for Indigenous girls this summer called Impact, which is part of Engineering Science Quest.
She said she really remembers the leaders at that camp.
"I don't remember any of the activities that we did, or anything like that, but I remember the leaders, and I remember how they were fun-loving, and they were cracking jokes with us and building that sense of community," she said.
"I think that's what I really try to do so hopefully, I guess, it inspires them."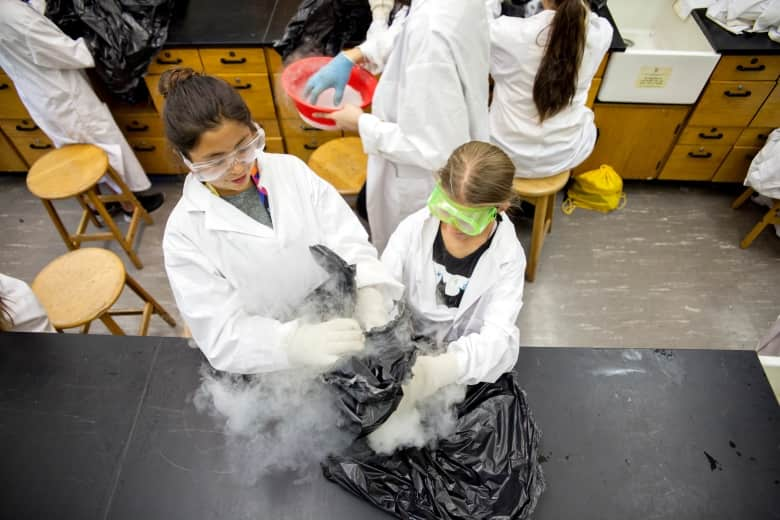 Two girls take part in an experiment at Impact camp at the University of Waterloo. (Supplied photo/University of Waterloo)
 'I can see her, I can be her'
Research has shown Indigenous people — and in particular girls and women — are not well represented in STEM careers, said Diana Parry, UW's associate vice-president of human rights, equity and inclusion.
The Impact camp is a way to reach out to girls, usually in Grade 7 or 8, to show them where STEM studies can lead.
The camp is as much for the girls as it is the caregivers, Parry added.
"The research in this area has really shown us that we need to do as much with the girls as we do with the caregivers. We know that caregivers really do influence the girls' choice of high school courses and then post-secondary institutions," she said.
This will be the third year Smith will be with the camp, and Parry said they've been fortunate to have Smith play such a large role in building the camp and the community.
"This camp is just a wonderful opportunity to build some of those connections with our Indigenous communities and really start to create pathways for these girls to see themselves at post-secondary education," Parry said.  "It's the whole mantra of 'I can see her, I can be her.'
'That girl, she makes video games'
Currently, the camp is only set to go for two more years, but Parry said they're always open to looking at opportunities to expand the camp.
Shyra Barberstock is the founder of the Indigenous social-networking company Okwaho Network, which is based on the Tyendinaga Mohawk Territory near Belleville, Ont.
She suggested one way the university could grow the camp is to take it to the Indigenous communities.
"If you go into the communities, and you put on programs within the community and you try to make it Indigenous-led, that would be so important," Barberstock said when asked what the next steps could be for a program like the Impact camp.
"I remember when I was young, sometimes all it took was something you thought was so cool and you didn't even know was possible and then all of a sudden you're like, 'Oh my god, I want to be like that person. That girl, she makes video games and she's incorporating her culture and maybe when I grow up, maybe I want to make video games.'"
Barberstock said the youth need to be able to see themselves in the field, so it won't work as well with non-Indigenous leaders.
"If you can bring Indigenous people who are leading in STEM and have them connect with them, that would be huge," she said. "That would make such a huge difference because then they'll say, 'If that person did it, I can do it.'"
Girls engineer buildings at the Impact camp at the University of Waterloo. (Supplied photo/University of Waterloo)
'So they can see themselves in tech'
The camp is in August and will bring about 10 girls and their caregivers to campus for two and a half days.
They will be welcomed by a local elder, stay in the residence at St. Paul's University College, eat in the college's cafeteria and take part in a number of events such as campus tours, a stop at the university's observatory for a lesson in constellations and a scavenger hunt.
Smith said she will take the girls into science labs as well. They'll learn the chemistry behind print-making and talk about the engineering that went into buildings and structures that the girls have seen either in their communities or while travelling.
Their big project will be combining beading with LED lights and circuitry — an activity inspired by Smith's own thesis for her fine arts degree.
"They can do natural beading things — so like flowers or bees — or it could be something more abstract where they just kind of go around the LED [lights] but then they're going to code it to blink or change colours or transition in different ways and then they can put it on a hat, they can put it on their shirt and they can wear it," Smith said.
Smith said she's excited to incorporate the tech and coding into this year's camp.
"This year, I really want to be more impactful in the tech so they can see themselves in tech … and they can see the broader fields that include technology as well," she said. "I hope that it's eye opening for them."
[ad_2]