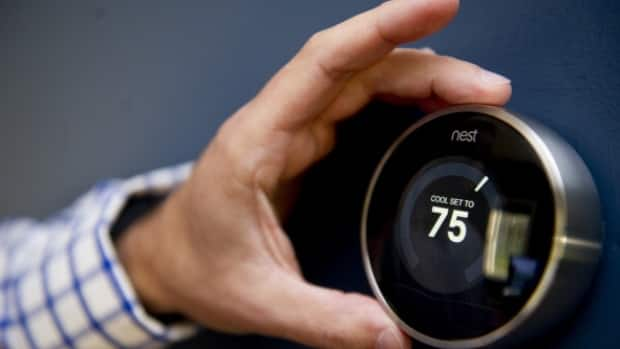 [ad_1]

Businesses and homeowners in Sudbury are disappointed that the incoming provincial government has cancelled rebate programs for energy efficient renovations, including smart thermostats, insulation and ground source heat pumps.
On Tuesday, premier-designate Doug Ford quietly did away with the Green Ontario Fund (GreenON), funded by proceeds from Ontario's cap-and-trade program.
Jacques Campeau, who owns Campeau Heating in Sudbury, says Ford's decision will be felt across the home renovation industry.
Campeau says he was excited when the program first launched late last year.
"The grants would've probably increased our growth for this year 15 to 20 per cent," he said.
Christian Pelletier recently bought his first home in Sudbury and says the GreenON rebates were a big financial incentive. (Radio-Canada)
Rebates 'made the difference' for new homeowners
Campeau is disappointed consumers will no longer have incentives to invest in energy-efficient options like ground source heat pumps, which are expensive to install.
Christian Pelletier says GreenON was a big financial incentive when he was looking to buy his first home.
"First time homeownership is quite the investment to begin with, and having a little bit of rebates on that kind of stuff really made the difference for us," he said.
Pelletier is in the process of renovating an old house in downtown Sudbury and was planning to upgrade the insulation when he heard that the program had been cancelled.
He checked with his contractor, and says he was relieved to hear the work would still qualify for the rebate because they had already signed a work agreement.
"A little bit of a sigh of relief on that front, but there's definitely some other rebates that we were looking at getting, moving towards just greener energy management in our new house," Pelletier said. "So it's a definite disappointment down the line."
Nickel Belt MPP France Gélinas says Ford's decision to scrap the rebates will hurt northern Ontario the most. (Jean-Loup Doudard/ Radio-Canada)
'What now?'
According to the GreenON website, rebates will be honoured if an application has been submitted by September 30.
Homeowners who have signed a work agreement with a contractor will also qualify if the work is completed by August 31.
But Nickel Belt MPP, France Gélinas, says many people who have already invested time and money in energy efficient projects are worried they won't make the deadline.
Up until Tuesday, Gélinas was promoting the program in communities throughout her riding, where she says people can pay thousands of dollars each month to heat their homes.
"I have hundreds of people in the process of taking advantage of this program, and now they are phoning our office non-stop to say 'What now?'," she said.
"This new premier-designate made a decision without really doing his homework. You cannot make decisions like this that will overwhelmingly hurt people in northern Ontario, who are the ones most affected by the price of hydro and not do your homework beforehand."
[ad_2]