[ad_1]

Dozens of people across the country are getting some strange looks as they go through airport security carrying bags filled with slashed-up envelopes. 
But if the security screeners have questions they haven't voiced them, at least not to Halifax's Rebecca Rathbone. She often finds herself carrying the remains of envelopes, and the used stamps adhered to them, to Montreal.  
"When you talk about putting a box or a bag full of stamps in your suitcase, you have to be strategic of how you fold your clothes so you can fit it all in," she said. 
"We'll just transport the stamps in our suitcases, because that's a lot less than mailing them. The mailing of the stamps can cost a lot of money." 
Joanne Normand, who works at Development and Peace's Atlantic office, sorts through some of the thousands of stamps that have been donated to the group. (Submitted by Rebecca Rathbone)
The used stamps are part of a countrywide fundraiser that makes an average of $30,000 per year for Development and Peace, an international development organization set up by the Roman Catholic Church in Canada. It raises money to support agriculture, education, and human rights programs in 70 countries.
Rathbone, the program's Atlantic co-ordinator, said the stamps are collected from parishes and Catholic groups across the country and brought to the head office in Montreal.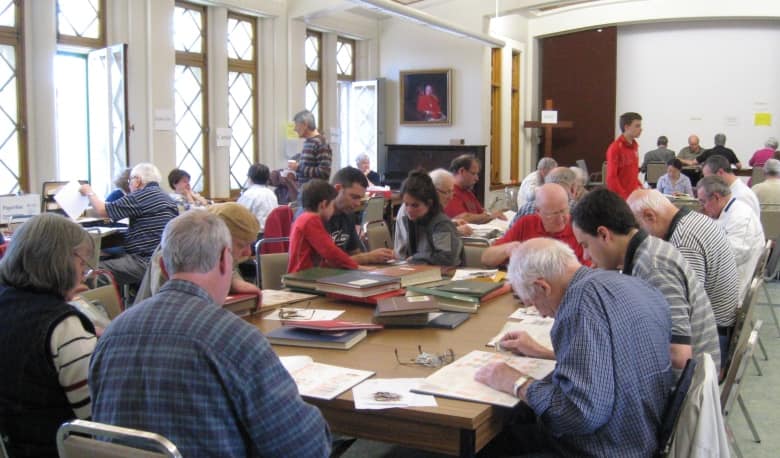 Collectors search through stamp albums put together by Development and Peace to see if a missing piece of their collection could be hiding there. (Submitted by Kelly Di Domenico)
Volunteers remove the stamps from the envelopes, clean them and place them in albums.
The stamps are then sold to collectors at sales in Montreal, Quebec City and surrounding communities, said Kelly Di Domenico, a communications officer with the organization.
Usually the stamps sell for between a nickel and a quarter, although a stamp once sold for $200 because it had a printing error, making it valuable to collectors.
The program started small in 1984 when a stamp enthusiast with the organization suggested collecting some stamps and holding a sale. 
Since then stamps have been gathered from coast-to-coast. It has become one of Development and Peace's more popular fundraisers, according to Di Domenico.
Kelly Di Domenico works at Development and Peace's office in Montreal. (Submitted by Kelly Di Domenico)
It is generally the sheer volume of stamps for sale that makes the money. The organization receives up to 25,000 stamps every year, said Di Domenico.
That means a wide selection to attract collectors, according to Guy Jeffery, the president of the Nova Scotia Stamp Club.
It's important for collectors that the edges of stamps not be damaged. Those donating stamps usually leave them attached to the envelope rather than risking removing them. (Submitted by Kelly Di Domenico )
"A lot of people get a lot of enjoyment out of the variety of stamps and collecting from around the world," he said. "There's no great value in modern stamps, but there's an awful lot of fun in collecting." 
Atlantic Canadians are helping fill those collections. They contribute thousands of stamps to Development and Peace every year.
"A lot of parishes have been collecting for a number of years," said Rathbone. "We have quite a few boxes in our office in Atlantic Canada waiting to go to Montreal.
"It's an easy way for people to get involved and I think that's kind of the appeal."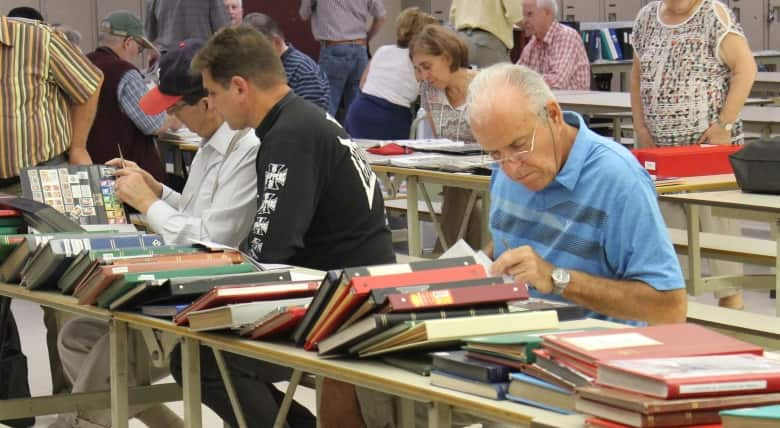 Development and Peace's stamp sales are held in Montreal, Quebec City and some smaller Quebec towns. (Submitted by Kelly Di Domenico)
Appealing or not, it takes many letters to accumulate thousands of stamps, especially in an age when many people communicate through email, text and social media rather than using postage.
"That's probably one of the miracles of this fundraising initiative," said Rathbone, "but I guess around the Christmas season people will get a lot of letters in the mail, so that's when maybe the collections will pick up a little bit.
"It's kind of charming to get something in the mail, so I don't think snail mail is quite dead yet."
[ad_2]