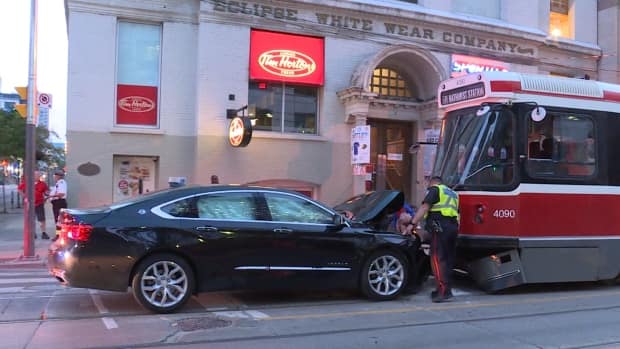 [ad_1]

A TTC operator was taken to hospital as a precaution after a car and TTC streetcar collided head-on at King and John Streets early Monday, officials say.
Another person was assessed for injuries at the scene but not transported, paramedics said.
A driver of a car, travelling eastbound in the westbound lanes on King Street, smashed into a 511 Bathurst streetcar going westbound near John Street about 5 a.m., police and TTC said.
Mike DeToma, spokesperson for the TTC, said the crash caused delays for nearly an hour.
The crash prompted the TTC to divert the routes of the 504 King and 511 Bathurst streetcars briefly, but regular service has resumed now that the road has been cleared.
Both vehicles were damaged in the crash, with the car sustaining significant damage, he said. The streetcar has been taken out of service.
Const. Clint Stibbe, spokesperson for Toronto police's traffic services, said it's too early to say if anyone will be charged.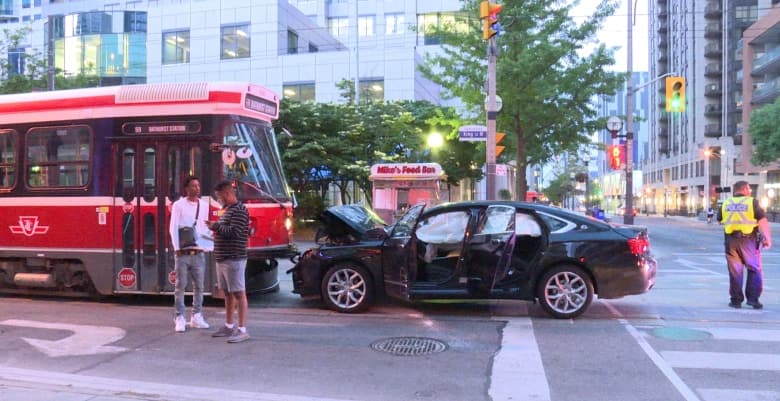 This car was travelling in the wrong direction and struck a streetcar downtown. (Tony Smyth/CBC)
ALL CLEAR: The delay at King and John is now clear. 504 King and 511 Bathurst has resumed regular routing. <a href="https://twitter.com/hashtag/TTC?src=hash&amp;ref_src=twsrc%5Etfw">#TTC</a>

&mdash;@TTCnotices
Crash / TTC Diversion – Car vs Streetcar. King St eastbound lanes at John St. Both driver being assessed by <a href="https://twitter.com/TorontoMedics?ref_src=twsrc%5Etfw">@TorontoMedics</a> Minor injuries. <a href="https://t.co/kGWiuzpSBq">pic.twitter.com/kGWiuzpSBq</a>

&mdash;@LateNightCam
[ad_2]