[ad_1]

Sunday could be a good a time to toast fathers with a refreshing beverage such as a beer cocktail.
As the craft beer rage continues to grow, it offers bartenders and mixologists a wide range of flavours — from wheat beer to milk stouts — as well as the added benefit of effervescence with which to make a refreshing drink.  
At The Red Rabbit restaurant in downtown Stratford, owner Jess Votary takes a 1930s classic, Blood and Sand (named for a 1922 Rudolph Valentino bullfighter movie), and re-invents it as "Blood and Swan" by adding IPA (India Pale Ale) from Black Swan Brewing Co. to the bourbon-based drink, along with the traditional Danish liqueur.
"With Cherry Heering and a little splash of orange juice, it's a perfect balance of fresh, bitter and sweet," Votary said.
Those qualities are paramount in a cocktail — a drink which blends and integrates an alcohol with some sort of mixer and a few other ingredients, including different distillates and herbals. A classic Negroni, for instance, is gin, sweet vermouth and Campari, along with an orange peel garnish.
Plenty of beer cocktails
There are classic beer combinations too. The Boilermaker, reputedly the drink of choice for miners in the late 18th century, is a shot of whiskey followed by a beer chaser. It can also be created by or dropping the liquor, shot glass and all, right into the beer mug. The famous Black and Tan is a pale ale topped with a stout slowly poured over the back of a spoon to create a two-tiered parfait effect, while a Shandy or a Radler — refreshing summer drinks — combine beer with citrus.
Other examples of beer and liquor include the Red Eye (lager and tomato juice; vodka optional), the Brass Monkey (wheat beer, orange juice, bitters) and the Beer Margarita (light beer, tequila, lime juice). The recent passion for and creativity with cold brew coffee could also mix quite well with a dark beer. As always, adding some bitterness is key, including Campari, Aperol, Fernet Branca and Angostura, for example. 
Many local restaurants and bars offer some sort of beer cocktail.
A classic Michelada — light beer, tomato juice, hot sauce and lime juice – can often be found at Taco Farm in Waterloo.
Grand Trunk Saloon in downtown Kitchener makes a Backyard Stinger (sounds perfect for dad as he enjoys the hammock), made by mixing brandy, Strega (an Italian liqueur that dates back to the mid-1800s), honey and lemon, topped off with IPA (see recipe below).
At Kitchener's Swine and Vine, located on Lancaster Avenue in Kitchener's Bridgeport neighbourhood, the classic combination that makes a Moscow Mule is getting a tweak for the Father's Day weekend. Owner and manager Jill Sadler says they're using local ingredients and the culinary technique of sous vide to re-imagine the classic drink, along with the alcohol version of ginger beer. 
With summer less than a week away, we're heading into a season full of fresh, local ingredients that — with your imagination — could lead to some interesting concoctions. If dad has some rhubarb growing in the backyard, you could combine some honey-sweetened rhubarb syrup with some bourbon and a crisp lager from a local brewer.
The name of the drink is up to you. Just keep in mind that the idea of a beer cocktail is to keep the beer flavour front and centre. Remember, too, that beer can easily dilute other flavours, so look for combinations that don't overwhelm the suds. Light beers generally work best with citrus flavours like the Beer Margarita or the grapefruit Radler, while darker and heavier beers like stouts and porters can accept darker and heavier liquors like whiskey or bourbon and coffee.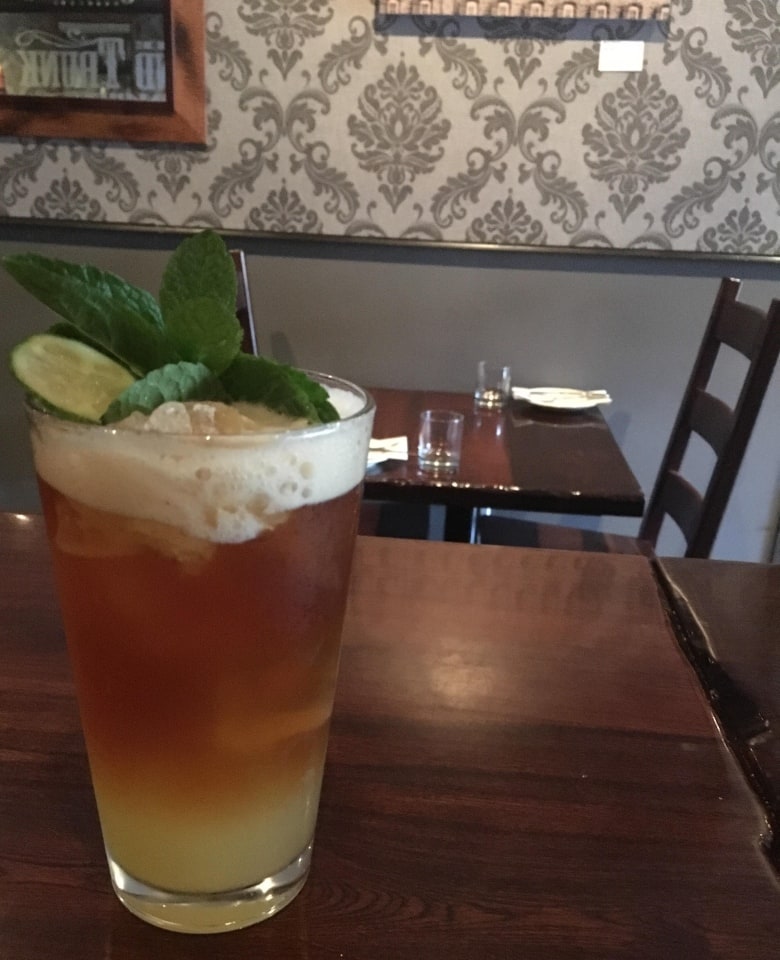 The Backyard Stinger at Grand Trunk Saloon in Kitchener is made by mixing brandy, Strega, honey and lemon, and topping the whole concoction off with India Pale Ale. (Courtesy Grand Trunk Saloon)
Backyard Stinger
Katie Irwin, Grand Trunk Saloon
Ingredients:
¾ oz. brandy
¾ oz. Strega
½ oz. lemon juice
1 oz. honey syrup
3 cucumber slices and muddled
4 oz. IPA
Method:
Combine all ingredients except for the beer. Shake vigorously and strain into a highball glass. Top with the IPA.
[ad_2]