[ad_1]

Mud that caked Jon Styres' hands and knees could show he was bent over on all fours when one of two lethal shotgun blasts tore through the back of his shoulder and into his chest, a doctor testified Monday.
Dr. Jane Turner completed a consultation report based an autopsy of the 29-year-old Indigenous man and other evidence after he was shot and killed while trying to steal a 15-year-old pickup truck in the early morning hours of Feb. 4, 2016.
Based on the angle of the shotgun pellets that tore through his shoulder and collapsed his right lung before becoming lodged in his liver, kidney and spine, "Mr, Styres would not be standing," Turner said in Hamilton Superior Court.
"The best explanation is that Mr. Styres' body has to be in the same plan as the barrel of the shotgun. Therefore Mr. Styres' body is stooped forward."
Peter Khill, a 28-year-old Hamilton man, is charged with second-degree murder for shooting Styres twice — once in the chest and once in the shoulder. He has admitted through his lawyer that he was the one who killed the member of the Six Nations of the Grand River, but is pleading not guilty.
Court previously hear from a 911 call and from officers who spoke to Khill at the scene that he told police he fired the Remington 12-gauge shotgun because he believed Styres had a gun of his own when he turned in a way that made him fear for his life.
Turner's evidence Monday seemed to contradict that story line, although in cross-examination Khill's lawyer Jeff Manishen argued it's impossible to determine exactly how Styres became covered in mud.
Defence argues mud is from attempted truck theft
At one point, the lawyer even got on his knees in front of the jury to show it's possible Styres could have hunkered down in the mucky driveway to punch the lock on the passenger side door, which police have testified was part of an attempt to steal the truck.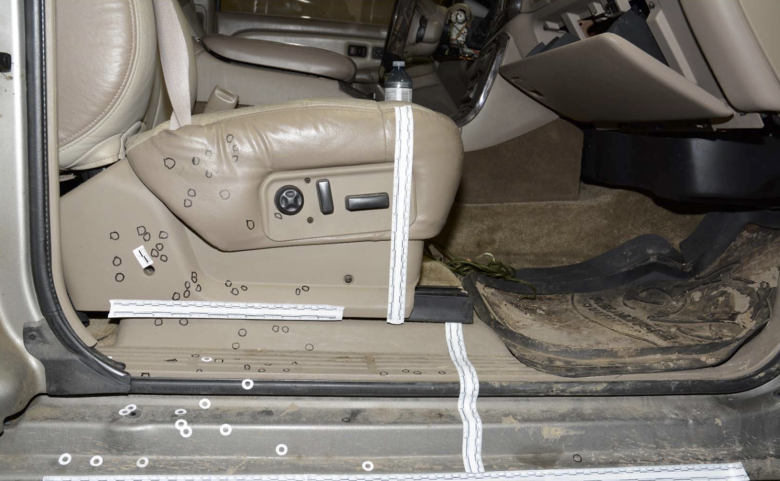 Investigators marked 74 separate specks of blood inside the passenger side of Peter Khill's truck. (Ministry of the Attorney General)
Manishen also repeated his suggestion that blood spatter evidence on the passenger side of the vehicle could support the idea that Styres might have been facing Khill when he was shot — something Turner admitted is possible.
Turner said her theory is that the degree of hemorrhaging around the chest wound compared to the shoulder wound means he was hit in the chest first.
The doctor testified after court heard from Dr. Allison Edgecombe, who examined Styres' body in the muddy driveway outside Khill's home on Highway 56 and completed an autopsy after he was killed.
Court viewed photos of a gaping wound left after a shot fired at close range hit Styres in the chest, heading left to right and leaving dozens of steel pellets peppered through his right side. The shot that entered his shoulder traveled right to left, explained the doctor, intersecting with the other wound, before heading toward his pelvis.
Styres did not die right away
Edgecombe said she was unable to determine which of the two shots came first, but was able to confirm both were lethal — although Styres didn't die right away.
The pathologist told jurors the wound to Styre's shoulder was only 5.3 by 4.2 cm and she found pieces of plastic and cardboard wadding from the shotgun shell inside the victim's chest, indicating he was shot at close range.
"The range of fire in this particular case could be four to seven feet (1-2 metres)," she explained.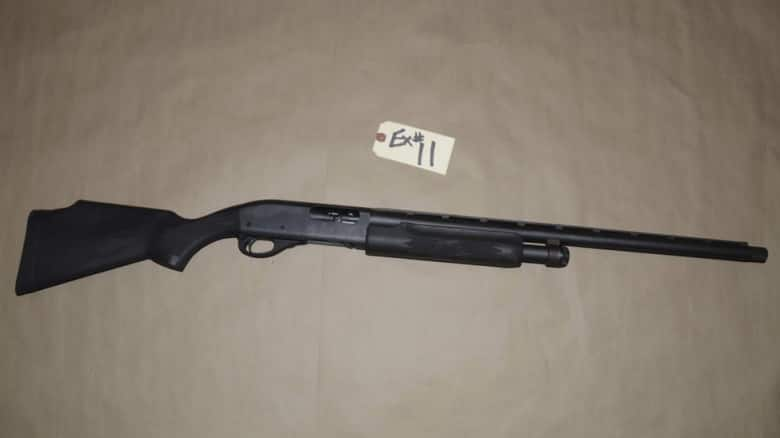 Hamilton police officer Tim Knapp testified he removed this gun from the Peter Khill's home on the night Styres was shot. (Ministry of the Attorney General)
Edgecombe noted shoulder wound also showed a downward trajectory, indicating Styres "was lower to the ground of possibly even on the ground when this occurred."
She also said it was "possible" Styres was bent double when he was hit, in response to questions from assistant Crown attorney Steve O'Brien.
But under cross-examination from Manishen, Edgecombe confirmed it's also possible Styers was angled toward Khill when he was hit in the chest and was spun by the first blast, leading to the second shot going through his shoulder.
"There are a host of ways the body could react and we can't say one is more likely than another," she said.
The trial before Justice Stephen Glithero will continue Tuesday when the defence is expected to begin making its case.
 
[ad_2]