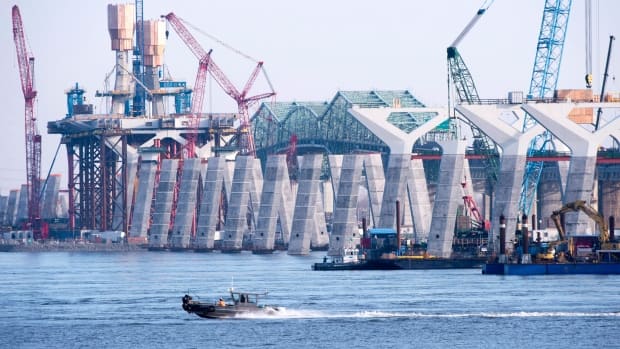 [ad_1]

Close to 2,000 crane operators abandoned major work sites right across Quebec Monday, virtually paralyzing construction in a wildcat strike to protest against a reduction in the number of hours required to pilot a crane.
The Commission de la construction du Québec (CCQ), which regulates the construction industry, has declared the strike illegal, warning protesters and their union that they could face tens of thousands of dollars in fines.
The operators take issue with a new rule that allows workers with little training to operate a crane even if they do not have a professional crane operator's diploma, said their union, FTQ-Construction, in a news release Monday.
The union said it did not organize the pressure tactic, however, it supports the crane operators' concerns.
"Crane operators have a dangerous job, and the requirement that they have a DEP [professional diploma] ensures that anyone operating a crane or a boom truck has had solid training," the union said. Since the introduction of the DEP in 1989, it said, accidents involving cranes on Quebec work sites have decreased by 66 per cent. 
The union has filed a complaint with Quebec's ombudsman, calling the rule change — which went into effect May 14 — a safety concern not just for workers but also for the public, since cranes often move heavy objects overhead in densely populated areas.
The workers have been stepping up pressure tactics for more than a month, beginning with a demonstration in front of Premier Philippe Couillard's Montreal office on May 5.
Last week, the crane operators working on the new Champlain Bridge deserted that construction site.
On June 9, a crane was set on fire in a parking lot in the borough of Rivière-des-Prairies—Pointe-aux-Trembles in Montreal's east end, and police have since confirmed the fire was intentionally set with the use of accelerants.
Shortage of crane operators
Guillaume Houle, spokesperson for the Association de la construction du Québec (ACQ), which represents construction companies, could not confirm how many job sites are affected by the strike.
With one day of delay, we have major consequences.– ACQ spokesperson Guillaume Houle
Houle told Radio-Canada Monday that operators play an an important role on any major construction site, and "with one day of delay, we have major consequences."
Construction projects are on tight deadlines, he said, and crane operators play a crucial role in meeting those deadlines. 
There has been a shortage of crane operators in the industry since 2009, and after lengthy negotiations, new rules were adopted to help mitigate the issue, Houle said.
The rules were adopted in partnership with the CCQ, he said.
Houle said crane operators who have their diploma are still given preferential treatment, and "that's why we don't understand the union's demands right now."
Workers against strike report intimidation 
The CCQ said striking workers could face prosecution and fines for breaking the collective agreement, which is in effect until 2021.
Fines range from about $8,000 to $80,000 per day for associations or association representatives. Workers who participate could be fined up to $199 a day.
Crane operators who showed up to work reported being intimidated by their striking colleagues Monday morning, CCQ spokesperson Mélanie Malenfant said.
"There are currently workers who want to work and employers who want to see their jobs go forward, who have the right to do so, but who cannot because they are afraid of reprisals," she said.
Malenfant said 100 inspectors have been deployed to work sites across Quebec to "gather evidence" that could be used in court proceedings. 
[ad_2]