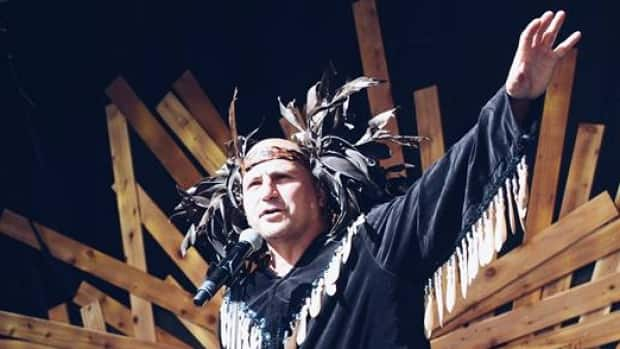 [ad_1]

Earlier this month, Justin Trudeau visited the Cheam First Nation, about 15 kilometres northeast of Chilliwack. The prime minister met with Cheam Chief Ernie Crey and members of the Indigenous Advisory and Monitoring committee that Crey co-chairs. 
Following the meeting, community members, including one of Crey's own council members, began to express frustration.
"There was a lot of turmoil … about how the visit was conducted," Cheam Coun. Darwin Douglas said.
Douglas says Cheam's own band council was not made aware of the visit with Trudeau, nor were key elders or community members.
"Trudeau showed up in our community unannounced, and we were not able to host the visit properly."
Cheam Chief Ernie Crey says he's a little baffled at the criticism.
Even though it was held in Cheam, Crey said it was a private meeting between the committee and the prime minister. And he said it was the committee, not himself or Trudeau that decided its location.
"What's puzzling me a bit, is that a public notice came out from the prime minister's office the day before the meeting that went to the media," Crey said.
"If they didn't know, how was it that [the protestors] all turned up," Crey said.
'Will agreement be honoured?'
Cheam First Nation councillor Darwin Douglas worries the federal government won't follow through with environmental and social commitments he says Kinder Morgan had promised the community. (Angela Sterritt)
Douglas supports the Kinder Morgan pipeline project and was on the negotiating team when Cheam's mutual benefit agreement with the company was finalized, but now he's sceptical of the federal government's potential purchase of the project.
"We signed this agreement after a lot of deliberation, and it wasn't an easy decision for our community," Douglas said from Cheam.
He said unlike past relationships with governments and resource companies, Kinder Morgan involved Cheam in key decisions around the environment, cultural and social impacts. Now he's not so sure.
"Is the agreement going to be honoured? Is the company and the federal government going to be held accountable?" He asked .
Youth want alternatives
Cheam never had a referendum or vote to decide if it wanted an agreement with the company. Instead, First Nations councillors and the chief consulted with key families in the close knit community of about 500. 
For Cheam member Carrie Lynn Victor, the process left out key voices.
"Youth are looking for options, they want sustainable change and they want to be a part of it," Victor said.
Carrie Lynn Victor says she is concerned with how leadership in the community has strayed in terms of empowering youth to engage in culture and alternatives to big energy projects. (Carrielynn Victor)
She says the current leadership's position of the Kinder Morgan pipeline doesn't represent all of Cheam. 
"I did my best to research and educate leadership in Stó:lō country about the dangers of it — always bringing forward the benefits as well and I don't believe they outweigh the negative impacts, " she said.
 In the 90s and early 2000s Cheam was unified around its fight against the federal Department of Fisheries and Oceans  to protect the community's right to fish for economic viability. Now, that unified front has seemingly been broken.
 "Unfortunately, a lot of my generation that spent time on that front line are now sick, and it's hard to see them so sick. We can't gather them together, because they are on a different path," Victor said through tears.
She says the introduction of hard drugs has torn apart a once-unified society and diminished the importance of culture, the land and the community.
But Victor's biggest concern for Cheam and the wider community in Canada, is a need to start searching for alternatives.
 "We want to heal the world and we need to stop damaging the earth, and it takes a certain kind of leader to ignite the people," she said.
Pipeline could solve problems
June Quipp was on the Cheam band council's negotiating team when Kinder Morgan signed a mutual benefit agreement. She says the company was transparent and involved the community in decisions. Now, with talk of nationalizing the pipeline, she says she isn't sure what will happen. (Angela Sterritt)
Former Cheam councillor June Quipp wants to see the pipeline go forward, because she says the money Cheam would receive through the benefit agreement could help fund costly addictions and family support programs she says are needed.
 "A lot of people have substance abuse issues, and we have quite a few people on social assistance," she said. 
She also worries that if the pipeline doesn't go through, more oil will be transported on the rail lines that hug the Fraser River her community has relied on for fish for thousands of years. 
But Quipp is more concerned with the future of the pipeline that is now in the federal government's hands. She says she is worried about terms and social benefits her team negotiated with Kinder Morgan on the environment that could have uplifted Cheam but may now be up in the air. 
[ad_2]