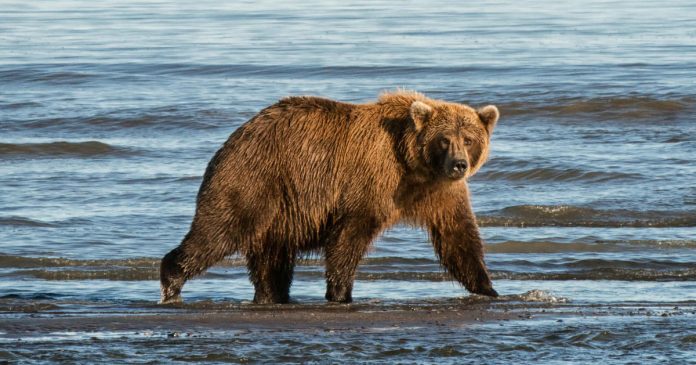 [ad_1]

ANCHORAGE, Alaska — Authorities in Alaska's largest city said they believe the same brown bear killed a hiker who had gone missing and attacked a volunteer who was looking for him Wednesday. The hiker, Michael Soltis, had been missing for two days before being found dead close to where the unidentified searcher was mauled. The volunteer had serious leg injuries but was expected to survive, police said.
The animal was not immediately found, and authorities asked people to stay away from a wooded area outside Anchorage.
"We believe the bear that attacked the volunteer was the one that attacked and killed the missing man," police spokesman MJ Thim said.
Officers searching for the bear after Wednesday's attack found Soltis' body near the end of a rural, paved mountainous road dotted with well-appointed homes. The site was a couple hundred yards (meters) off the road, located in mountainous terrain networked with hiking trails, Thim said.
It appeared the bear had been protecting Soltis' body when it attacked the male searcher, who was taken to a hospital, according to police.
Authorities removed the body of Soltis, who was last seen Monday afternoon, and posted bear warning signs on a small footpath leading from the road to the woods.
Elisabeth Claus, Soltis' fiancee, posted Facebook updates on the search Wednesday. A GoFundMe account set up for the Soltis family mentions that they have "a child on the way."
CBS affiliate KTVA reports that Fish and Game spokesman Ken Marsh said biologists were searching the area for bears but finding the animal involved in the mauling was like finding a "needle in a haystack," he said, because it had been several hours since that animal was last seen.
Marsh said the agency was investigating to determine whether the bear attack was predatory or a defensive action, such as to guard bear cubs or a food source like a dead moose.
Asked about the belief that the same bear was responsible for both attacks, Marsh said that seemed like a logical conclusion but suggested there were other possibilities.
"A person could have tripped and fell or had a medical condition," he said. "Until a full investigation and medical examination is done, I don't know that we can say necessarily, for sure, 100 percent, the cause of death."
Last June, four people were attacked by bears in Alaska, including two deadly encounters on back-to-back days.
© 2018 CBS Interactive Inc. All Rights Reserved. This material may not be published, broadcast, rewritten, or redistributed. The Associated Press contributed to this report.
[ad_2]