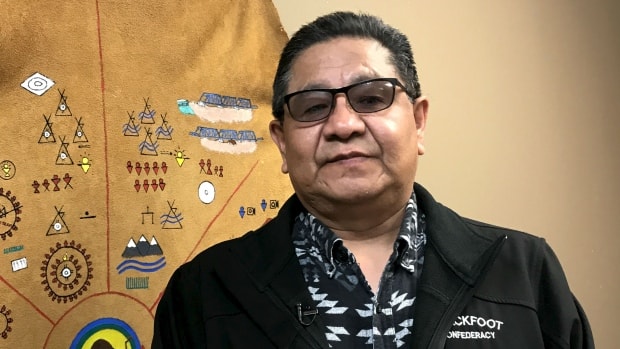 [ad_1]

A Siksika councillor says the 2013 flood had a devastating impact on evacuees, the community and even those who've been helping to rebuild homes and neighbourhoods — but perhaps even worse is that five years later 900 people are still waiting to get permanent housing. 
Many of the new homes on the reserve 100 kilometres east of Calgary are sitting empty, waiting for the finishing touches or final inspections before anyone can move in.
One thousand people were forced out of their homes when the Bow River roared through the community in June 2013. Nearly 140 homes were either damaged or destroyed beyond repair. 
Work is still continuing on 132 homes. 
This is one of the unoccupied homes on the Siksiksa First Nation east of Calgary. The nation says its goal is to move the remaining 900 flood evacuees into permanent housing by Sept. 30. (Bryan Labby/CBC)
The nation signed a housing agreement with the province in November 2013 to move ahead with "a timely response" to ensure the nation recovered from what was one of the costliest natural disasters in Canadian history.
The agreement wasn't just about fixing or replacing the impacted homes. It was also about First Nation members coming together to participate in community and economic development.  
One of the other goals was to do things better — to raise housing, building, health, safety, construction and infrastructure standards on the reserve. 
Frustration, mistrust 
But the band councillor in charge of the rebuild admits it's been an enormous challenge.
"It's been a long, frustrating process," said Hector Winnipeg.
He says some elders who lost everything in the flood have since passed away and never got the chance to settle into their new homes.
"A lot of those people lost everything," said Winnipeg. 
"Their heartbreak and despair was a big part of what happened, especially to the elderly folks," he said.
He blames some of that on poor communication.
"There's been a lot of miscommunication between the province and us, and the evacuees, the people that were actually affected by the flood. It did lead to a lot of mistrust, people not knowing what was happening. They assumed things that affected not only construction, but also staff that were hired to do this job," said Winnipeg.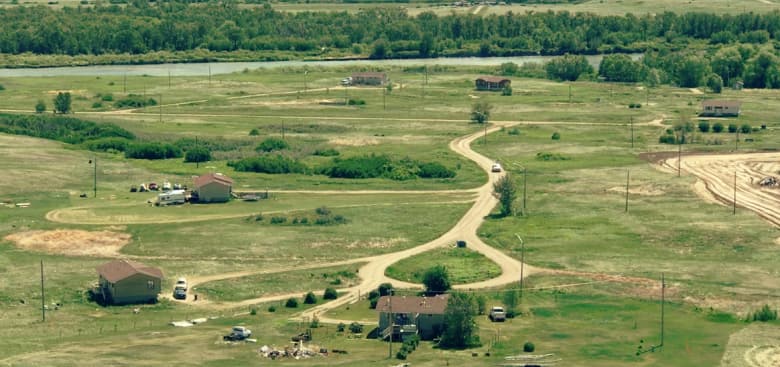 An estimated 40 homes were destroyed in this area of the Siksika First Nation in the flood. (Bryan Labby/CBC)
He says there was a high turnover rate of staff involved with the Siksika rebuild committee.
The three-year, $49-million agreement expired in November 2016.
Winnipeg says the remaining 132 houses are anywhere from 20 to 90 per cent complete.
He says one of the biggest challenges has been the establishment of new communities. The housing agreement prevented homes from being rebuilt in previously flooded areas. Those new communities — Little Chicago and Little Washington — required new roads, sewers and gas and electricity services.
"It's the infrastructure costs that we kind of overlooked, because we built new communities out of the flood zones. It wasn't budgeted for, regarding roads, sewer and water, so we had to do those. It did add up quite a bit," he said. 
Winnipeg says the nation is still negotiating with the government to recover some of those costs.
The province says it has worked with the Stoney Nakoda and Siksika to ensure that people return to their homes as quickly as possible.
More than 3,000 First Nation members were displaced and 677 houses damaged, according to provincial government figures. To date, 552 houses have been repaired or rebuilt, it says.
Indigenous Relations spokesperson Kyle Ferguson said in an email that $345 million has been allocated for the recovery efforts, which include rebuilding or repairing houses and interim accommodations.
Ferguson indicated that 125 houses are at the various stages of being rebuilt.

Little Washington is one of the new neighbourhoods built by the Siksika First Nation following the flood five years ago. The homes are still unoccupied pending some final touches and inspections. (Bryan Labby/CBC)
According to the nation's 2014-15 annual report, the cost of each new house worked out to $360,000, and that included the demolition of the flood damaged properties.
"This rebuild will be the biggest project in Siksika's history, and the goal is to build homes on time, with quality materials and workmanship and within budget," read the report.
Winnipeg says they've set a deadline of Sept. 30 to get everyone back in.
"That's our goal," he said. 
---
Read more articles from CBC Calgary and like us on Facebook for updates.
[ad_2]