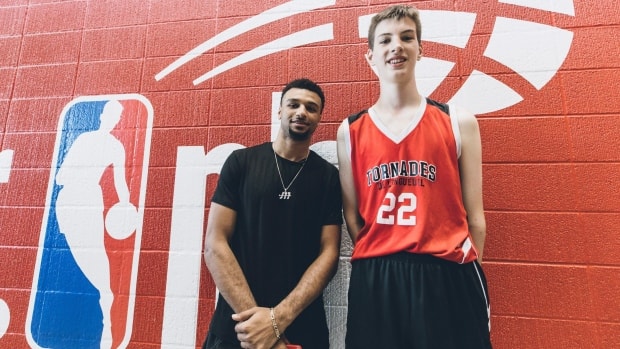 [ad_1]

A grinning Denver Nuggets guard Jamal Murray posed for a selfie at last weekend's regional finals for the Jr. NBA world championship in St. Catharines, Ont., with a 12-year-old boy.
Murray requested the selfie, not the other way around.
Why? Because standing a sky-high six-foot-10, Olivier Rioux towers over the Canadian NBA player by seven inches.
The pre-teen from Anjou, a borough in east Montreal, became an unsuspecting internet star over the weekend when a video of a game he'd played against fellow 12-year-olds in Spain went viral. Playing on eight-foot nets against players that looked like toddlers by comparison, Rioux thoroughly dominated.
Rioux stood like a maypole in the centre of the pre-game huddle, his teammates dancing around him. He swatted away shots with ease. He dunked without leaving his feet. He scored backwards over his head.
The video has over 700,000 views, and caught the eye of a couple of NBA stars.
---
Steph Curry tweeted: "So many questions….."
Joel Embiid enjoyed Rioux talking at his opponents, tweeting: "He has the nerves, the audacity to talk [trash] too lmao"
Video is an anomaly
Rioux's father Jean-Francois is quick to point out the video is an anomaly. Olivier normally plays under-14 basketball for the Tornades de Longueuil, an AAA program in Longueuil, Que., and plays all season on 10-foot rims
"Everybody thinks he plays with low nets, with very small people all year long, and that's not the case," Jean-Francois said.
Rioux was invited by a French team, the Frenchy Phenoms, to play an international under-12 tournament in La Roda, Spain, which is where the viral video was shot.
Height runs in the family
Rioux, who's just two inches shy of the Toronto Raptors' tallest players — Jonas Valanciunas, Jakob Poeltl and Lucas Nogueira are all seven feet — has been playing basketball since he was five, his dad said. Jean-Francois, who was a volleyball player, knew even as a toddler that Olivier would be tall. He's grown at the rate of about 10 centimetres a year, and doctors have told the family he hasn't stopped.
Jean-Francois is six-foot-eight, while Rioux's mom Anne Gariepy is six-foot-one. Rioux's older brother Emile, who is 15 and six-foot-nine, also plays basketball.
Shaquille O'Neal, by comparison, was five-foot-10 at Rioux's age, but would grow nearly a foot time he turned 16.
In Ohio, 16-year-old Robert Bobroczky stands seven foot seven, which is three inches taller than the NBA's two tallest players this past season: Detroit centre Boban Marjanovic, and New York's Kristaps Porzingis. Bobroczky is a Romanian whose parents sent him abroad to attend school and play basketball.
---
The average height of a 12-year-old boy is four-foot-10, and Jean-Francois laughed about what it takes to keep his Stretch Armstrong son fed: "Normal breakfast would be two big cereal bowls, two toasts, yogurt, bananas."
Rioux doesn't mind extra attention
Rioux, who is a Cleveland Cavaliers fan and whose favourite player is LeBron James, doesn't mind the attention he's received over the last few days.
"He finds it very different than before," his dad said, interrupting his son's French. "But he's happy about it."
Jean-Francois, meanwhile, has been fielding numerous requests from people looking to get involved with his son.
"A lot. It's like I'm refusing a lot of invitations on Facebook, and things like that. Yeah yeah yeah. It's like easily 50 [people]," he said. "Coaches, agents, brand agents, all the things that people would like Olivier to be involved, scholarships. I have to be careful of who I talk with, and how I do. That's what I'm learning."
After leading Chenier elementary school to numerous titles, Rioux will attend Saint-Jean-Vianney high school, which his dad said has a strong basketball program, in the fall.
The Breakdown 416, in the boy's under-14 division, and the Welland Warriors in the girls U14 division, qualified from last weekend's regional tournament for the world championships in Orlando.
[ad_2]