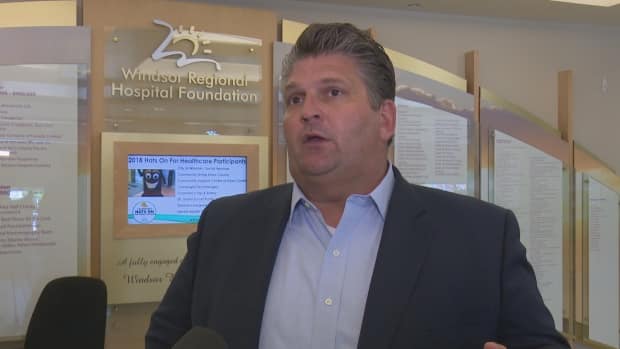 [ad_1]

A spokesperson for a Toronto hospital is apologizing for misleading information being spread by its door-to-door canvassers.
Toronto's Sick Kids hospital is half-way through a five-year fundraising campaign to build a new $1.3 billion hospital in downtown Toronto.
The hospital has hired the fundraising firm The Network Inc. (TNI) to sign donors up for monthly pledges of $34.
Across Ontario, there are 100 canvassers soliciting funds — including 10 in the Windsor area.
But some of the canvassers in this area were telling residents the money raised was going for a children's unit at the mega-hospital to be built on County Road 42.
"That's totally wrong," said Windsor Regional Hospital CEO David Musyj. 
This tweet shows a canvasser who allegedly claimed money he was collecting was going to the new mega-hospital. (Twitter)
Musyj said he became aware of the misleading campaign when one of his employees was approached by a canvasser.
"I know Sick Kids Foundation is a reputable organization. Would never tolerate this. Would never condone this. Immediately responded to it," said Musyj, adding several of the canvassers were repeating the same message.
"We're sorry there's been a misunderstanding," said Sandra Chiovitti, director of public affairs for Sick Kids hospital."We're looking into that."
Chiovitti said the canvassers were in the area for the past two weeks and the campaign wrapped up Friday.
She said the canvassers will undergo retraining on June 26 to ensure they are relaying the correct information.
Meanwhile, Chiovitti said if donors want their money back or want their pledge terminated the hospital will do that.
"We take this very seriously," said Chiovitti, adding she's not sure why the canvassers were making the claim.
The hospital has been using the TNI fundraising company since 2007 and haven't had any problems, according to Chiovitti. She couldn't say how much money was collected in the Windsor Essex area.
A resident contacted the Windsor Police Financial Crimes unit which is looking into the complaint.
Musyj said they will never have a door-to-door campaign to raise money for the new hospital.
[ad_2]