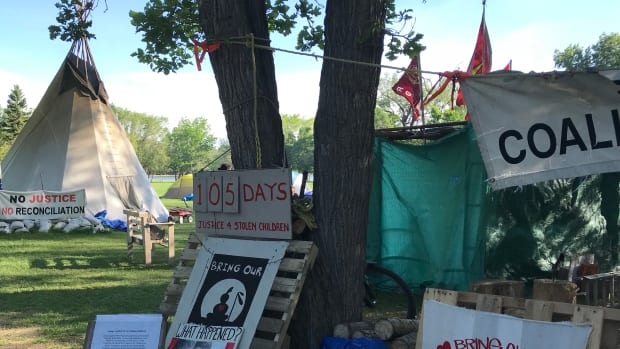 [ad_1]

Academics say governments should prepare for more direct action by Indigenous people.
A group of Indigenous protesters spent more than 100 days camping in front of the Saskatchewan legislature.
The main part of the camp was taken down by authorities this week. Several people were arrested.
University of Saskatchewan Indigenous studies professor Rob Innes said the new generation of Indigenous people has run out of patience and are demanding changes. If that makes the general public uncomfortable, so be it, Innes said.
"The unfortunate reality is, the truth hurts. It's past the point of sugar-coating things to make them more palatable to non-Indigenous people," Innes said.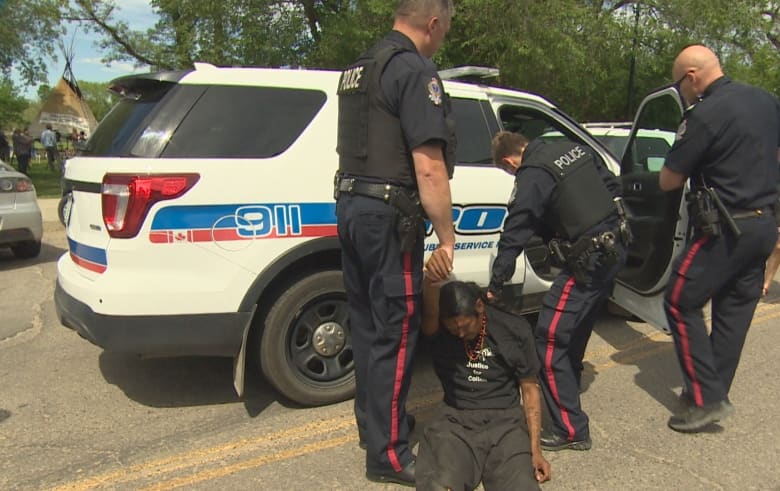 On Monday, Regina Police Service officers carried this protester from the teepee at the Justice for Our Stolen Children Camp to a police vehicle. (CBC)
Innes says governments, corporations and the courts should expect more direct action in the future.
That can mean occupations in front of the legislature, blockades, lawsuits or other action to assert Indigenous rights.
University of Regina history professor James Daschuk agrees. He criticized the decision to remove the camp.
'Just the same old, same old'
"I guess it's just the same old, same old. Indigenous people have been trying to get their voices heard for decades. This province and other levels of government have often had a deaf ear to legitimate grievances," Daschuk said.
Provincial government officials and protesters at the camp said they were willing to meet. The meeting did not occur after the two sides couldn't agree on a location, Daschuk noted.
"It's too bad they couldn't meet halfway," he said.
Daschuk said it's ironic the protestors were cleared out to make way for Canada Day celebrations that will likely include a "sanitized version" of Indigenous culture and history.
Daschuk and Innes said the protesters did not have clearly articulated demands, but their general message of protecting Indigenous children and asserting Indigenous rights is legitimate.
"They've suffered so much. They just needed someone to talk to," Daschuk said.
Daschuk said he's worked on reconciliation efforts for years, but recent events are showing there's a long way to go.
Earlier this month, members of the protest group gathered and helped take down the camp they'd been staying in for over 100 days. (Emily Pasiuk/CBC)
[ad_2]