[ad_1]

When the sun came up Tuesday, there were nearly 175 people living in tents along along 135A Street — the so-called "Surrey Strip" where poverty and homelessness are rampant.
The city expects that number to fall dramatically by the time darkness falls.
Surrey recently received 160 temporary modular homes from the province that are now ready to be lived in.
The units — which look like high school portables from the outside — have been set up in three locations not far from the strip in the heart of Whalley.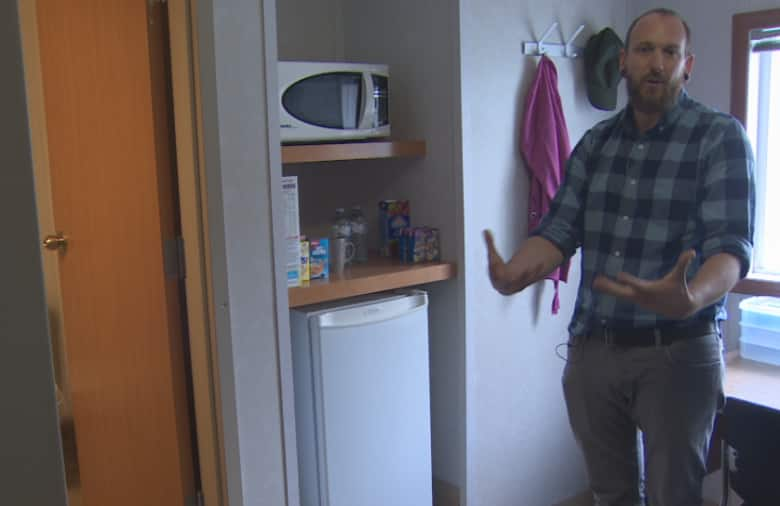 Bailey Mumford with the Lookout Society shows off one of the new modular housing units in Surrey, B.C. (Jesse Johnston/CBC)
Step inside one of the suites and it's like walking into a university dorm, complete with a private bathroom, mini fridge, microwave and single bed.
Bailey Mumford — who manages the homes on behalf of the Lookout Society — says the rooms are comfortable but some new residents will still have a tough time transitioning.
"We're expecting there to be a bit of a 'norming' process for people," he said.
"When you move 50 to 60 people into a building, you do have a lot of people normalizing how they live inside."
Each unit has a mini fridge, microwave and private bathroom. (Haley Lewis/CBC)
Goodbye, tent city
Surrey public safety director Terry Waterhouse acknowledges there aren't enough units to house everyone who currently lives in a tent.
Waterhouse is encouraging people who don't have homes to move into to live-in shelters until permanent arrangements can be made.
"We are working with individuals to move them," he said.
"Where there are individuals who need additional support and a little more time spent with them to make sure they're more comfortable, that's what we'll do."
Waterhouse says the city is expecting 250 permanent modular housing suites will arrive soon and eventually replace the current homes.
173 people are living in tents along 135a Street in Surrey. (Briar Stewart/CBC News)
House rules
Outreach workers have spent the past week helping people organize their belongings into two plastic bins, which is all they're allowed to bring with them into their new homes.
Mumford says the only real rule is residents are expected to be safe neighbours.
"We want people to feel like this is their home," he said.
Drugs aren't banned but users are encouraged to use in a designated area while under supervision.
"If we have somebody who moves in on the first day and on the second day they say they've gotten a job and they're to move somewhere else, that's a success," Mumford said.
"If we have someone who moves in on the first day and stays with us through the whole run, that's OK too."
160 units of temporary modular housing, which like high school portables, will eventually be replaced by 250 permanent modular units. (Haley Lewis/CBC)
Read more from CBC British Columbia
[ad_2]