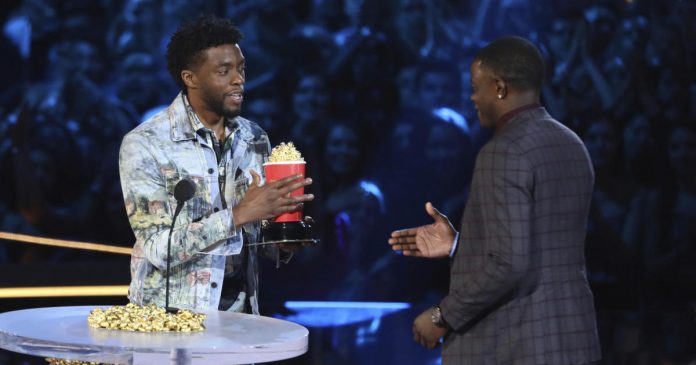 [ad_1]

SANTA MONICA, Calif. — The MTV Movie & TV Awards gave "Black Panther" its first taste of awards glory, with Marvel's blockbuster taking home four honors including two awards for its star, Chadwick Boseman. Boseman quickly handed off his best hero award to James Shaw Jr., who wrestled an assault-style rifle away from a gunman in a Tennessee Waffle House in April. 
"This is going to live at your house," Boseman told Shaw, giving him the show's golden popcorn award. The actor said while it was an honor to be recognized for playing a superhero, it was more important to "acknowledge the heroes we have in real life." 
Shaw charged a gunman at the Tennessee Waffle House in April, wrestling him to the ground and grabbing his weapon. Shaw's hands were severely burned from grabbing the AR-15. 
After the shooting, which killed four people, Shaw said he "took the gun so I could get myself out" of the situation, and that he was glad to save other lives as well.
Boseman, who starred as T'Challa in "Black Panther," also won the award for best performance in a movie. Michael B. Jordan, who played the villain Erik Killmonger, won best villain. 
"Stranger Things" was the top television honoree, winning four awards including a repeat win for best show. The awards were handed out Saturday and were broadcast Monday night. 
The awards show is known for bringing fresh talent to light, as well as acknowledging established celebrities in more quirky categories like best kiss and most frightened performance. Host Tiffany Haddish donned a variety of costumes throughout the ceremony, including nods to classic film and TV roles such as Holly Golightly from "Breakfast at Tiffany's" and Starlet from "The Carol Burnett Show." 
She kicked off the show with a "Black Panther" skit, foreshadowing the film's big night, noting in her opening monologue that is it the first African-American film to earn more than $1 billion at the box office. Throughout the night, Haddish also parodied other hit films such as "Star Wars: The Last Jedi" and "A Quiet Place." 
"Black Panther," about a king and virtuous superhero of the technologically-advanced nation of Wakanda, broke barriers earlier this year as the first Marvel film to feature a black lead. Its massive popularity overshadowed competing films like "Wonder Woman" and "Avengers: Infinity War."   
Haddish, who also won an award for her breakthrough role in "Girls Trip," noted that she is the first black woman to host the awards show, which is in its 27th year.
The gay teen comedy "Love, Simon" won for best kiss for a scene between Nick Robinson and Keiynan Lonsdale.
While Robinson wasn't there to accept the award, Lonsdale gave some encouraging words to LGBTQ youth.
"I just want to say to every kid," he said. "You can live your dreams and kiss the one that you love no matter what gender."
In addition to winning best show, kids of "Stranger Things" also won awards for most frightened performance, best musical moment and best performance for Millie Bobby Brown. The actress, who plays Eleven in the series, couldn't make the event because of a broken kneecap. Brown accepted the award for best performance via satellite.
Other winners included Madelaine Petsch as Cheryl Blossom in "Riverdale" for scene stealer, Gal Gadot for best fight as Wonder Woman and the young cast of "It" for best on-screen team.
"Gaga: Fight Foot Two" won the award for best documentary. The Netflix feature followed Lady Gaga during the production of her fifth studio album "Joanne." 
Common presented Lena Waithe with the trailblazer award for her activism, writing and "deeply honest art."
During her acceptance speech, Waithe paid tribute to "Paris is Burning," the 1990 documentary released about the drag scene in New York during the late '80s. She called those documented, many who aren't alive anymore, "the bravest human beings that ever lived"
"I'm doing what we as a society should have done a long time ago and give them the glory and shine that they deserve," she said.
Chris Pratt mixed humor and religious messages while accepting the show's generation award, telling the crowd to "breathe. If you don't, you'll suffocate."
He also urged fans to "learn to pray" and accept that they are imperfect.
The show also featured musical performances by Nick Jonas and Mustard, as well as rising stars and Beyoncé protégés Chloe x Halle.
[ad_2]