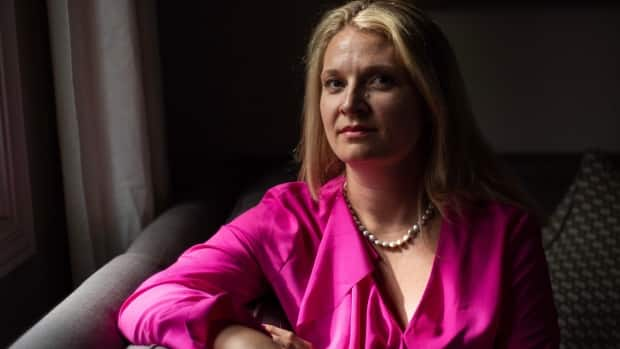 [ad_1]

With three brothers affected by either Crohn's disease or ulcerative colitis, Kathleen Crispi knows she is at high risk of developing one of the literally gut-wrenching conditions known to run in families.
So about a year ago, she volunteered to take part in the largest-ever study of inflammatory bowel disease (IBD) — research that hopes to unlock the underlying cause of Crohn's, with the ultimate goal of finding cures for both major forms of the condition.
The Canadian-led, international Genetic, Environmental, Microbial (GEM) project has just reached its target enrolment of 5,000 participants around the world, all unaffected children or siblings of people with Crohn's disease.
As its name suggests, the study is taking a multipronged approach to discovering what triggers underlie the development of the disease in the hopes of designing a predictive test and ultimately treatments to prevent its occurrence.
"Even getting to a stage of having biological markers or being able to identify people who are likely to develop the disease … would be a really big win out of this study," said Crispi of Guelph, Ont., who has two brothers with ulcerative colitis and one with Crohn's. An aunt on her mother's side of the family also has colitis.
"Obviously, we know it runs in families," said Crispi, 32. "I have two young children and I have two nephews and a niece, as well, so for us anything that would lead to earlier detection would be fantastic.
"But, of course, a cure would be amazing."
'A bathroom disease'
Crohn's and ulcerative colitis are autoimmune diseases which cause inflammation of the lining of the gastrointestinal tract, disrupting the body's ability to digest food, absorb nutrition and properly eliminate waste. Symptoms include abdominal pain, cramping, gas, bloating, fatigue and diarrhea.
With Crohn's, inflammation can occur anywhere in the GI tract but is usually present in the lower part of the small intestine and the colon, or large bowel. Ulcerative colitis affects only the colon, including the rectum and anus.
About 250,000 Canadians have IBD, which affects an estimated 10 million people worldwide. And its incidence is on the rise, said Mina Mawani, president and CEO of Crohn's and Colitis Canada.
"These people have unbelievable pain, they have bloody diarrhea, they could be going to the bathroom up to 20 times a day," said Mawani. "People feel that there's a lot of stigma associated with a bathroom disease, so they don't speak about it very often.
"But if you have to go to the washroom 20 times a day … you may not want to go to events, you may not be able to hold down a job. And if you do, you need to be close to a bathroom.
"It really is a socially isolating disease."
No cure
Medications and in some cases surgery to remove chronically inflamed portions of the intestines can help keep IBD under control in 50 to 60 per cent of cases, "but we still haven't cured anyone," said Dr. Ken Croitoru, principal investigator of the GEM study, which began recruiting participants 10 years ago.
The project — being carried out in 107 sites worldwide, including 25 in Canada — has collected in-depth health data from participants along with blood, urine and stool samples for analysis.
People feel that there's a lot of stigma associated with a bathroom disease, so they don't speak about it very often.– Mina Mawani, president and CEO of Crohn's and Colitis Canada
Researchers are tracking subjects' diet, immune function and changes in their intestinal microbiome, as well as trying to decode any genetic anomalies and potential environmental factors that may end up sparking the disease.
Since 2008, when the study began, 70 participants have gone on to develop Crohn's, while 15 have been diagnosed with ulcerative colitis, said Croitoru, a gastroenterologist at the Mount Sinai Inflammatory Bowel Disease Centre in Toronto.
"That gives us the opportunity to go back and say, 'OK, what was there when they were healthy that distinguishes those 70 from the rest of the crowd?"' he said.
What role genes may play
While genetics is known to play a role in IBD, researchers are paying particular attention to each person's gut microbiome, the natural bacterial community inhabiting the gastrointestinal tract that aids digestion, helps regulate the immune system and protects against disease-causing microbes.
"There's something there that seems to be important in triggering the disease," said Croitoru, speculating that some as-yet-unknown factor may alter the microbiome, leading to abnormal activation of immune cells.
"We think that's where the action is," he said.
"We think there's something that's changed the microbiome that has affected the way the immune response works, and instead of having a normal relationship like most people have, the immune response goes haywire and begins to cause inflammation which damages the gut.
"The idea is that to understand how that changes, you have to look at it before the disease can set in, before everything is so bad and the fire's raging so you can't tell where the fire started."
The GEM study has received more than $15 million in funding from Crohn's and Colitis Canada and the Helmsley Charitable Trust in the United States. The two groups recently announced an additional $6.4 million in funding, allowing for continuation of the project.
Croitoru said researchers are now scrutinizing data related to the 70 people who have developed Crohn's, looking in part at what role genes may have played in altering their gut microbiome.
"We're hoping to see in the next six to 12 months what differentiates someone who develops disease," he said.
"I suspect the way science is that we'll have a better understanding, we'll be able to predict someone's risk much better and be able to design an intervention study with actual knowledge of what it is we are trying to change."
[ad_2]