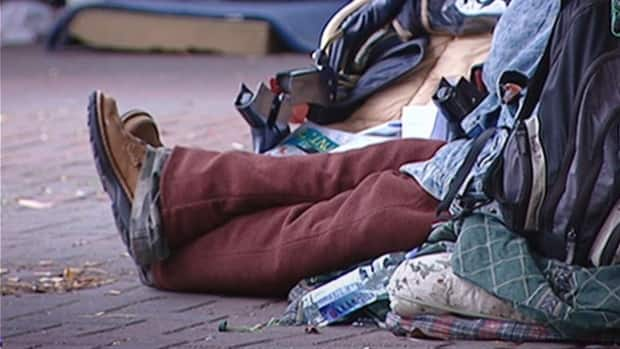 [ad_1]

Parry Dickie and his girlfriend found themselves homeless after a wildfire tore through the community of Loon Lake, B.C., where they were staying in July 2017.
"We never even went back to see it," Dickie said. "We were told there was nothing there."
Soon after, a car accident and trouble with their replacement vehicle rendered them homeless.
When the temporary shelter opened at the Stuart Wood building in Kamloops, Dickie and his girlfriend hauled their belongings to the shelter, where they say they were told they could store things in the annex.
"That ended shortly after we arrived," Dickie said.
While sitting outside the shelter one day, Dickie watched as shelter staff threw his things, including medications and other expensive medical supplies, in the garbage.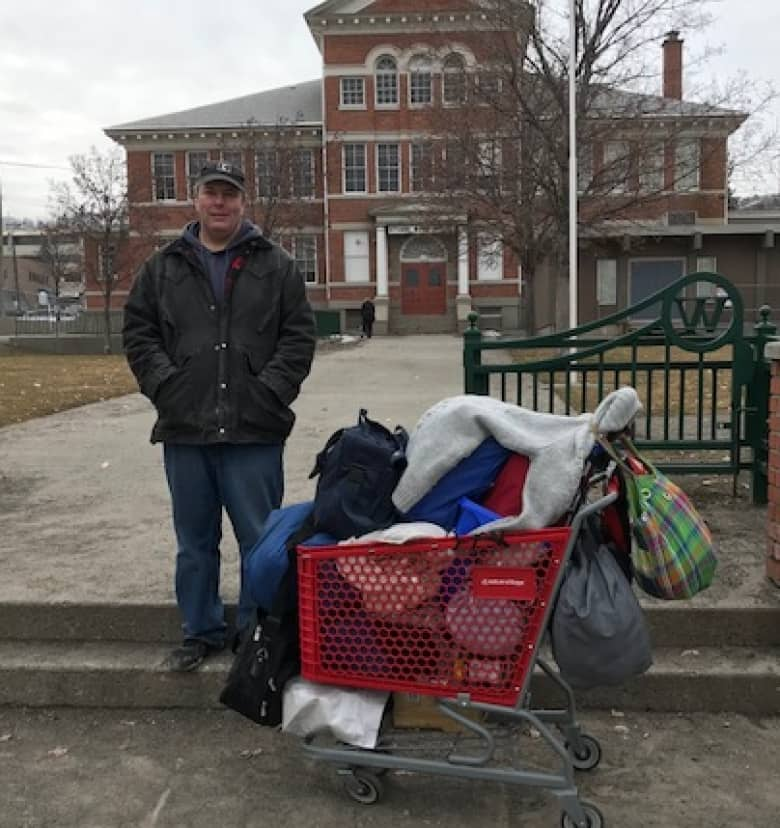 Parry Dickie poses with his cart of belongings, all he could salvage when the rest of his personal affects were thrown out while he was staying at a temporary shelter in Kamloops. (Tara Copeland/CBC)
What Dickie experienced is a frequent problem for people living on the street or in shelters: their personal items get mistaken for garbage or people think they've been abandoned, and things get taken away.
But next month, the City of Kamloops will be giving people like Dickie a place to store their belongings during the day, so they can move around town without feeling tied down by their stuff.
"Because they're carrying all of their things, they're not sure where they can put them, so then it limits them from going into programs and services," said Jen Casorso, social and community development supervisor for the City of Kamloops.
A City building, 48 West Victoria Street, will be turned into a mini storage facility, modelled after the one at First United Church in Vancouver's DTES, run by the City and the Aboriginal Friendship Society.
"We're giving the friendship [society] the opportunity to mould it the way that it needs to work in our community," Casorso said.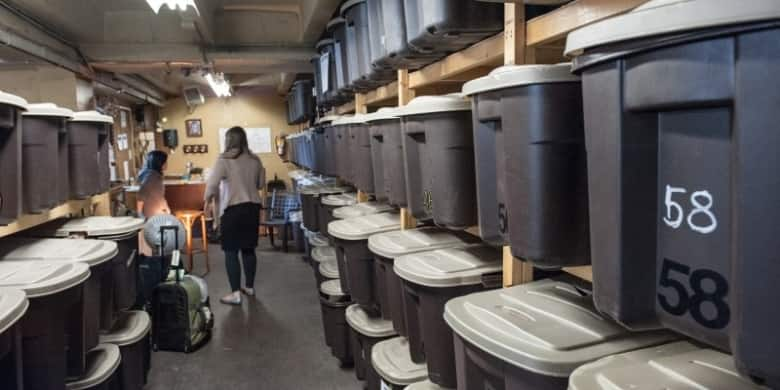 First United Church operates a storage program for Vancouver's homeless that allows up to 200 people to store their belongings free of charge. (First United Church)
Staff will be on-site four hours each day to oversee 50 95-litre rubber tote bins, which each have a weight restriction of about 22 kilograms each. Smaller storage options will also be available for people who simply require an envelope for identification or important papers.
People using the facility will have to check in with staff regularly, every couple of days or so, Casorso said, in order to make sure items aren't being abandoned.
The facility is being called a work in progress; staff will be soliciting feedback from clients to better serve the people using the storage bins.
"It's going to probably come with a bit of growing pains for everyone," she said.
With files from Tara Copeland
[ad_2]