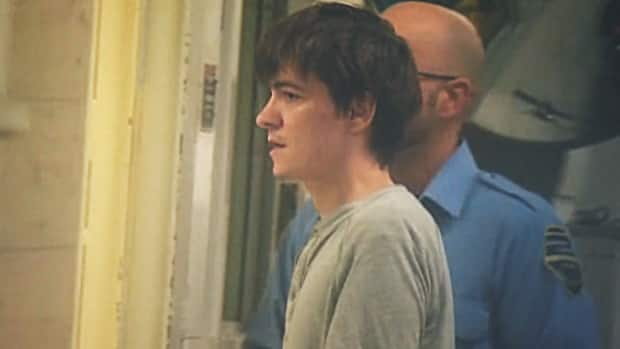 [ad_1]

Alexandre Bissonnette took copious notes in a Quebec City courtroom on Wednesday as his lawyer argued that his charter rights will be violated if he is sentenced to spend the rest of his days in prison for killing six men inside a mosque in January 2017.
Bissonnette, freed of his handcuffs to hold the notepad and pen he had requested at the beginning of the day's proceedings, smiled at his parents, seated in their usual spot a few rows behind the defence team.
Quebec Superior Court Justice François Huot had informed the 28-year-old on Tuesday "it's probable" that he will use his discretionary power to sentence Bissonnette to consecutive life terms for the six first-degree murders to which he pleaded guilty.
That would mean Bissonnette would face 150 years in prison before he'd be eligible for parole.
Defence lawyer Charles-Olivier Gosselin said a 150-year sentence would be the equivalent of a death penalty, which was abolished in 1976.
'Irrational' amendment, says defence
Gosselin is challenging the constitutionality of article 745.51 of the Criminal Code, a 2011 amendment which allows for consecutive sentences for multiple murders. 
Gosselin criticized that amendment passed by the former Harper government as "irrational" and devised only to score political points.
The six victims of the Quebec Mosque shooting, clockwise from left: Mamadou Tanou Barry, Azzeddine Soufiane, Abdelkrim Hassane, Ibrahima Barry, Aboubaker Thabti and Khaled Belkacemi (CBC)
Gosselin said the amendment "bypassed the law" by sending a convicted criminal to die in prison, even though, unlike the U.S., Canada doesn't allow life sentences with no eligibility for parole.
"You should strike this down, because it does not reflect Canadian values," Gosselin told Huot.
Trust in rehabilitation 
Contrary to the approach of most countries, rehabilitation is at the core of Canada's judicial values, the lawyer pleaded.
By leaving Bissonnette no hope that he could one day walk freely, "we're throwing away the key," Gosselin said.
"Statistics prove that even multiple murderers can be rehabilitated," he said, arguing that repeat offences are rare.
Several experts testified at length during the sentencing hearing that Bissonnette had been depressed, anxious and consumed by self-pity, which ultimately led him to want to commit a mass murder to provide his life with "a sense of grandeur."
Gosselin cast doubt on Bissonnette ever wanting to work on his mental health issues if he knows he'll never be released from prison.
Suicide rates in Canadian prisons are seven times that of the population at large, the lawyer said, "given the despair that results from incarceration."​
Tough sentences not a deterrent
Gosselin also argued that allowing Bissonnette to seek parole after 25 years in prison does not mean he will automatically be freed when he's 52 years old.
The lawyer asked the judge to place his trust in the Parole Board of Canada, which only grants nine per cent of all requests. A person found guilty of first-degree murder is released, on average. after 28.4 years, he said.
"The system before 2011 worked. The parole system works," Gosselin argued.
Incarceration rates in the U.S. are five to six times higher than in Canada, Gosselin reminded Huot, yet murder rates there remain three to four times higher than they are in Canada.
He said this proves that an "overly disproportionate" sentence — in this case, one that would be longer than a human life — doesn't serve the purpose of deterring anyone from committing a similar crime.
"This will not protect society," he said.
Justice minister rejects defence plea
Huot asked Gosselin if he realized the repercussions this constitutional challenge could have on the Canadian judicial system.
The debate has already taken place in other courtrooms across Canada, including in Ontario, where Ontario Superior Court Justice Ken Campbell sentenced Mauro Granados-Arana to consecutive parole ineligibility periods totalling 41 years in prison, for two separate murders.
In his ruling, Campbell concluded that article 745.51 was not contrary to the accused's charter rights.
In 2017, an Ontario judge heard similar arguments and ruled 2011 change for longer prison terms without possibility of parole are constitutional.

—@CatouCBC
Thursday will be the final day of sentencing arguments, before Huot takes a summer break. His decision is expected to come down in September.
Tomorrow, representatives of Quebec's Justice Minister Stéphanie Vallée will present arguments rejecting the defence's constitutional challenge.
In a document submitted to the court last week, Vallée argued that article 745.51 "was put in place to reflect the tragic nature of multiple murders, by recognizing the value of each life lost."
Vallée also rejects the argument that "hope" can be used in a judicial context, as Gosselin did, arguing that "denying hope is denying a part of our humanity."
[ad_2]