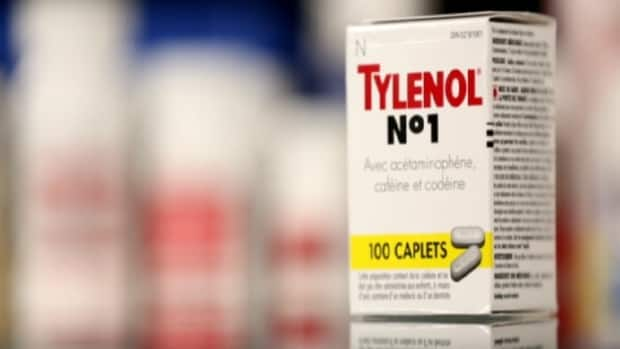 [ad_1]

Saskatchewan's regulatory body for pharmacists is eyeing a ban on the sale of non-prescription codeine products in pharmacies. 
Codeine is a narcotic found in pills and cough syrup used to relieve mild to moderate pain, according to a reference guide from the Saskatchewan College of Pharmacy Professionals. 
It can also be taken in combination with other drugs to increase the effect. 
Under federal drug rules, low-dose codeine medications are those that don't contain more than eight milligrams of the drug,  and must be mixed with at least two other ingredients. These medications must have warning labels.
Tylenol No.1 is an example. 
These types of medications are regulated as "exempted codeine products," and in most of Canada are available from pharmacies without a prescription. 
But that could be changing in Saskatchewan. 
College expects final decision in coming months
In its April 2018 newsletter, the college said its council recently discussed the availability of these products. 
"In response to the opioid crisis, developments in other provinces, growing member concerns over misuse of these products and recent information demonstrating little if any therapeutic benefit, Council agreed in principle to ban the sale of these products from pharmacies," it reads. 
"This means that we will submit a proposed regulatory bylaw amendment to stakeholders for consultation before finalizing this decision."
Reached on Tuesday, the college declined to provide an interview on the matter. 
However, it said the next step is to consult with stakeholders with the plan to make a final decision in the coming months. 
The regulatory college for doctors in Saskatchewan has already pledged its support to making codeine products available through prescription only. 
Health Canada considering change to prescription status
Health Canada is also mulling similar changes when it comes to access to codeine medications. 
Last November, it published a regulatory notice that it was considering making a change so that all pills and cough syrups containing codeine would require a prescription. 
"The Department is currently reviewing the comments received and it will use these comments to determining how to proceed with any potential changed with respect to low-dose codeine," reads a statement from the agency.
As of February 1, 2016, the College of Physicians and Surgeons in Manitoba changed its regulations so people require a prescription to obtain products like Tylenol No. 1.  
Saskatchewan's pharmacy college said in an email to CBC News that the matter of prescription status is under consideration and no decision has been made yet as to where it will fall under drug schedule. 
[ad_2]