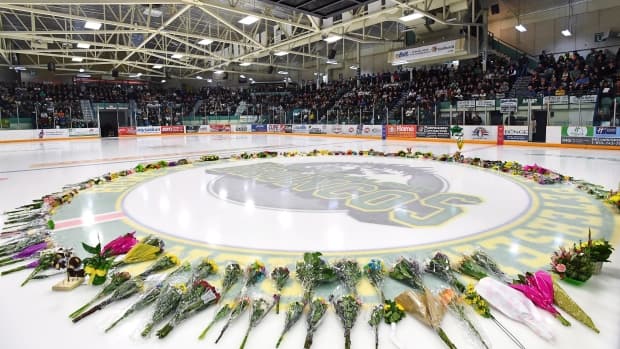 [ad_1]

Development of a plan to deal with mass casualties like the Humboldt bus crash is among the recommendations to Saskatchewan's Office of the Chief Coroner in a new report that concludes the office is not fulfilling its mandate.
The 104-page report, presented Wednesday, is the result of an external review of the office led by former Saskatoon police chief Clive Weighill. The review cost approximately $102,000, according to a provincial government spokesperson.
It contains 44 recommendations in response to findings that included "inadequacies" around training, communication and workload, as well as concerns expressed by families about the office. Recommendations include development of guidelines for when to call an inquest and education on Indigenous culture.
"As shown throughout the review, the coroner service does not currently have the capacity to fulfil its mandate. The recommendations in this review represent substantial change," it reads. 
No plan for mass fatalities
The review says it's time the coroner's office worked with health officials in order to develop a plan to deal with mass casualties.
It states that no such plan exists, despite discussion about developing one dating back more than a decade.
"It is not a question of 'if' it will happen it is a case of 'when' it will happen," the report reads.
Flowers lie at centre ice as people gather for a vigil at the Elgar Petersen Arena, home of the Humboldt Broncos. (Canadian Press)
The review mentions the collision between a bus carrying members of the Humboldt Broncos junior hockey team and a semi, which killed 16 people earlier this year.
It also points to a plane crash in Fond-du-Lac as a "near mass-fatality event."
The report says a plan is needed in order to lay out the responsibilities of the on-scene coroner when responding to such incidents, and to address issues around evidence collection, body transfer and "temporary morgue infrastructure."
Ladham case sparked review
Saskatchewan Minister of Justice Don Morgan called for an external review last November after a case where a jury found the province's chief forensic pathologist, Dr. Shaun Ladham, unfairly assessed another doctor who was trying to get a job with the coroner's office. 
Once public, the case also revealed allegations that Ladham made derogatory remarks about the bodies of Indigenous people. 
In a statement circulated to media, Morgan said the ministry will consider the report and its recommendations. 
The coroner's office is responsible for investigating deaths that are deemed unnatural, unexpected and unexplained.  
No 'overt' concerns, but cultural training needed
The report also heard concerns from families with respect to the office.
It noted accusations made by some people that they were treated differently as a result of their "race, culture or social status" when it came to matters such as a coroner's ruling on cases of accidental deaths or a suicide, where a family disagreed.
"No overt systemic issues were observed; nevertheless there are some practices that need to be put into place to ensure families are being treated fairly."
It recommends all staff that work with the coroner's office undergo cultural training around Indigenous culture and the practices of new Canadians.
As well, it recommends the position of advocate be created in order to address concerns a family may have about a coroner's investigation. 
Lack of clarity on inquests
The review highlighted a lack of clarity around when to call inquests into deaths of people who are not in the custody of police or corrections. It called for a set of criteria to be created and an inquest review committee to be established in order to solve this. 
Current legislation states deaths that occur while someone is in the care of police of corrections are subject to a mandatory inquests. 
However for non-custody deaths, the report says there is a lack of criteria as to when to call an inquest, with the decision arbitrarily lying with the chief coroner or, in some cases, the minister of justice.
"This has caused criticism from families who believe that, in previous similar circumstances, inquests have been called, yet, in their circumstances, they are denied an inquest."
The review also recommends increased training for community coroners, who are called on to investigate unexpected deaths outside of Regina and Saskatoon, saying an initiative to transition this role to police officers is not working. 
[ad_2]