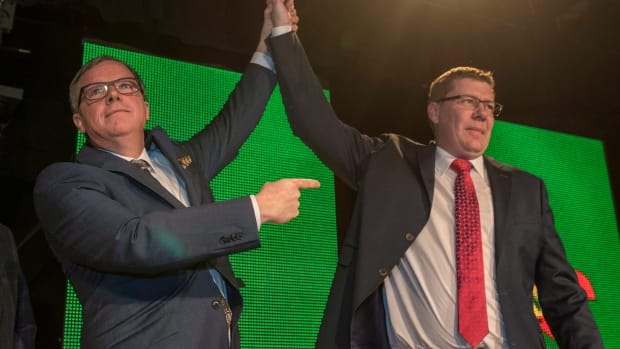 [ad_1]

Five months after stepping into the shoes of Canada's most popular premier, Saskatchewan premier Scott Moe is keeping the good vibes flowing with the highest approval rating in the country.
Moe has a 56 per cent approval rating, according to the newest Dart Insight poll, exceeding even his predecessor Brad Wall, who left the office with a 53 per cent rating.
Moe has stuck close to the main topics he trumpeted during his leadership campaign, carrying on Wall's fight against a carbon tax, advocating for a pipeline to the Pacific and, most recently, pitching a new federal equalization formula.
British Columbia Premier John Horgan followed Moe most closely with a 50 per cent approval rating, down two percentage points, while Ontario's new premier, Doug Ford, made his first entry on the popular premiers list with a third place ranking.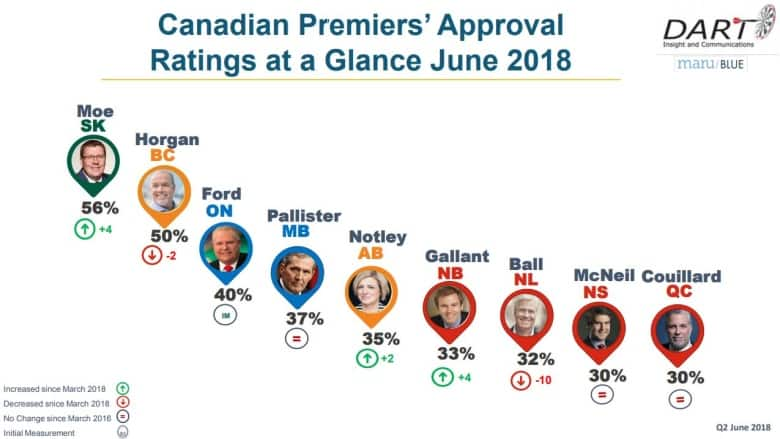 Saskatchewan Premier Scott Moe leads the pack for Canada's most popular premiers, followed by British Columbia's John Horgan, and the country's newest premier, Ontario's Doug Ford, making his entry at number three. (Dart Insight and Communications)
Ford, who led the Progressive Conservatives to a majority government in Ontario earlier this month, had a 40 per cent approval rating, consistent with his share of the popular vote during the election.
Ontario Premier Doug Ford and his PC party won a majority government earlier this month, with Ford entering the most popular premier list at number three. (Patrick Morrell/CBC)
Manitoba Premier Brian Pallister holds steady at 37 per cent, while Alberta Premier Rachel Notley was up two points to 35 per cent.
The pollster noted that Notley has improved six points since her war of words over the Trans Mountain pipeline first began with British Columbia's Horgan. In that same time, Horgan's approval rating has also risen by two points.
Liberal leaders on the eastern side of the country fared more poorly, having the four worst ratings:
New Brunswick premier Brian Gallant – 33 per cent approval rating (up by four points).
Newfoundland and Labrador's Dwight Ball – 32 per cent approval rating (down by 10 points).
Nova Scotia's Stephen McNeil – 30 per cent approval rating (no change).
Quebec Premier Philippe Couillard – 30 per cent approval rating (no change).
The poll noted that former Liberal premier Kathleen Wynne, who was ousted in Ontario's June 7 election, left office with the country's lowest approval rating at 19 per cent. That result, plus the other four lowest ranked Liberal leaders, make up the five provinces from Ontario to the Atlantic Ocean that Liberal Prime Minister Justin Trudeau needs in the 2019 election to maintain his majority government.
Approval ratings could not be provided for Prince Edward Island and the Canadian Territories because of extremely small sample sizes.
The survey was conducted between June 8 to 13, among 5,357 randomly selected Canadian adults who are members of the Maru/Blue online panel. The DART Insight poll is accurate to within three percentage points, 19 times out of 20.
[ad_2]