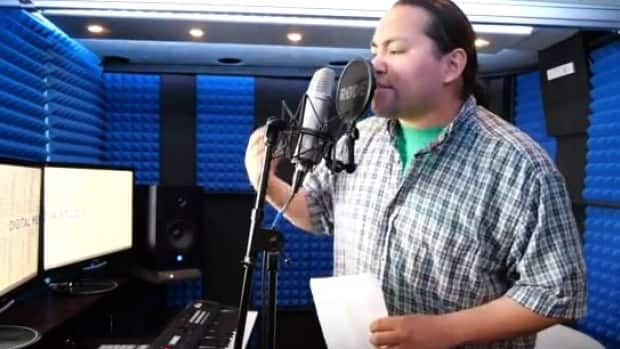 [ad_1]

A Saskatchewan Indigenous man is using music to learn his ancestral language of Cree. Now he is encouraging others to do the same through a First Nations YouTube Song Challenge.
Mansil Fiddler is from Waterhen First Nation. He said he's gotten submissions from around North America since starting the challenge, which is for both Indigenous and non-Indigenous people.
"The sky's the limit," Fiddler said.
He asked people to put their information and a song link in the comments on his YouTube video of the challenge. The entries have been in different genres — including country, rock and reggae — and are open to all Indigenous languages.
Mansil Fiddler at the CBC Regina studio. (Heidi Atter/CBC)
Fiddler said he started the challenge because it is a necessity.
"What challenges you, you remember," he said.
'The Map'
Fiddler said he thinks Indigenous languages started being used less even before residential schools.
"We weren't needed after we helped them complete the map," Fiddler said about settlers.
"My studies show that a lot of non-natives, pioneers were speaking our language. And I was shocked," Fiddler said. "Well because they needed our language to survive."
Fiddler said the challenge was open to people of all descent because anyone can learn it. 
Mansil Fiddler said he's using music to learn his own native language Cree, and will pick a word, make a full song inspired by it then show it on his YouTube channel.
He said Elders were supportive of the challenge.
"Basically they said 'Go ahead, it's not been done, no one's trying,'" Fiddler said. "What we're surrounded by is music and it's usually just English all the time."
Fiddler said the Elders did tell him to not allow powwow or round dance music in it, as these songs are sacred.
'Makes my heart pump'
Fiddler started learning Cree with a Regina teacher and would put new words and sentences to music.
"I started to make a song of it, out of my head and continuing to the point where I am just walking down the street, people thinking I'm from the Cuckoo house," Fiddler said.
He said when he listens to songs other people made in their languages: "that makes my heart pump."
"I accept covers, but I'd rather you make an original song yourself," Fiddler said.
He said creating new songs honours the Creator.
"He gave you this day because it has a lot of opportunity for yourself to try out," he said. "He didn't give you this day to repeat the same things."
[ad_2]