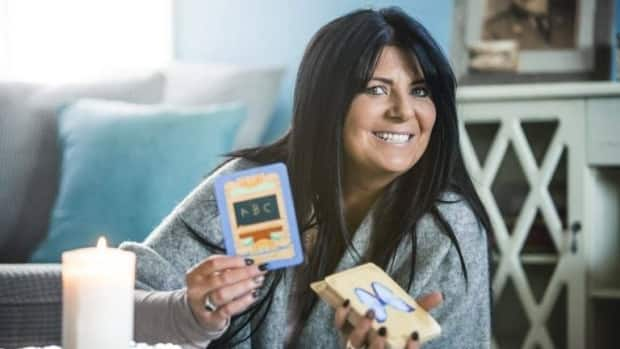 [ad_1]

Minutes after calling a psychic medium, Donna Wilson had spent $1,500.
At the time, she said it didn't seem like a high price to pay for the opportunity to connect her three adult children to their father who, after 45 years as a welder, had essentially worked himself to death. Maybe the woman she'd seen on TV could help them grieve. For that, it would be worth it.
It was the summer of 2014 when Wilson learned about Carmel Joy Baird from the TV show "Mom's a Medium."
Watching it at her farm in Blue Ridge, Alta., Wilson said she saw how the psychic and mother of six knew exactly what to say to grieving families, like her own. Baird, based in Edmonton, seemed to have an otherworldly connection to the dead and gave the kind of reassurance that made a family's grief more bearable, if only for a 30-minute episode.
The Wilson's family reading with Baird was booked for June 10, 2015. But days before her appointment, she got a call saying the hour-long session had to be postponed to 2016 because Baird was in poor health. But when that appointment approached, it was postponed a second time and staff offered a reading with Baird online. In August 2017, Wilson decided she wanted her money back.
She's taking advantage of people at their lowest point, with the hopes of contacting somebody that they love and dearly miss.– Connie Rewega
Almost a year later, and despite dozens of phone calls and emails, Wilson and her family are still waiting for a refund for the service they never received. They are among half a dozen of Baird's clients CBC News spoke with who say they have experienced similar problems with Baird and are starting to doubt they'll ever get their money back.
"She's taking advantage of people at their lowest point, with the hopes of contacting somebody that they love and dearly miss," said Wilson's daughter, Connie Rewega.
"I think people, when they're in mourning, would pay any price to talk to their loved one."
Psychic gained notoriety on reality TV show
Many of Baird's clients started off as fans of her show, in which she offers emotional psychic readings to clients hoping to connect with the afterlife. "Mom's a Medium" ran on the Country Music Television channel for two seasons starting in June 2014.
Baird's website describes her as a "highly sought after" spiritual medium, and says she gives readings to clients around the world. She sells spiritual guide books, a 10-week online certification course in how to become a medium, and guided meditations.
This summer and fall, she is hosting several webinars and weekend events at River Lane Ranch, her home on the banks of the North Saskatchewan River in northeast Edmonton. A "soul alignment" workshop in July costs almost $660 per person for the weekend. A "Mediumship 101" course and master class one weekend in October costs $1,350 per person.
After seeing Baird's show, Sheila Repchuk paid $525 in April 2015 for an hour with Baird. She was convinced Baird would be able to help her grieve a recent death in her family, she said.
She was put on a waitlist for a year. But when her appointment date approached, she was told it had to be rebooked. When she checked the terms and conditions on Baird's website, she learned that her appointment could be rebooked for any reason or changed to a phone reading. The website said if it wasn't rebooked to another date within the year, she'd get a refund.
Repchuk waited for a call to rebook her appointment, but it never happened. Through emails, Baird's staff told her they were trying to find her a spot, and offered a reading with Baird's daughter instead.
After waiting three years, she asked for a refund this spring. She was told she would have to wait 60 days for a refund. It never came. Dozens of voicemail messages and emails later, she said she thinks she got scammed.
At first, Repchuk said she didn't realize there were others who had similar experiences to her own. She has not considered going to the police or small claims court, she added.
"It's the fear of doing it alone. It's the fear that you're kind of admitting that you fell kind of like a victim to a scam. It's kind of embarrassing," she said. "It's not even about the money at this point anymore. It's the fact that it feels like she's taking from people and not being honest about it."
Some of Baird's clients say they've been asked to reschedule paid appointments years ahead. Baird continues to sell tickets to upcoming workshops and seminars at her Edmonton-area ranch. (carmeljoybaird.com)
Baird blames medical problems, stress
In an interview, Baird insisted she's not offering a scam service, citing stress for her business problems.
From 2015 through 2016, Baird said she underwent several surgeries and suffered a number of medical setbacks. Her mother died and her father was moved into a dementia care home.
During this time, Baird admits her business suffered. When her staff rescheduled bookings due to her health, she didn't realize they were being pushed months ahead, she said.
Baird said she gets about 1,000 emails a day and has a waitlist of 5,000 people. Dealing everyday with the grief of strangers gets exhausting, she said. Each reading with a client is like "running a marathon." 
"Your heart is pounding, it's exhausting. I filmed two seasons of a television show and burnt out," Baird said. "I'd say if I could go back and do things differently in many aspects, I would. I would absolutely say that I'm sorry, and I'm sorry that it got to this point. I don't think I'm a scam."
I'm sorry that it got to this point. I don't think I'm a scam.– Carmel Joy Baird
Baird said she has made several changes to her business in an effort to catch up on appointments and ensure refunds are given. Clients who have booked with her can have readings with her daughter or "approved partners" instead, she said.
She said she is not accepting any more new readings as she works to catch up on those already booked. But potential clients can still join a wait list for a private reading on her website. 
She said she is implementing a new refund system to ensure clients will receive their money back within 60 days, and those who have waited the longest will be prioritized.
"I will do everything in my power to make sure the refunds are made and to compensate in whatever way we can, even if that's giving refunds and giving readings to make it right," Baird said.
Baird has no criminal record. The Edmonton Police Service did not confirm whether they have received complaints about her business, or whether she is under investigation.
But Service Alberta confirmed five complaints have been made with that office against Baird between October 2017 and April 2018. Two complaints were eventually withdrawn by the consumers, and those who placed the other three have since received a full refund from Baird's business. 
According to Service Alberta, and based solely on the complaints they received and investigated, Baird wasn't deemed to be violating consumer protection laws and the cases did not warrant further action. That's because in those cases, Baird's office maintained contact with the consumer, there was no explicit refusal to provide service, and Baird's terms and conditions posted online had outlined the right to reschedule readings for a myriad of reasons. 
Service Alberta urges consumers to clearly understand the terms of a contract and never accept verbal agreements. Insist on a written contract.
Service Alberta spokesperson Tina Faiz said the department has been in touch with Wilson about her case, and urges anyone with similar concerns to contact them.
"We believe consumers deserve to be protected when making a purchase or signing a contract," she said in an emailed statement. "We review every complaint to make sure no one is being taken advantage of when signing a contract."
Baird's Better Business Bureau (BBB) profile is not accredited, but has 60 complaints over the past three years that have been closed. Most of the complaints are about rescheduling appointments and difficulties in getting refunds. The BBB has placed a "pattern of complaint" alert on her profile outlining the persistent issues consumers have had in receiving requested services.
"Our recourse is to bring this alert to the attention of consumers, so if the pattern hasn't been eliminated, that they have all the full information, [and] can make an informed decision as to whether that pattern might affect them or not in their purchasing decisions," said Seanna Lawrence, president of BBB for central and northern Alberta.
Baird noted some of her clients, like Dirk Hohmann, have been happy with her services, even though the Calgary man also had to wait 18 months for his initial appointment, which he booked in October 2012. His appointment was then postponed two or three times due to her health issues, he said. He finally got his first reading by phone with Baird in January 2016. It cost $500.
"It was a life-changing event for me, personally, that whole reading," Hohmann said.
He has since had another reading with Baird. It was also over the phone and cost $1,000.
'I would have paid a million dollars'
Terry Taylor lost her son to suicide a month before she booked a reading with Baird in August 2016. She paid $800 and was postponed twice. She finally got her reading in February this year. She thought she paid for an in-person reading, but it ended up being over the phone. It lasted 38 minutes, she said.
She had seen the psychic on TV. She was desperate for one last connection with her son, but by the end of the phone call, she felt she'd been scammed, she said.
"From what she told me in the reading she could have easily have got everything off my Facebook," she said.
Taylor said she felt stupid for paying for it and hopes she serves as a cautionary tale. She knows how easily a scam can masquerade as a promise worth paying for when you're grieving, she said. And $800 felt like a small sum when she'd already lost so much more.
"I miss him," Taylor said of her son. "I would have paid a million dollars if she would have given me one thing that I knew he was there."
[ad_2]