[ad_1]

Regional council has approved most of a preferred route for stage two of light rail transit, which will connect Kitchener to downtown Cambridge. 
The preferred route chosen by staff and approved during a planning and works committee meeting Tuesday was "significantly tweaked" from previous plans. 
"This iteration has some significant changes," said Tom Galloway, chair of the committee. "The property impacts are considerably less in terms of the number of properties that have to be expropriated."
The most significant changes are in the area of Preston, where Galloway said the route now follows the Speed River and an abandoned rail line.
"It's much better and residents are acknowledging that it's much better, but there are still impacts," he said. 
In order to address some remaining concerns, Galloway said there was an amendment made to staff's original recommendation.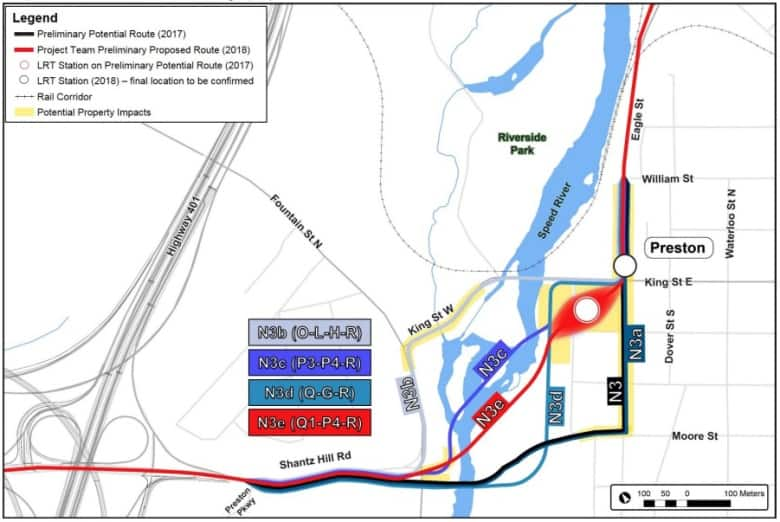 This section of the preferred route, from Shantz Hill Road to William Street, is still under review. (Region of Waterloo)
 Councillor Karl Kiefer, who represents the City of Cambridge, asked staff "to continue to review" a section of the preferred route from Shantz Hill Road to William Street, "to see if there's any further tweaking that could be done to avoid some of the property impacts and traffic impacts through that particular areas." 
Galloway said about 95 per cent of the route was approved and staff can begin the preliminary design of the LRT route through Cambridge, except for the section through Preston.
Once the region has preliminary designs for stage two of the LRT, Galloway said they can begin the next environmental assessment, which is needed in order to ask for government funding.
Extra costs
According to the staff report, the stage two project is expected to cost $2,830,030.55, which is $967,243.71 more than initially expected, due to changes to the preferred route.
"The original scope assumed a 2011 council-approved preferred route," the report says. "Since that time, the entire route has been reconfigured except for a small segment along Hespeler Road."
With so many changes, staff said many areas of the route had to be analyzed again, which accounts for the additional costs.
[ad_2]