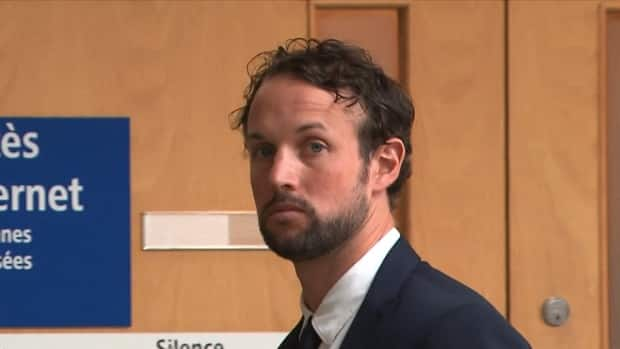 [ad_1]

A Quebec provincial police officer who drove a police cruiser that killed a five-year-old boy on Montreal's South Shore in 2014 has testified that the collision was unavoidable.
Patrick Ouellet, a Sûreté du Québec officer on trial for dangerous driving causing death, took the stand Monday in a Longueuil courtroom.
Ouellet was driving an unmarked police cruiser on Feb. 13, 2014, when he hit a car that had two children in the backseat at an intersection in the Longueuil borough of Saint-Hubert.
One of the passengers in that car, five-year-old Nicolas Thorne-Belance, was critically injured and died in hospital five days later.
Ouellet testified that he was about to cross at a green light when a car coming from the opposite direction turned in front of him without using a turn signal.
Ouellet said he tried to brake, but it was too late.
Defence releases 911 call from scene of the crash
Ouellet's defence team also released a 911 call from the scene of the collision.
In the recording, Ouellet can be heard saying that two people were unconscious and that a child didn't appear to have a pulse.
He also told the 911 operator that he believed "one of the children will be dead."
"The car is in bad shape. It turned right in front of me at the intersection. I crashed right into the back door. It hit hard, really hard," Ouellet can be heard saying.
Ouellet was trailing a political figure as part of an investigation by the province's anti-corruption unit when the crash occurred at the corner of Gaétan-Boucher and Davis boulevards.
The Crown has argued that Ouellet was driving at more than 120 km/h in a 50-km/h zone and that he should have slowed down because the chase wasn't urgent.
Closing arguments in the case are expected to begin on Wednesday.
[ad_2]