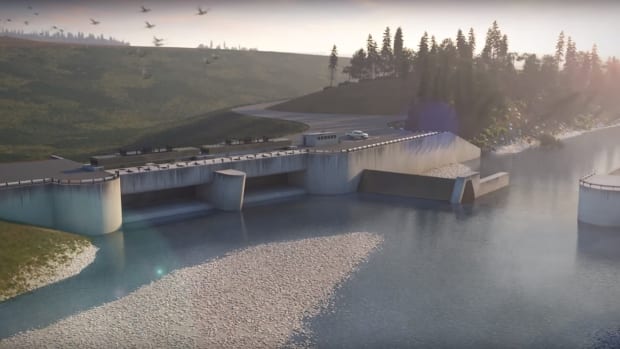 [ad_1]

The provincial government says they'll do whatever it takes to make the Springbank​ dam happen, but those against the project say their fight is far from over. 
On Wednesday evening, more than 100 people who live close to the Elbow River gathered to hear city and provincial officials update their flood mitigation efforts.
Five years after the devastating 2013 flood, Elbow Park resident Cori McNicol said she still gets anxiety
"Talking about, 'do we get a moving van and throw everything in it, and move it up the hill,' that sort of thing, that's not a normal thing to think about," she said. 
Elbow River resident Cori McNicol says she'd like to see action on the Springbank reservoir sooner than later. (Rebecca Kelly/CBC)
Minister of Transportation Brian Mason reassured the crowd that despite ongoing opposition by landowners and members of the Tsuu T'ina Nation — the government is committed to getting the Springbank dam built.
"I want to stress that this project is the best project to protect Calgary and any attempt to switch horses now would result in very significant delays in flood protection and would result in much poorer outcomes," he said. 
Mason said his team is doing everything they can to speed up the process. 
"We've added extra resources to make sure that we can respond on very short time frames to anything the Canadian environmental agency requires of us," he said.
Minister of Transportation, Brian Mason, says his government is committed to the Springbank reservoir. (Rebecca Kelly/CBC)
But, for homeowners like McNicol, things aren't happening fast enough.
"Being the five year [anniversary] and not really having anything in place to feel comfortable…I think it definitely brings some anxiety to our life," she said. 
"We understand that for these land owners in Springbank it's hard, and I don't think it's something that people who have been displaced really chose to do."
But, McNicol said the magnitude of the 2013 floods speaks volumes.
"There were 100,000 people who were affected and evacuated for the flood. That's a lot of people, that's almost a tenth of the population of Calgary, so I think you have to weigh the pros and cons of everything." 
Still, Springbank landowner Mary Robinson and her neighbours are not giving up on what they consider is the better choice — a reservoir at McLean Creek.
"We continue on our struggle to make people realize that we are in favour of flood mitigation, but we just feel that McLean Creek is a far better option," she said. 
At one point in the meeting Mason said building Springbank dam would displace a couple dozen families, compared to the millions of homes it could potentially save.
But, Robinson stands behind McLean Creek as the solution.
"They're some of the oldest ranches in Alberta, and we just don't think that is a respectful way to treat people when there is a better option that also protects Calgary," she said.
When asked if they'd consider going to court, Morrison said they were "not beyond that."
"They're dealing with a bunch of good rural people, we're not giving up our heritage, our homes, our families and its our businesses," she said. "They're going to destroy all of our businesses."
Springbank resident Mary Robinson says she stand behind McLean Creek as the best option for a reservoir. (Rebecca Kelly/CBC)
Mason said his government hopes to find a solution where they can acquire land from Springbank landowners in a civil fashion.
"And if we can't do that, we're going to reluctantly move toward expropriation," he said.
An environmental review of the Spring Bank dam is expected to be completed by next spring. 
With files from Colleen Underwood
Read more articles from CBC Calgary and like us on Facebook for updates.
---
---
[ad_2]