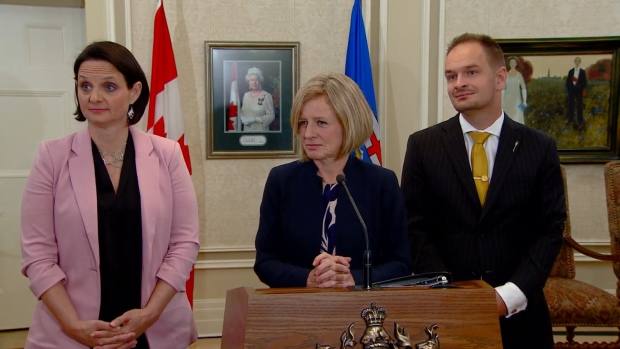 [ad_1]

Premier Rachel Notley shuffled her cabinet Monday, slightly reducing the number of ministers while appointing backbencher and Calgary-Currie MLA Brian Malkinson as her new minister of Service Alberta to replace Stephanie McLean.
Children's Services Minister Danielle Larivee, MLA for Lesser Slave Lake, took on McLean's former role as minister for the status of women, in addition to her other responsibilities.
McLean, MLA for Calgary-Varsity, announced in May she won't run for re-election in 2019.
Notley also dropped Brandy Payne from cabinet Monday. Payne, the MLA for Calgary-Acadia, had been associate health minister. In March, she said she doesn't plan to seek re-election in 2019.
Notley downplayed the optics of dropping two women from her inner circle and adding one man. Malkinson is a Calgary MLA and she said regional representation is another important consideration in cabinet appointments. 
"We had more women in cabinet. We're now down by one woman," Notley said.
"I feel quite strongly that our record as it stands both in terms of our cabinet make-up as well as our record standing up for women in Alberta and across this province is a record that frankly is unmatched by any other government in Canada."
Malkinson, a former diesel engine technician, was first elected in 2015. Notley praised him for his work ethic.
"I don't know that there is an MLA anywhere in Calgary who has been on more doorsteps than Brian Malkinson, not only in his riding but in the ridings of other MLAs," she said. 
"If you want someone who can channel the voice of regular folks in Calgary, I think people will be very pleased with what Brian is able to bring to the table."
The swearing-in ceremony took place at Government House in Edmonton.
Notley last shuffled her cabinet in October 2017, appointing Calgary-North West MLA Sandra Jansen as the minister of Infrastructure.
Infrastructure had been held by Brian Mason, who was also Transportation minister. Mason, MLA for Edmonton-Highlands-Norwood, remains transportation minister and continues in his role as government house leader.
Also in the October 2017 shuffle, Fort Saskatchewan-Vegreville MLA Jessica Littlewood and Sherwood Park MLA Annie McKitrick were appointed parliamentary secretaries for economic development and trade, and education, respectively.
In January 2017, Notley split the human services department into two ministries.
Larivee became the Children's Services minister. Former Human Services minister Irfan Sabir, the MLA for Calgary-McCall, took on Community and Social Services.
At that time, Shaye Anderson, the MLA for Leduc-Beaumont, replaced Larivee as municipal affairs minister.
[ad_2]