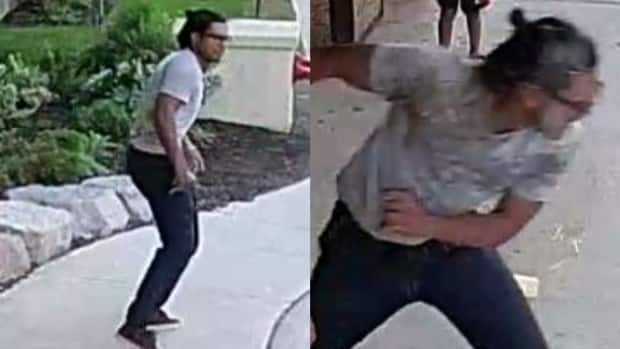 [ad_1]

Peel regional police have released surveillance video of a woman being attacked in front a child outside a Brampton apartment building on June 1, in an attempt to track down the man who sexually assaulted her.
Officers say a 23-year-old woman was approached by the man at a convenience store around 7:45 p.m. in the area of Kings Cross Road and Knightsbridge Road.
*WARNING*: The video below may be disturbing to some viewers.
The man attempted to start a conversation with the woman before she walked away on foot.
Police say the suspect then followed her in a silver vehicle.
In the footage released by investigators, police say the woman was sexually assaulted. 
The video shows a man running up behind the victim, grabbing her hand and pulling it away from a child as she walks in front of a building entrance.
The suspect pushes her and turns to run away, then comes back a second time, grabs her by the hair and assaults her again. He then flees to his parked car and drives away from the scene. 
[ad_2]