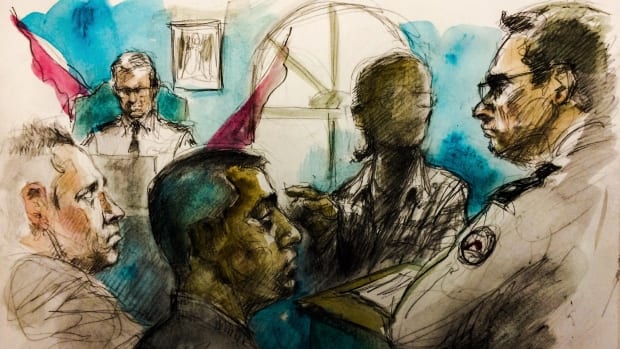 [ad_1]

One of the officers accused of unlawfully arresting four teenagers at a community housing complex in the so-called "Neptune 4" incident said he felt scared after the group tried to attack his partner.
Const. Scharnil Pais shared his version of the events for the first time while testifying at a Toronto police disciplinary hearing Tuesday.
Pais and his partner, Const. Adam Lourenco, were involved in a violent interaction with four black teenagers outside a housing complex on Neptune Drive in the Lawrence Heights area in 2011. 
In August of last year, one of the complainants testified on the evening of Nov. 21, 2011, Lourenco and Pais approached the group and said they matched the description of robbery suspects. The complainant said when the officers said he and his friends were not under arrest, they walked away. At that point, he said Lourenco became "angry" and punched one of the teens multiple times before drawing his gun.
During his testimony, Pais vigorously denied that account and insisted the officers' actions were warranted.
Surveillance video shows Lourenco drawing his gun at one point.
Pais is facing a charge of unlawful or unnecessary exercise of authority under the Police Services Act. Lourenco is facing the same charge and two additional counts of discreditable conduct.
Officer tells his version of incident
On Nov. 21, 2011, Pais said he and Lourenco approached the group of teenagers with the intent to enforce a Toronto Community Housing trespassing act.
He remembered approaching the teens in an unmarked police van and asking to talk to them.
Shortly after exiting the vehicle, Pais said the group began yelling at the officers.
When Lourenco tried to arrest one of the young men, the complainant yelled "f–k you" and spat in Lourenco's face, Pais told the hearing.
As the altercation between Lourenco and the complainant progressed, the other three teenagers charged towards Lourenco with the intent to "attack," Pais testified.
"I was scared. I was in shock," Pais said. "I felt as if those three individuals were going to attack Lourenco."
Backup officers arrived a few minutes later and the group was arrested and charged.
The charges were all later withdrawn.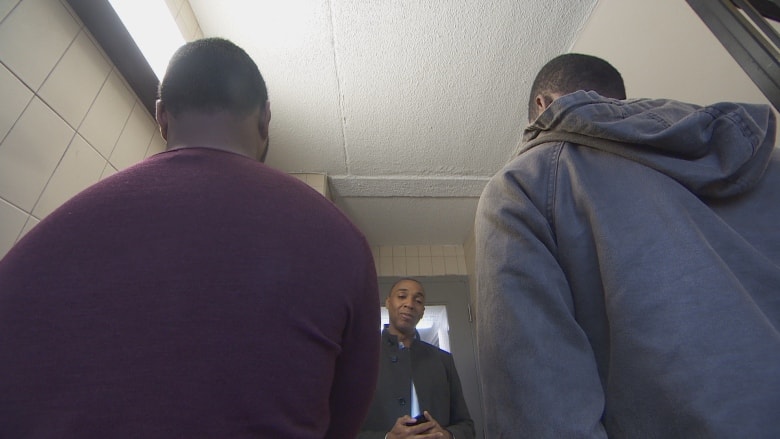 Two of the four young men spoke to CBC Toronto's Dwight Drummond in 2016 about the ordeal. They cannot be identified because they were charged under the Youth Criminal Justice Act. (Martin Trainor/CBC News)
Lourenco did not threaten group, Pais testifies
Pais also refuted accusations that Lourenco and another officer used aggressive, threatening language during the interaction.
The complaints said Lourenco yelled, "I'll kill you" after drawing his handgun.
A complainant said another officer said he would "crush his f—ing skull."
Pais said he did not hear Lourenco or any officer make aggressive statements, and instead said it was the teenagers who swore and threatened the officers.
The hearing is scheduled to continue until Thursday. Final arguments are scheduled to begin in July 5.
[ad_2]