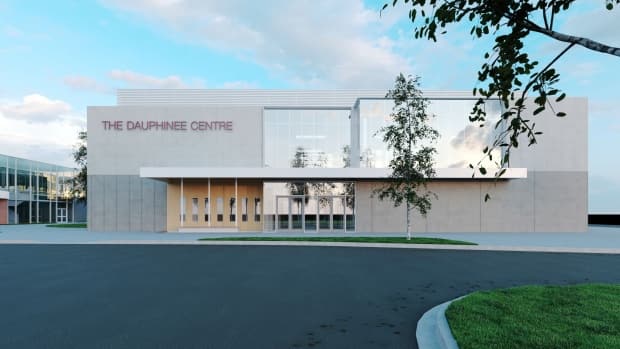 [ad_1]

Saint Mary's University has released the name of the new arena now being built on campus.
The facility will be called The Dauphinee Centre.
The late Bob Dauphinee was a Saint Mary's alumnus who donated $2 million to the arena campaign through his estate.
"Saint Mary's University has a proud and successful hockey tradition that will continue for generations to come in The Dauphinee Centre," said Saint Mary's president Robert Summerby-Murray said in a news release.
"This new arena will contribute to the continued success of our varsity men's and women's hockey teams, providing our athletes and coaches with a new home to continue their tradition of excellence."
Seating for 850 fans
The new arena will have seating for 850 fans and, with standing room, will have the capacity for 1,200. The centre will also have an upper-level warming room overlooking the ice surface.
The Dauphinee Centre will be connected by an enclosed walkway to the Homburg Centre, the university's main gymnasium complex.
Many of the enhancements to the arena plan were made possible following a $2-million donation from local entrepreneurs Glen and Nancy Holmes, the parents of two current Saint Mary's students.
Project costs will be close to $15 million
The new arena is being constructed on the same site as the former arena, which was demolished this spring.
The overall cost of the project is approximately $14.8 million.
It is scheduled to open in time for the 2019-20 varsity hockey season.
[ad_2]