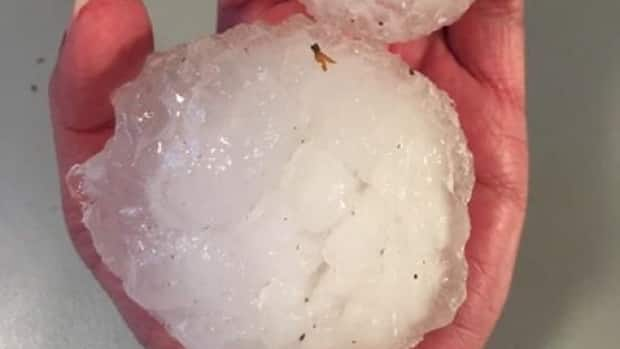 [ad_1]

A thunderstorm that swept through southern Manitoba last week, dropping hail the size of golf balls and softballs, could cost Manitoba Public Insurance as much as $20 million.
On Tuesday, MPI shared its hefty estimate after more than 2,000 hail claims were filed.
Spokesperson Brian Smiley anticipates they'll hear from many more vehicle owners.
"We expect that number to rise significantly as the days go on."
The conservative low end of the estimate is the Crown corporation will fork over at least $10 million as a result of the June 14 storm. 
Nearly 100 km/h winds and huge hail hammered southern Manitoba last week, knocking out power to thousands, downing trees and damaging property. A tornado was spotted in the southwestern corner of the province near Waskada, 280 kilometres southwest of Winnipeg.
In response to the chaotic storm, MPI is establishing dedicated hail centres in Winkler and Ninette beginning tomorrow. Customers are encouraged to make an appointment before going in.
The hardest hit areas from the storm were in Morden, Winkler, Ninette and Manitou, Smiley said.
Manitoba Public Insurance has dealt with other costly hail storms in its history. 
The publicly owned insurer paid out $53 million following a 1996 hail storm in Winnipeg and $15 million after a 2007 storm pulverized the Dauphin area. 
[ad_2]