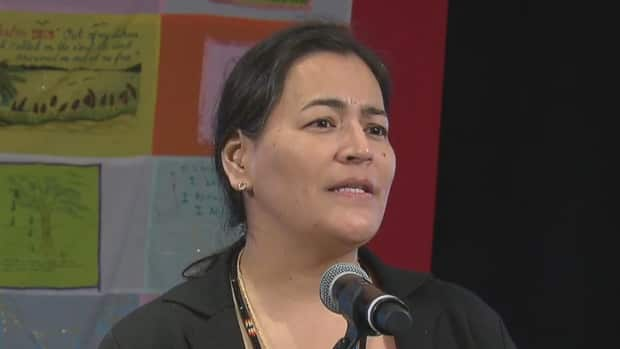 [ad_1]

Michèle Audette, one of the four remaining commissioners on the national inquiry into murdered and missing Indigenous women, announced Tuesday she has decided to keep working with the inquiry despite her disappointment with the federal government's limited extension.
Earlier this month, Ottawa announced its decision to grant the inquiry a limited-time extension to its mandate. 
The inquiry was originally scheduled to submit its report on Nov. 1 of this year and wrap up its operations by the end of  December. It asked for an additional two years and an extra $50 million.
Instead, it got an extension for writing its final report to April 30, 2019, and an additional two months to wind down its operations by June 30, 2019.
At the time, Audette issued a statement saying she was gripped by a feeling of "incomprehension and deep disappointment" after Ottawa's decision and would contemplate her future with the inquiry. 
In a statement issued Wednesday, Audette said she felt a profound duty to ensure the inquiry delivers on its mandate and resisted "resigning myself to accepting this government decision that limits the ability of the National Inquiry to gather evidence and uncover the truth about systemic causes of violence, and to support families and survivors."
"While I continue to feel deep disappointment in the government and regret that the final report will not be as comprehensive as it could have been, my heart will not let me walk away from my commitment."
The inquiry has faced a high turnover in staff, including the departures of senior staff and commissioner Marilyn Poitras in 2017.
The inquiry is currently gathering testimony from government officials, police forces and experts.
[ad_2]