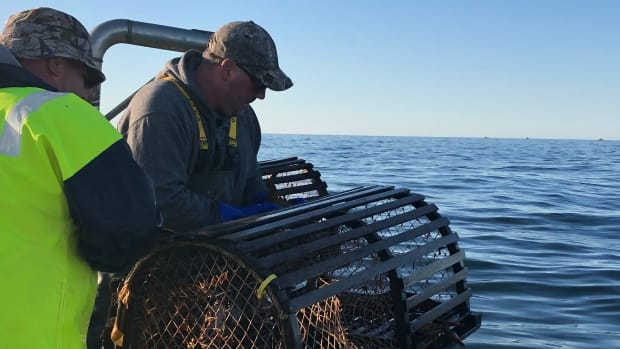 [ad_1]

Lobster fishermen aboard about 60 boats spent Sunday morning pulling traps from waters off Miscou Island in northeastern New Brunswick in order to comply with a zone closure put in place by the Department of Fisheries and Oceans. 
The closures in Lobster Fishing Area 23 were announced by the DFO on June 11, after five North Atlantic right whales were seen between Miscou and the Gaspe Peninsula.
DFO boats were in the area monitoring the situation as the traps were hauled up.
Among the fishermen raising traps from the water was 74-year-old Simon Bezeau. The Miscou Island resident, who's been fishing for 60 years, says he moved half his traps to the small area that remains open and took the rest home, though he would have preferred to keep them where they were.
​
Simon Bezeau, standing with his daughter and crew member, Denise Bezeau, said in his 60 years of fishing he's never seen a North Atlantic right whale come in any area where he fished lobster and herring. ( Francois Vigneault/Radio Canada)
"I don't know if there was a good reason why we had to move that. We had to move traps where there was lobster, so we moved them more by the south in a little piece there, there's a whole bunch of boats, I think 55 there, in that same little spot there so no-no-no, we don't agree with that there." 
Crowded waters
Maritime Fishermen's Union President, Carl Allen, agrees the zone closures will make for crowded quarters in the remaining areas open to fishing.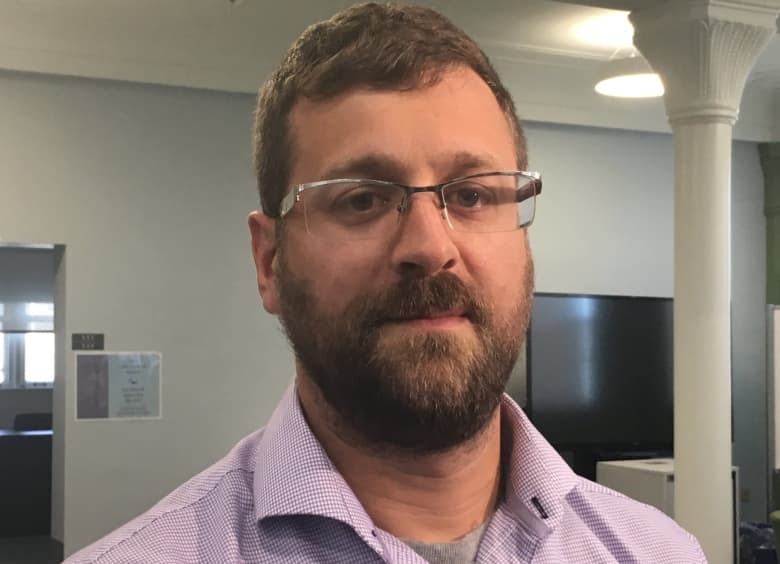 Maritime Fishermen's Union President Carl Allen said they will meet with the affected fishermen this week to see how they are dealing with the closure. (Gabrielle Fahmy/CBC)
"There's a very small block that they can kind of move into. They are limited on the amount of territory that is left for them so they're all going to have to cram into what's left I guess." 
He said affected fishermen are complying with the closures, but are doing so grudgingly. 
Allen wasn't sure whether some fishermen might pull out their traps altogether, ending their season early. 
"We're still trying to get reports to verify if anyone took their traps completely out of the water. But from what I understand, the majority of them, if not all of them are going to continue to fish." 
Lobster fishermen on Miscou Island are unsure what kind of catches they will have after having to move all their traps into one small area not affected by the closures for the North Atlantic right whale. (Kayla Hounsell/CBC)
With many of his traps out of the water, Bezeau said he'll wait and see how he does with the remaining ones before deciding whether to give up for the season. 
"There's not going to be much lobster left. There's too many boats and that's not one of the best place to finish the season." 
The fishermen are losing about 15 days out of the 60 day spring fishing season due to the closures. They held a protest to complain about the closures late last week. 
Many of them still don't understand why the area is being closed, Allen said.
Fishermen spent Sunday morning fishing and pulling their lobster traps and moving them from closed areas before the noon deadline. (Kayla Hounsell/CBC)
"When you've fished all these years and never seen a North Atlantic right whale where they're fishing lobsters, it makes it a hard pill to swallow." 
Bezeau has never seen a right whale while fishing, but said he sees smaller whales all the time, especially during herring fishing in the fall. 
Federal fisheries minister, Dominic LeBlanc met with fishermen on Friday to discuss ways of compensating them for time lost on the water. 
He has offered paid training programs for crew members and fish plant workers affected by the closures, and has offered the possibility of re-opening the fishery for a limited time in the fall. 
A map showing where the fishing area closures are located. (CBC )
The MFU will meet with fishermen in the coming days to decide whether they want to accept the offers of help. 
​
[ad_2]