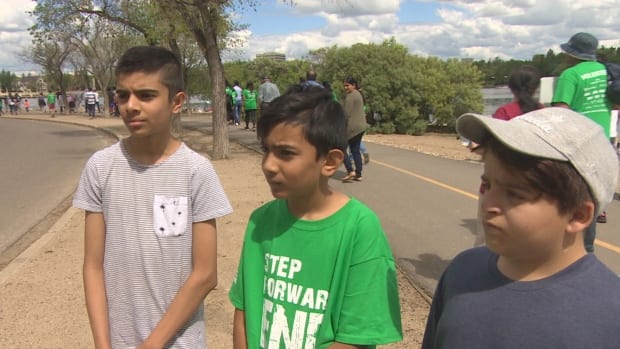 [ad_1]

Children are learning to care for and help people outside of Canada at a walk that aims to end global poverty.
Regina's World Partnership Walk dominated much of Wascana Park on Sunday, with hundreds joining in for a stroll through the park or to take in live entertainment.
Ahsen Saifuloah said he walked and raised money last year as well.
"Maybe one day, just one day, maybe, I might be in their shoes and I might need their help, so who knows," Saifuloah said.
Standing nearby, his friend Zeeshan Ali said preparing for the event has taught him about the need for help in third-world countries.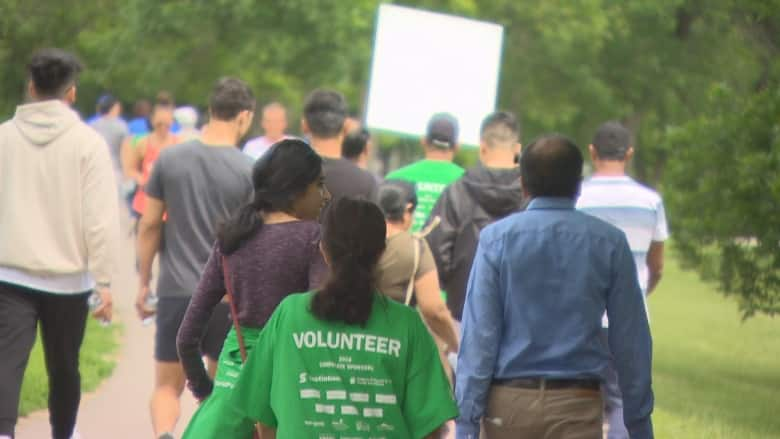 The walkers fundraise for things like training for farmers in Asia and Africa. (Yessica Chavez/SRC)
The walk's organizers say the money goes to healthcare, early childhood development, community development and cultural preservation in Asia and Africa through the Aga Khan Foundation Canada.
While he said the aim of the event is to end global poverty, Ali said he understands it might take longer than just this year to achieve that.
"Not everyone around the world has shelters or the luxury to have clean water and healthy food. So I really want that to happen (poverty to end) because lots of people are dying due to poverty," he said.
Asif Prasala and his daughter raised more than $2,000. (Yessica Chavez/SRC)
India-born Asif Prasala brought his young daughter, and together they achieved their goal of raising $2,000 for this year's walk. Prasala moved to Canada after learning English in university and getting his bachelor's and master's degrees.
"I have seen poverty and I have seen low education back in India," he said.
"And then we moved to Canada and I saw in Canada the people are so generous to everybody."
In explaining why the walk — which attracts more than 40,000 people across the country — is important, organizer Aly Salem pointed out how diverse the crowd was on Sunday.
Aly Salem said money from the walk supports four key areas to eliminate global poverty. (Yessica Chavez/SRC)
"It's really important to have a focus on global poverty because we live in a world that is global in nature…. You have people from all over the world and you're only a flight or a train or a very short travel trip away," Salem said.
With corporate donations, well over $100,000 was raised on Sunday in Regina.
[ad_2]