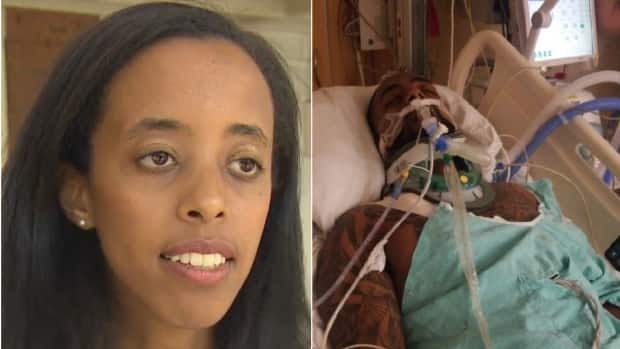 [ad_1]

An alleged case of police brutality making waves on social media — involving a 23-year-old black man whose lawyer says he was "beaten into a coma"—  isn't what it's made out to be, say Toronto police.
Toronto lawyer and mayoral candidate Saron Ghebresellassi took to Twitter on Monday night claiming Musie Ghebremichael, was "beaten almost to death by 14 Division" along with a photo of her client in critical care unit at Toronto Western Hospital breathing through a tube.
Ghebresellassi told CBC News her client was unconscious for nearly two weeks and told her when he awoke Monday that he was beaten by police.
"We absolutely need answers in terms of what exactly happened," Ghebresellassi told CBC News. "It begs for scrutiny, it begs to be put under the microscope."
Only Toronto police say that's not at all what happened.
Police claim accused drove at officers on bikes
Police say on Saturday, June 2 just after 11:30 p.m., officers on bicycles in the King West area near Bathurst and Niagara streets observed a car being driven "erratically." When they checked the vehicle's plates, they discovered the car had been reported stolen and followed it until it stopped at a traffic light.
That's when they say Ghebremichael allegedly drove at the officers, "knocking their bicycles into traffic and striking other cars," according to police spokesperson Meaghan Gray. A short chase followed before the 23-year-old was taken into custody and then to hospital, police say.
Gray did not say what preceded Ghebremichael being taken to hospital, saying, "If the family or the accused's counsel have new information, they are encouraged to contact the TPS, or to contact the SIU directly."
Around 3 a.m., Ghebresellassi says, her client's mother received a knock at the door of her Kitchener home from officers telling her her son was in a coma.
Ghebremichael now faces more than nine different charges including: possession of property obtained by crime, three counts of assault of a peace officer, dangerous driving, failure to stop, driving while disqualified, failing to comply with probation and additional infractions under the Highway Traffic Act.
Police watchdog not investigating
The province's police watchdog told CBC News it was notified on June 4 and concluded the incident doesn't fall under its mandate. The mandate of the arm's-length agency is to investigate any incidents involving police that result in injury, death or sexual assault. 
My client is a healthy 23-year-old gentleman with no prior medical issues, no chronic health issues.– Saron Ghebresellassi
"According to the medical evidence, the man did not sustain any serious injury deemed to be the result of any police action," said Special Investigations Unit spokesperson Monica Hudon.
CBC News spoke with two witnesses in the area on the night of Ghebremichael's arrest who say they saw the a car driving erratically before being intercepted by what looked to be bike cops. Neither witness is being identified out of concern for repercussions to their employment.
Both say they say the accused get out of the vehicle and ran into a crowd outside of a club in the area.
There, one witness claimed Ghebremichael appeared to have suffered some kind of medical episode and was making strange noises.
The witness said Ghebremichael was then taken away from the patio where he was arrested and was taken somewhere else outside the club. An ambulance arrived some time after and he was seen taken out in a stretcher. 
The second witness said the accused appeared to be resisting arrest, at which point the authorities became at least somewhat aggressive with him.
Asked if it was possible that Ghebremichael was injured before his arrest, his lawyer said, "Absolutely not," standing by her version of events.
Outpouring of concern at claims
"My client is a healthy 23-year-old gentleman with no prior medical issues, no chronic health issues," Ghebresellassi said, acknowledging she is still awaiting a complete medical report.
Since going public with Ghebremichael's case, Ghebresellassi — who says she was approached about the incident by members of the Eritrean community at a church event — says she's received an outpouring of messages of concern and outrage.
<a href="https://t.co/NqxdLEoimp">pic.twitter.com/NqxdLEoimp</a>

&mdash;@DesmondCole
On Tuesday evening, the 23-year-old's family held a vigil across from Toronto Western Hospital where, according to his lawyer, he is still in critical condition, without the use of his arms and legs. 
The group is demanding that the SIU invoke their mandate and that police name the officers involved in Ghebremichael's arrest.
For his part, Toronto Police Association president Michael McCormack has rejected Ghebremichael's lawyer's allegations, saying the police union has consulted counsel and is considering legal action against her.
"Her claim is completely false, it's inflammatory, it damages the reputations of our officers, and it does nothing other than to incite hate against the police."
McCormack also rejects claims Ghebremichael's family have been unable to see him, saying that they were allowed to do so while he remained in a coma. 
After gaining consciousness Monday, the 23-year-old was remanded into custody and is currently under the supervision of the Ministry of Community Safety and Correctional Services. 
[ad_2]