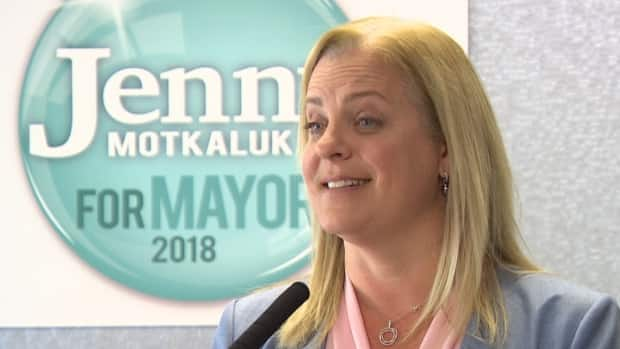 [ad_1]

For the first time on Monday, Jenny Motkaluk talked about her "real priorities" as an aspiring mayoral candidate: to fix Winnipeg's roads, grow the economy and lower crime rates.
The business consultant also repeated her previous stance against reopening Portage and Main, and said her vision for improving bus services doesn't include expanding rapid transit — and she might even stop the already-under-construction Southwest Transitway.
"I'm against Brian Bowman's plan to open Portage and Main, and that the Winnipeg that I lead will not spend another minute or dollar talking about that issue," said Motkaluk.
"When Brian Bowman says that he is a transit mayor, what he really means is that his priority is building vanity rapid transit dedicated roadways, instead of just putting more buses more frequently onto the roads that we already have so that we can serve Winnipeggers right now."
At a pre-campaign launch event, Motkaluk said there are three "urgent" priorities — better roads and sewers, improved crime prevention and "smarter policing," and economic reforms to boost local business.
She also outlined three "important" priorities — improving community pride, service delivery and transit services.
Asked whether she supports plans to expand rapid transit in general, Motkaluk said no.
"We're not going to build rapid transit roadways, and instead we're going to put our effort into making sure the system that we have today works," she said.
Motkaluk was noncommittal when asked whether she would complete the southwest transit corridor, which is currently under construction.
"Is that going to make the transit more reliable and easier and faster for the people that need it right now?" she said. "I don't know. I need to take a closer look at that."
The third urgent pillar of a Motkaluk administration would include reforms aimed at boosting local economic development and entrepreneurship opportunities, she said.
Attracting more outside investment and celebrating Winnipeg-based corporations by giving them more incentive to grow their businesses would be key, she said.
She didn't elaborate on how she hopes to achieve her policies because it's too soon in the race to release specific plans, she said.
Motkaluk was the first to enter the mayoral race in January and said Bowman's desire to reopen the busy intersection represents a distraction from issues that actually matter — a message she led with at a Monday news event.
"Portage and Main is not a hot issue because it's an urgent problem. No, Winnipeggers, we care more about fixing our roads and sewers, and preventing crime and getting more jobs and investment in our city," she said.
"It's a very expensive symbol. It's a symbol of how an accidental mayor lost track of Winnipeg's priorities."
Motkaluk said she coined the "accidental mayor" label because, in her view, Winnipeggers voted for Bowman only because they preferred him to the "NDP candidate" Judy Wasylycia-Leis or former city councillor Gord Steeves, who served under former mayor Sam Katz's administration, "which Winnipeggers had started to grow suspicious of."
Motkaluk's official launch party takes place Monday night at 6:30 p.m. at Canad Inns Polo Park.
Voters head to the polls Oct. 24.
[ad_2]