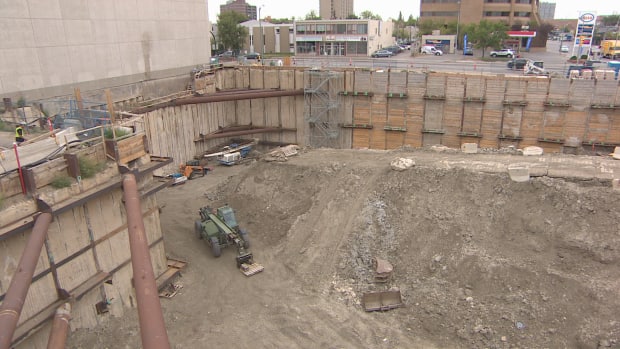 [ad_1]

Two months after the City of Regina ordered a developer to fill the the hole at the corner of Albert Street and Victoria Avenue, the ground is still gaping at the location.
The Saskatchewan Building and Accessibility Standards Appeal Board heard arguments Monday from the city and from Westgate Developments, which owns the plot of land where the Capital Pointe tower was meant to be constructed and is affiliated with Fortress Real Developments Inc.
Christine Clifford, representing the city, argued that since more than 30 days had passed since Westgate filed an appeal on April 3, and since no extension had been applied for, the Board no longer had jurisdiction. If that is ruled to be correct then the hole would have to be filled.
Neil Abbott of Gowling WLG, representing Westgate, however argued that the 30-day limit was not expressly communicated to all parties involved in the hearing. As such things should move along to a hearing tentatively set for July 24.
Should the appeal proceed to a full hearing there would also be the question of submitting additional evidence and allowing witnesses.
Clifford had planned to have an engineer appear as a witness to discuss a report that had been submitted as part of the evidence.
Sahil Shoor, also representing Westgate, argued that it would be unnecessary to have a witness restate what was already present in a report. 
At the end of the hearing both parties agreed that should the appeal hearing continue both parties should be allowed to submit additional evidence and respond to it. 
Ground broke on the Capital Pointe project, which was once set to be the tallest building in Regina, in 2011 and it was slated to be completed by 2015.
[ad_2]