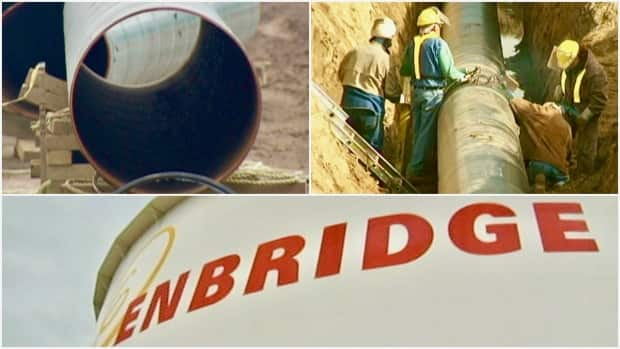 [ad_1]

Passions ran high though people remained polite as Minnesota regulators opened a key hearing Monday that's meant to lead to a final decision on whether to approve Enbridge Energy's proposal for replacing its deteriorating Line 3 crude oil pipeline across northern Minnesota.
A crowd that was about evenly divided between supporters and opponents began lining up early in the morning for the limited seating. People held signs outside that read "Minnesotans for Line 3" or "No Pipelines — Keep it in the Ground" and "Love Water, Not Oil."
The crowd grew to over 200 by the time the Public Utilities Commission began hearing final arguments in the long-running proceedings. The five-member commission plans to decide next week whether the project is needed and, if so, what route it should take.
Calgary-based Enbridge built the current Line 3 in the 1960s. It carries light crude oil from Alberta across North Dakota and Minnesota to the company's terminal in Superior, Wisconsin.
Operating at half capacity
Enbridge said it needs replacing because it's increasingly subject to corrosion and cracking and is operating at only about half its original capacity. Tribal and climate change activists oppose the project because the replacement would carry Canadian tar sands oil, which contributes more to climate change than lighter oils, and because it would run through pristine areas in the Mississippi River headwaters area where Native Americans harvest wild rice and claim treaty rights. And they contend the country doesn't need the oil as it transitions more and more to cleaner energy.
After countless public hearings and thousands of pages of filings, there was little new ground for the hearing to cover, though PUC Chair Nancy Lange said the statements would help the commissioners form their questions.
Vice Chair Dan Lipschultz said the calm testimony illustrated "the power of civility."
'State-of-the-art pipeline would be safer'
Enbridge attorney Eric Swanson stressed in his testimony that a new state-of-the-art pipeline would be safer, while adding necessary capacity to its pipeline system.
"Certainly we feel passionately about the project and feel we're going the responsible thing in bringing it forward," Swanson said.
But Bill Grant, deputy commissioner of the Minnesota Department of Commerce, stood by his agency's conclusion last year that Minnesota doesn't need the oil, and that the risks and impacts of giving Enbridge the 340 miles of right-of-way it seeks across the state outweigh the benefits.
As much as anything, opponents and supporters turned out for one last show of force.
Among then was Margaret Breen, 20, of Minneapolis, one of 13 Youth Climate Intervenors, a group of teens and 20-somethings that has official standing in the proceedings.
She said before testifying that she's been working to stop Line 3 for close to a year and a half, ever since she travelled to the Standing Rock Reservation in North Dakota to take part in protests against the Dakota Access pipeline.
Those protests drew thousands of opponents in 2016 and 2017, resulting in sometimes violent skirmishes with law enforcement and more than 700 arrests.
"I'm feeling nervous and optimistic and I'm trying to balance the two," Breen said. "It's the culmination of a lot of hard work, so it's emotional."
Pipelines attract opposition, proponents
Nancy Noor, an executive with the utility Minnesota Power who's chair of Jobs for Minnesotans, acknowledged during a break that "pipelines do attract tremendous opposition," but said her business-labour-community coalition feels strongly, too.
"It's an important energy infrastructure project that not only protects the environment, but is important to the local economy along the route, and in a long-term sense ensures energy security for Minnesota and surrounding states," she said.
Whatever the commission decides, the dispute is expected to wind up in court.
Winona LaDuke, founder of Honor the Earth, said activists have already established camps in case they launch mass protests along the route like the ones at Standing Rock.
[ad_2]