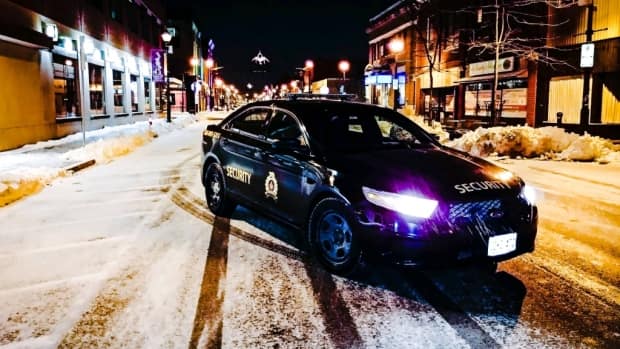 [ad_1]

A Hamilton security company says they're seeing an increase in attacks on their security guards after five incidents so far this year — and they say youth are playing an increasing role. 
The latest incident happened last week on two Blue Knight Security guards by two teen boys. 
"Overall the way my guys have been treated lately is just horrible," said Ron Hazell, president and CEO of Blue Knight Security.
Hazell says that assaults on his guards are increasing, and more specifically, his employees are reporting that they're being done more recently by youth.
"It was startling that it was actually youth this time," said Hazell. "As an employer it's disgusting. It's just disgusting that it's more and more the under-eighteens lately." 
Last week Hamilton police reported that two security guards were attacked by two Hamilton teen boys, 14, and 16, who threatened to use a gun and a knife.
"They're reaching in their waistband and saying, we've got guns, we're going to shoot you, we're going to shoot you," Hazell told CBC News.
Police say it happened in the area of Sherman Avenue North and Biggar Avenue just after 11 a.m. Tuesday. 
According to police, a security guard, 49, noticed the teens loitering "suspiciously" by an electrical box near the street.
Hazell says the guards were working at an industrial site.
'Emerging times of security'
When the teens were asked to move along, police say the boys threatened to attack him with a gun and knife. 
The 49-year-old fled on foot into live traffic while being chased by the 14-year-old holding a scrap piece of wood. 
Police say a 67-year-old guard then came to the aid of his partner and was hit in the head by the wood.
Hazell says the guard got hit over the head with a two-by-four with nails in it. Another he says, got a chunk of asphalt that was off the road, and smashed the guard's face.
The security guards received minor injuries and declined EMS.
Last year he says a kid pulled out a flare gun that had been retrofitted with a .22 round in it. (Provided by Ron Hazell)
According to police, the altercation continued between the teens and the guards before the teens ran towards a near-by rail line. Police say a citizen driving by followed the teens and assisted police in determining their location. Police were then able to arrest and charge them, they say.
Hazell says this is just one incident out of about five already just this year. He says he believes it's part of a growing disrespect for his staff. His company works in the Hamilton-Niagara area.
"Every time we have interactions it's just lately it's like they don't think we have any authority and it just makes our job difficult," said Hazell.
Overall I'm not seeing any significant increase in youth crime at all.-Sgt. Jon Alsbergas
"We're not trying to play police and stuff like that. We have a defined role and we do it, and it's kind of being stepped on by people in between."
Hazell says his employees have been reporting the incidents to police, who he says are really "bang on" with dealing with issues.
When it comes to youth, Hazell says they are part of the "emerging times of security in this climate."
"The police get ahold of the parents, the parents don't seem to care. They don't seem to have any control of the kids. They basically tell them, you guys know, they're just security, they can't do anything anyways," said Hazell.
Hazell says he himself was hit over the head by a longboard when he came across kids breaking into a school in March just outside of Hamilton. As they were coming out of the school he says that's when one hit him.
He said that last year a teen pulled out a flare gun that had been retrofitted with a .22 round in it.
Youth crime by the numbers
Although Hazell says his company has been dealing with an increase of assaults by youths, police statistics provide a different picture.
Youth crime is defined as people between the ages of 12 to 17 and has been steadily decreasing. 
According to an annual youth services report that was presented to the police services board in April by Sgt. Jon Alsbergas, there was decrease in youth involvement in violent crime by 7.25 per cent and an overall youth crime decrease by 4.1 per cent.
"Overall I'm not seeing any significant increase in youth crime at all," said Alsbergas.
In comparison to 2016, there was a 7.25 per cent decrease in 2017 in youth violent crime and an overall decrease in crime committed by youth aged 12 to 17 by 4.1 per cent according to this year's youth services annual report. (The Hamilton Police Service)
Alsbergas told CBC News that in the first quarter of this year, youth crime is approximately 11 per cent lower than the same period last year.
There was a slight increase in 2016 that bucked the trend over eight years, but the numbers went back down last year.
For assault level ones in 2017, 165 youths were involved as opposed to 2016 where 196 youth were involved in assault level ones.
There are no figures from police however, on violent crimes on security guards.
He says the Hamilton stats are a reflection of the national trend of a gradual decrease since 1999. Last year's 4.1 per cent downward slope was consistent with the national decrease of 5 percent.
Alsbergas says the decline can probably be attributed to the size of the youth cohort.
"The age group between 12 and 17 is gradually shrinking, or has been shrinking over the last several years," said Alsbergas.
[ad_2]