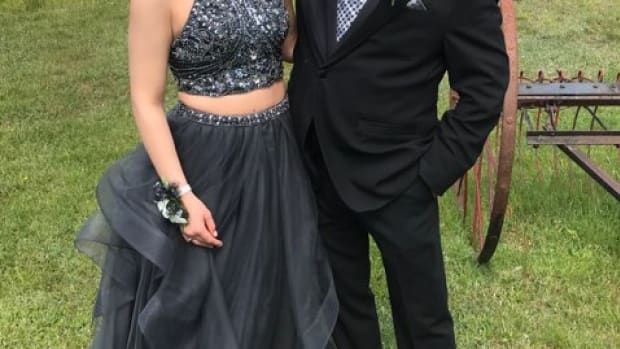 [ad_1]

Mackenzie Stewart had no intention of going to prom after her boyfriend, Marshall Curtis, died in a car accident on May 14.
But that all changed when Marshall Curtis's father, Carson Curtis, stepped in and offered to take Stewart to Blackville School's prom. It felt like the right thing to do, he said.
"She wasn't going to go, but I was honoured to ask her, and she accepted and she cried and it was emotional and I was honoured to take her," Curtis said.
"She's been a big part of our family for over two years now and she's Marshall's girl. It wasn't easy, but we were overwhelmed of all the support of the community, the people who stand behind us near and far.
"We love Mackenzie like our own daughter."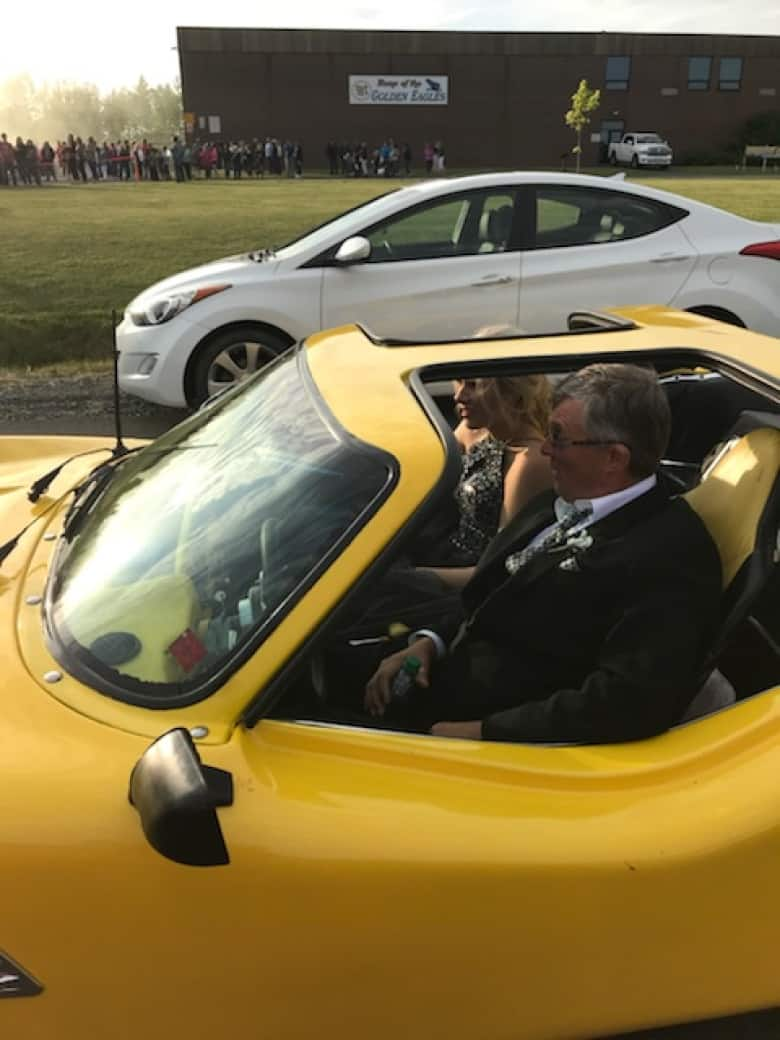 Curtis and Stewart arrived in a yellow 1965 Volkswagen Bradley. (Submitted by Elizabeth Curtis)
On Saturday, Curtis and Stewart rolled up to Blackville School in a bright yellow 1965 Volkswagen Bradley. Near the back wheel on the driver's side of the car there was a sticker with a photo of Marshall and Mackenzie and a caption reading "Marshall and Mackenzie forever," with two hearts.
Everyone clapped when they arrived. 
"I guess I did the right thing," Curtis said," "I was kind of nervous thinking maybe [people would think], 'What's this old guy doing here?' But everything worked out, and my whole family — we just can't believe the supportive community we have."
Curtis and Mackenzie walked arm in arm through the front doors and were met with applause and tears. Curtis wore a black suit and grey-white-black checkered tie and Stewart was dressed in a floor-length grey chiffon skirt with a beaded top.
Stewart won the prom queen title.
Mackenzie Stewart, who hadn't planned to attend the prom after Marshall was killed in a car crash in May, was prom queen. (Submitted by Elizabeth Curtis )
Curtis said his son would have been proud.
"He would be so proud, so proud of everybody. All his buddies were there. It was just like he was there, and I believe he was there."
Marshall, who graduated last year, was a technician at Trevors Nissan and a member of the Anglican Church. His father described him as a respected, gentle, well-liked man in the community.
"Marshall loved everyone and everyone loved him," Curtis said.
"He was such a  gentle, gentle young man. Loved by everyone. It's just heartbreaking. It's not fair."
Looking back at his prom experience, Curtis said he hopes no other father has to do what he did.
"It wasn't the easy thing to do, but it was the right thing to do."
[ad_2]