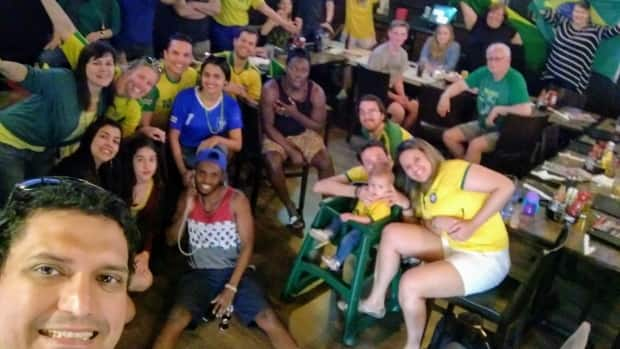 [ad_1]

Fans in brightly coloured jerseys piling into pubs and national flags decorating pathways, as well as some faces, it's not hard to tell the FIFA World Cup is on.
Here in the Maritimes, it's not just about what happens on the pitch — it's the camaraderie, community and culture that surround the game. 
Carlo Calderon was one of the Peruvians packing the Churchhill Arms pub in Charlottetown this weekend. When he came back to watch Mexico take down Germany on Sunday, he even had a bit of a scratch in his voice as he spoke.
"Seeing my team playing, I couldn't hold my tears. It was so emotional, so exciting. I lost my voice because I was cheering so much for my team," he said.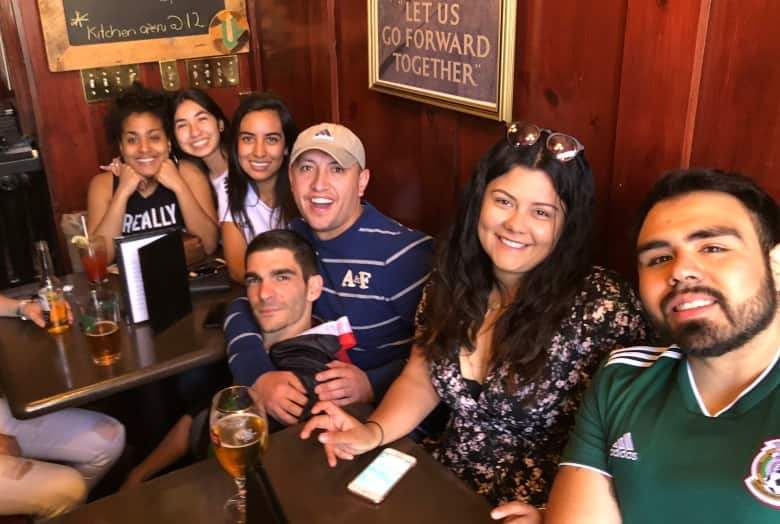 Carlo Calderon, centre, at the Churchill Arms pub in Charlottetown on Sunday, says soccer "means everything to me." (Cody MacKay/CBC)
"It means the world for us. For Peruvians to be in the World Cup for the first time in 36 years, it means way more."
Watching his team from afar is heart-wrenching, he said, but he has hope for World Cup 2026, when Canada, Mexico and the United States will host. 
"I would love to see Peru in Canada and also would love for Canada to make it to the World Cup," he said, adding jokingly, "I will quit my job [to attend] — that's how much the World Cup means to us."
In Moncton, families grow around soccer
Karen Fernandez-Pearce booked tables for 40 at Sports Rock in Moncton, N.B., to watch Brazil's first match. She estimates nearly half of the growing Brazilian community in Moncton was there Sunday to cheer on the squad.
"It's amazing, we never had this many Brazilians in town," she said. "We always have small groups so this time will be very special."
In recent years, Brazilians have been coming to New Brunswick to study and visit, with some choosing to remain in Moncton.
Karen Fernandez-Pearce says the Brazilian community in Moncton has been obsessed with soccer this week. (Submitted by Karen Fernandez-Pearce)
The draw is how tightly knit the community is, and even more so when soccer is the talk of the town.
"We've been talking [about soccer] for the past week non-stop, this morning is just going like crazy," Fernandez-Pearce  said.
"That's what we watch on Wednesday nights and Sunday afternoons — it's soccer on TV. Your family grows around that."
World Cup is always the 'busiest month ever' for Halifax business
Excitement for the World Cup is riding a bit higher in Halifax this year as Atlantic Canada's largest city will soon be the home to a new professional soccer team.
Chris Denham, the manager at Niche Lounge in Halifax, has seen fascination for the sport grow first hand in his years working at the downtown bar.
Chris Denham, the manager at Niche Lounge in Halifax, has seen fascination for professional soccer grow during his five years working at the downtown bar. (Niche Lounge/Facebook)
"I've been working here for five years and I started off with the World Cup, did the Euro Cup two years ago and I'm on my second World Cup now. It's definitely the busiest month ever," he said.
"Halifax is the most diverse community you got going. You have everything here, it's awesome."
Mexico's win on Sunday gave some Argyle Street diners something extra to cheer about.
Mexican-inspired restaurant Antojo Tacos and Tequila said in an Instagram post, they treated the whole restaurant to brunch when Germany lost.
More P.E.I. news
[ad_2]