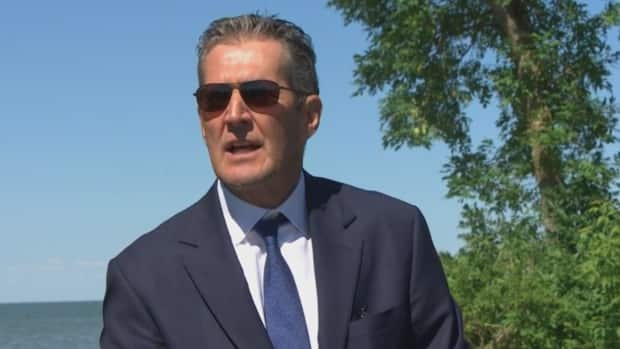 [ad_1]

The federal and provincial governments are sharing the $540-million cost to build two permanent flood mitigation channels at Lake St. Martin and Lake Manitoba that have been years in the making.
The governments announced the funding arrangement Monday morning at a news conference in St. Laurent, on the shore of Lake Manitoba. The federal government will spend up to $247.5 million while the province will cover the rest.
The project involves building two approximately 23-kilometre-long diversion channels:
The Lake Manitoba Outlet Channel will run north from Watchorn Bay on Lake Manitoba to Birch Bay on Lake St. Martin.
The Lake St. Martin Outlet Channel will run northeast from Lake St. Martin to Lake Winnipeg south of Willow Point.
It also involves building two bridges and water control structures, a 24-kilovolt distribution line and adjusting surrounding highway infrastructure.
Manitoba Premier Brian Pallister asked Prime Minister Justin Trudeau to fast-track approval for the projects earlier this year, calling the channels emergency projects that need federal approval quickly.
"For the entire history of our province, this is a region that's been vulnerable to flooding. Far too many times, communities have been devastated, farms [and] businesses have been destroyed, residents have been separated from their homes," Pallister said on Monday.
"First Nations in particular have been forced away from their communities, for years in some cases."
Homes and cottages on the south basin were most recently flooded in 2011 and 2014. The worst of those was in 2011 when Lake Manitoba reached a record high level, devastating communities and homes and prompting emergency evacuations, some of them lasting a half-dozen years.
The province says the $100-million emergency channel out of Lake St. Martin, which opened in November 2011, isn't sufficient to deal with major flooding events and lobbied the federal government to help build a larger flood mitigation project. The $540-million project will be announced today. (Province of Manitoba)
The disaster, which became one of the most widespread flooding events in the province's history, has cost governments hundreds of millions of dollars in compensation. 
Some flood evacuees were only able to return to their homes last year after living in Winnipeg for years.
The flooding on Lake Manitoba was made worse by use of the Portage Diversion, which sent water from the Assiniboine River north to the lake to prevent flooding downstream from Portage la Prairie, including in Winnipeg.
The high lake levels prompted the province to increase flows through the Fairford River Water Control Structure into Lake St. Martin, worsening conditions in the already flood-prone area. To relieve flooding there, an emergency channel was cut in summer 2011 from the northeast end of Lake St. Martin to the lower Dauphin River (which flows north to Lake Winnipeg).
The province announced plans in 2013 to make a permanent, expanded channel from Lake St. Martin to Lake Winnipeg and create a new outlet for Lake Manitoba that would flow to Lake St. Martin.
The new Lake Manitoba outlet channel will have a capacity of 7,500 cubic feet per second and the Lake St. Martin outlet will carry approximately 11,500 cfs at capacity.
Federal Minister of Natural Resources Jim Carr, Manitoba's senior member of the government, attended the news conference on behalf Infrastructure and Communities Minister Amarjeet Sohi.
A provincial map shows the planned Lake St. Martin and Lake Manitoba channels. (Province of Manitoba)
The project is the first funded by Ottawa's recently launched Disaster Mitigation and Adaptation Fund — a 10-year, $2-billion federal program aimed at blunting the effect of natural disasters linked to climate change.
The new outlet channels will significantly reduce the flood damage experienced by First Nations located along Lake St. Martin, complementing other regional flood protection infrastructure, Pallister said.
Together, it all enables the province to manage flows from the Assiniboine River and Lake Manitoba watersheds, which span Manitoba, southeast Saskatchewan and northeast North Dakota.
"The channels will allow Manitoba to regulate lake levels and provide flood protection to individuals, businesses, communities and farmland around Lake Manitoba and Lake St. Martin," Pallister said.
The province is still determining the routes for the channels, he said, adding an examination of the environmental impacts was started in April and will go for about a year.
Consultations are also ongoing with First Nations communities about the potential impacts.
Construction could start as soon as fall 2019 but no estimated completion date was given by the Pallister or Carr.
Open houses
The plans will be presented at a series of public open houses this month.
"These are major flood management projects and will be as essential as the Red River Floodway and the Portage Diversion in provincial flood-fighting efforts," Infrastructure Minister Ron Schuler said.
"Manitoba is a collection point of major watersheds that start outside of the province but can result in widespread flooding, devastation, costly cleanup and years of restoration."
The open houses will include information sessions on environmental approvals, design and construction, and an outline of how the project will proceed.
June 19 – Moosehorn Community Hall.
June 20 – St. Laurent Recreation Centre.
June 21 – Canad Inns Destination Centre, Portage la Prairie.
June 27 – Canad Inns Destination Centre Fort Garry, Winnipeg.
The information sessions at each open house run from 2 p.m. to 5 p.m. and 6 p.m. until 8 p.m.
There will also be an opportunity to learn more about the operation of the Portage Diversion, which moves Assiniboine River water north into Lake Manitoba during heavy spring flooding and unusual summer storms.
Water from Lake Manitoba flows through the Fairford River into Lake St. Martin and eventually into Lake Winnipeg, which also takes water from the Red River, and it all flows north to the northern river systems.
"The projects are designed to provide maximum water movement in times of heavy flooding with minimal impact to landowners and the environment," said Schuler, adding the open houses ensure residents have the opportunity to review plans and ask questions.
[ad_2]