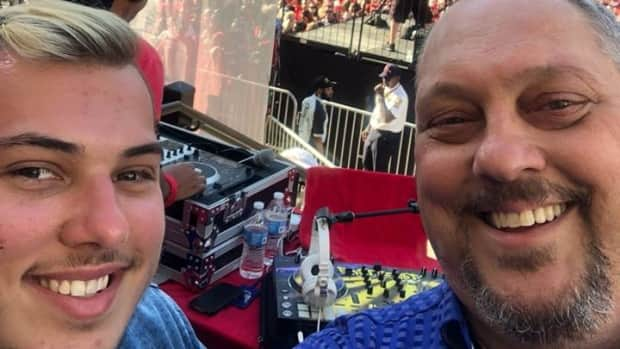 [ad_1]

When Mark Dahlgren sees his Father's Day gift of a green wooden heart hung to a tree, he knows what will go through his mind.
He's going to think of all those aboard the Humboldt Broncos' team bus crash – and the fact that on Sunday evening, he will be lucky enough to welcome his own son, Kaleb Dahlgren, home with a hug, and to tell him how much he loves him.
"We're over the moon happy that Kaleb survived, and yet we have a space missing in our hearts for all the ones that had passed away," he said. "It's kind of a bittersweet day for us."
Knowing how emotional Father's Day could be for the Humboldt Broncos' families, a group of mothers from the U.S. and Canada, decided they needed to send them a message of love and support.
Group members said they were blown away by the enormous and positive response to their campaign to sends virtual hugs and flowers to Broncos' mothers on Mother's Day.
"Holy cow. This is bigger than what we ever expected," Linda Larrigan, a hockey mom from St. Louis, Mo., recalled thinking.
The next thing she thought was – "We need to do something for the dads."
Team Hockey Moms sent out a sneak peek of the wooden hearts they planned to deliver to Humboldt Broncos' families in honour of Father's Day. (Submitted photo)
In Larrigan's hometown, a local charity had put up red hearts on several trees, as a way to raise money for charity, which gave her an idea.
The group bought more than 50 wooden hearts for Broncos' families and billet families, painting them green, drilling a hole in them, and sending them away with good thoughts and wishes. A special one went to Christina Haugan, whose husband Darcy, was the team coach, father to his own sons, and the whole team, said Larrigan.
"Even if you're having the toughest day,  you look at it, and you're like, 'I know people have my back,'" said Larrigan. "It's really about hopefully in that one moment, when they receive it, they have a smile on their face."
Dahlgren said he and his wife, Anita, were touched by the kindness of the gesture.  
Hockey mothers from all across Canada, U.S., and other international countries like Finland and Czech Republic, were part of a huge outpouring on social media to send their good wishes to all mothers personally impacted by the Humboldt Broncos' bus crash. (HockeyMoms4Humboldt/Twitter)
"The hockey moms, what they're doing is phenomenal. When Anita got the flowers on Mother's Day, it was so unexpected and we were so excited that someone would think to do that for us," he said.
Every day with his son now has a new significance, but special days like his son's recent birthday, and Father's Day resonate especially.
Mark Dahlgren says he has no doubt his son is going to rise up to living big for those that lost their lives after the April 6 Humboldt Broncos' team bus crash. (Submitted photo)
Dahlgren says he has no doubt his son will live up to his dream to "live big" for the ones that didn't make it.
"There's no doubt in my mind that he is going to do wonderful things in this world all in the name of the people that were lost in the accident and aren't able to live their life to the fullest," he said.
"It's nice now that the world gets to share him with us and be inspired his attitude and his positivity, because it's real and it's genuine."
A smile delivered
Team Hockey Mom's goal to deliver smiles hit its target on Friday night for Scott Thomas.
When he reached into his mailbox on Friday evening, he was surprised to pull out a package with the heart and the note.
"It was perfect," said the father to Evan Thomas, one of the 16 that died in the April 6 bus collision.
As soon as Scott Thomas and his family received a wooden heart, meant to be put up on a tree, they hung it outside as a reminder of people's continued love and support for the Broncos' families. (Laurie Thomas/Twitter)
He and his family put up the plaque on a tree in their front yard, a tree that will continue to grow through the coming years and serve as an ever-present reminder of people's continued care.
"The way the world has picked this up and continued to love us every day, it wouldn't surprise me at all to receive something similar a year from now," Thomas said.
"And it would make me smile for sure."
[ad_2]