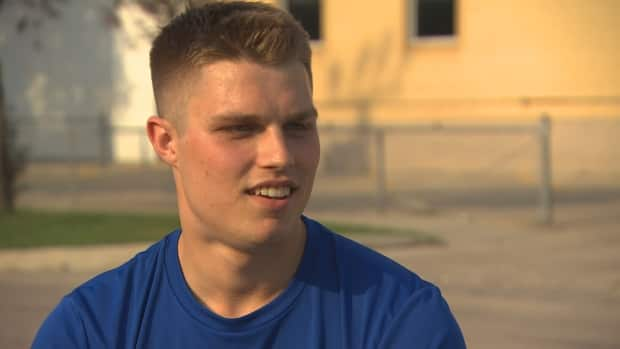 [ad_1]

Donovan Hillary is proving he can co-exist as a football player and a gay man. 
The 22-year-old middle linebacker — a defensive menace who led his Winnipeg Rifles junior football team in tackles last season — felt he had to be honest with himself and his teammates after dealing with depression and contemplating suicide as a closeted athlete. 
He went public this week in a moving monologue published on Outsports, a popular website where gay athletes worldwide share their coming-out stories.
It's how most of Hillary's teammates found out the six-foot-two, 225-pound lineman is gay.
"I felt it was important to go through this year and bring those [dualities] together and really just be my true self on the playing field," he said. "Hopefully it inspires others who may be in a similar situation."
Donovan Hillary is just one of the guys after coming out to his entire football team. He says he feels complete support with the Winnipeg Rifles. (Gary Solilak/CBC)
His journey to live authentically as an out athlete has been difficult.
The 2014 River East Collegiate graduate nearly gave up on the game he loved during his two years playing university football at Queen's University in Kingston, Ont.
He struggled to bond with the guys, who went beyond tossing the occasional homophobic slur. He wrote in his story that players changed their preferences on the dating app Tinder to find gay students so they could out them.
Those instances, though not directed at him, made Hillary feel less than. That he was less of a teammate, less of an athlete and less of a man because of his sexuality. He decided to keep his secret to himself.
"What I wanted to be a supportive environment actually ended up being hostile towards what I was going through."
His experience isn't unique. A 2015 international study found that 81 per cent of the Canadians surveyed witnessed or experienced homophobia in sports, while 84 per cent of gay men and 88 per cent of lesbians polled faced derogatory slurs in a sporting environment.
Football became a chore
Hillary found that his sport, once his distraction from the outside world, became a constant reminder of the struggles he internalized.
He felt isolated from his support network and it took a toll on his mental and physical well-being.
At his lowest point, he lay in his dorm room with a handful of pills. He wanted out.
But he found the courage to download a gay dating app and befriend a person who became his confidant. He was the one person who truly knew who he was, Hillary wrote in his Outsports piece.
That summer, Hillary returned to Winnipeg and was honest with his parents and closest friends about his sexuality. They embraced him.
After another year at Queen's, he returned in 2016 to Winnipeg, where he felt most at home.
He didn't give up on football. He signed on with the Winnipeg Rifles of the Canadian Junior Football League.
"I initially went to Queen's because I thought I was going to be able to open up and be myself," Hillary said. "It's funny because almost the opposite happened, I was able to come home and open up."
Despite the welcome, his life remained one of split personalities. His sport and his sexuality — his two main identities — did not mix.
A relief to tell the Rifles
But he became comfortable with this group of guys and the supportive environment the Rifles fostered. 
A few months ago he told his first teammate.
"It was such a weight off just to tell the first-ever athlete that I was gay," he said. "He really embraced that and really made me feel like I was welcome on the team and it wouldn't be an issue."
If this proves to be Hillary's final season as a competitive football player, he wanted it to be as an out and proud athlete.
He said he's been overwhelmed by kind words from his coaching staff, teammates and complete strangers after sharing his story.
One of his friends, Jessie Posthumus, understands better than most how football personifies the macho athlete stereotype that doesn't traditionally align with homosexuality. 
He's going to want to prove that he's an even better player because of this.– Jessie  Posthumus , friend
Posthumus, 19, came out to his Kildonan East high school football team in his Grade 12 year.
He expects Hillary to be even more dominant on the field this season. The CJFL campaign begins in August.
"He's going to want to prove that he's an even better player because of this, that [being gay] does nothing to affect who he is and how he plays," Posthumus said.
"Leading the league in tackles last year, he's only going up from there."
Highlights from Hillary's 2017 season with the Rifles
Hillary hopes his story will encourage others who are struggling to live openly.
"There's still a lot of people out there who feel like they have to choose between playing their sport and being who they are," he said. "I really hope that through my experience … it will give someone else the strength."
[ad_2]