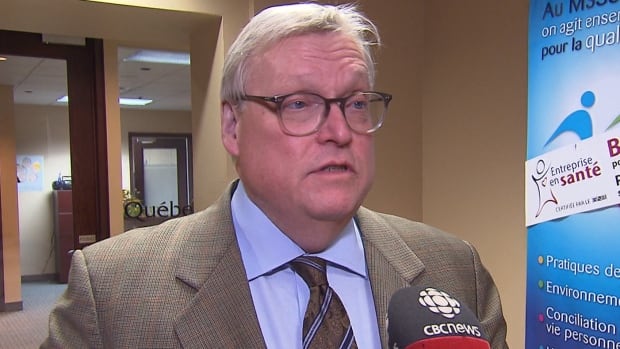 [ad_1]

Health Minister Gaétan Barrette is being roundly criticized by Indigenous leaders in Quebec, with one even calling for Barrette's resignation for what they say are racist comments he recently made at a community event on Montreal's South Shore.
In a transcript of a conversation obtained by CBC News and Le Devoir, Barrette said parents in remote northern villages could still be barred from accompanying their child on a medevac flight.
"Why? Because no one — agitated, drugged, under whatever influence — would get on the plane at any cost. That will not happen. And that happens all the time," said Barrette, speaking in English.
Sick children fly alone
For years, sick children living in remote Quebec communities have been flown out by air ambulance alone, unaccompanied by a parent.
After a recent public outcry, the government agreed to modify that policy. Planes have been reconfigured to accommodate parents or caregivers, and staff are being trained for that eventuality.
The Challenger 601 is used to transport patients from northern Quebec. The government has bowed to pressure from doctors and northern residents urging it to change its longstanding policy and allow a parent to accompany their sick child when they must be flown south for medical attention. (Government of Quebec)
However, in the audio recording obtained by CBC, the health minister says "I guarantee you" that in the next six months, someone will not be allowed to board a flight.
"If you're over there, and your kid has to be transported, and you're the parent and you're agitated, you're under the influence or whatever, you will not get on the plane," Barrette says.
"As simple as that."
'I'm in shock,' says 
Kuujjuaq

 mayor

In 

Kuujjuaq

, the administrative centre of Quebec's Inuit territory of 

Nunavik

, Mayor 

Tunu

 

Napartuk

 was completely taken aback by the minister's comments.
Kuujjuaq mayor Tunu Napartuk says he is shocked and disappointed by the Quebec health minister's remarks, which he believes are racist. (Submitted by Tunu Napartuk)
"I'm in shock," said Napartuk.
He said Barrette should be removed from his job. A minister "shouldn't be saying these kind of things, let alone be thinking them," said Napartuk.
The mayor said Kuujjuaq residents initially felt a huge sense of relief when the government recently told them parents would be allowed to accompany their children on flights.
Kuujjuaq is the largest village in Nunavik, with a population of just under 2,800 people.
In remote communities like his, Napartuk says, the air ambulance is the only way out in emergency situations.
"The fear and the emotions and the unknown are already very high," said Napartuk.
In the past, he said parents had no choice but to accept putting their sick child on the plane and wait for the next available commercial flight that had a seat for them in order to join their child.
He said it's a stress he wouldn't wish on anyone.
"Your imagination goes wild."
Mayor Tunu Napartuk says remote northern communities like his town of Kuujjuaq rely on air ambulances during medical emergencies. (CBC)
To have such happy news about the change in policy regarding air ambulances marred by Barrette's off-the-cuff comments was difficult for Napartuk to digest.
"I find that to be a very racist comment," he said. "He is generalizing, stereotyping a group of people."
"He is expected to represent all the citizens of Quebec, all taxpayers —  including the Inuit of Nunavik," said Napartuk, who wants a public apology from the minister.
Inexcusable comments
Mohawk activist Ellen Gabriel said Barrette's comments are inexcusable.
"No one wants to be stuck on a plane with no way out with a drunk person, but what he's saying is that all Inuit or all people in the North are drinking," said Gabriel.
"That's pretty racist to make a blanket assumption that everyone is going to be like that," she said.
Mohawk artist and activist Ellen Gabriel says flying sick children to hospital unaccompanied by their parents is reminiscent of the painful separation Indigenous families endured when children were forcibly sent to residential schools. (Laurene Jardin/CBC)
She reminded the minister that children are only being transported by air ambulance in a time of crisis, not for a routine medical check-up, and they need their parents at their sides.
To separate children from the people they trust and send them alone into the hands of strangers is unacceptable, said Gabriel, and reminiscent of the pain and separation Indigenous families endured when children were forcibly sent to residential schools.
Minister responds
CBC News received an emailed statement from the minister's office late Wednesday.
In it, Barrette did not deny having the conversation in which he made those comments but said in no way were his remarks directed toward Aboriginal people.
He insists he was just outlining a security rule that applies to all caregivers, regardless of their ethnic background.
"Just like on commercial flights, not allowing someone to fly is done to ensure the safety of the people on board," said Barrette.
He insists he has great respect for Indigenous people and says he finds it unfortunate his comments were misconstrued. 
He said the issue of parents accompanying their children on an air ambulance doesn't just impact Aboriginal communities, but everyone living in remote areas.
[ad_2]