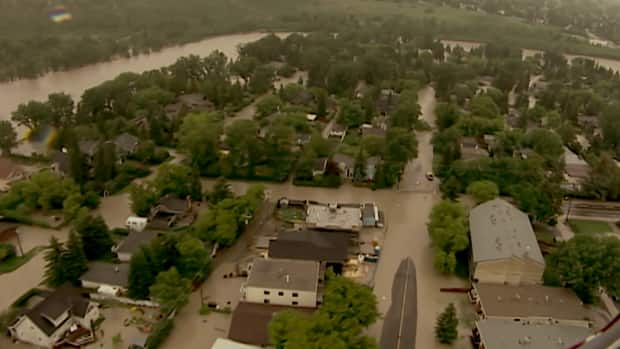 [ad_1]

It's a key piece of the city's flood mitigation puzzle — adding more than four kilometres of flood barriers in Bowness, Sunnyside, the downtown and Pearce Estate Park in Inglewood.
In Bowness, the northwest community devastated by floodwaters five years ago, the proposed one-kilometre berm has the potential to divide a community that famously pulled together to clean up and rebuild after the 2013 disaster. 
Riverside residents on Bow Crescent N.W. fear a drop in property values and a loss of views, privacy, river access, trees and wildlife habitat. Residents across the street, those who are not in million-dollar riverfront homes, say the berm is needed to protect their properties. And some of them say it would be selfish to think otherwise.
"It would be the mark of fools not to build berms," said John Myles, who has lived in Bowness for nearly 40 years.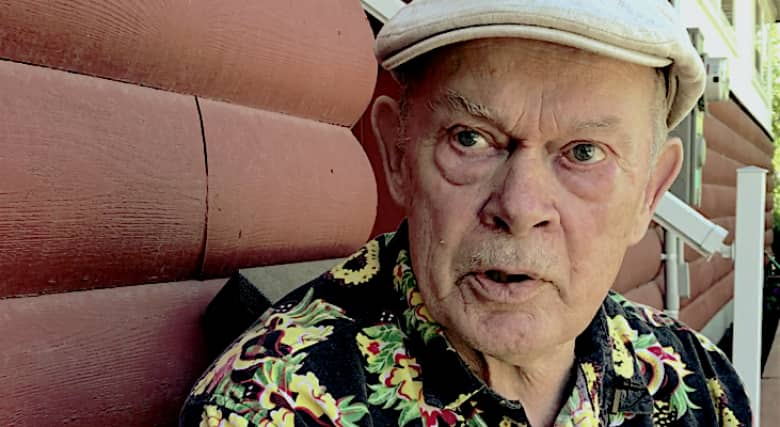 John Myles, whose basement was flooded during the June 2013 flood, sympathizes with his riverfront neighbours who fear the berm will impact their property values. But he would like to see the barrier built to protect the community from future flooding. (Bryan Labby/CBC)
The Bowness berm, or flood barrier, is being proposed for along the riverbank in the backyards of 100 properties. It could be a combination of earthen berm barriers and flood walls stretching from the Canadian Pacific Railway bridge to the Shouldice bridge.
The average height is pegged at 80 centimetres — that's about 2½ feet — but it could be as high as six feet in some places.
Myles, a retired city bus driver, still has a "thank you" sign in the shape of a heart nailed to a tree in his front yard. He is critical of efforts by some riverside property owners who are starting to rally against the berm.
"Isn't that selfish, very selfish," he said.
Myles said his basement was inundated with about five feet of sewer backup. He became emotional while recalling the photos and books that were destroyed. A small army of volunteers showed up to help him clean up and recover.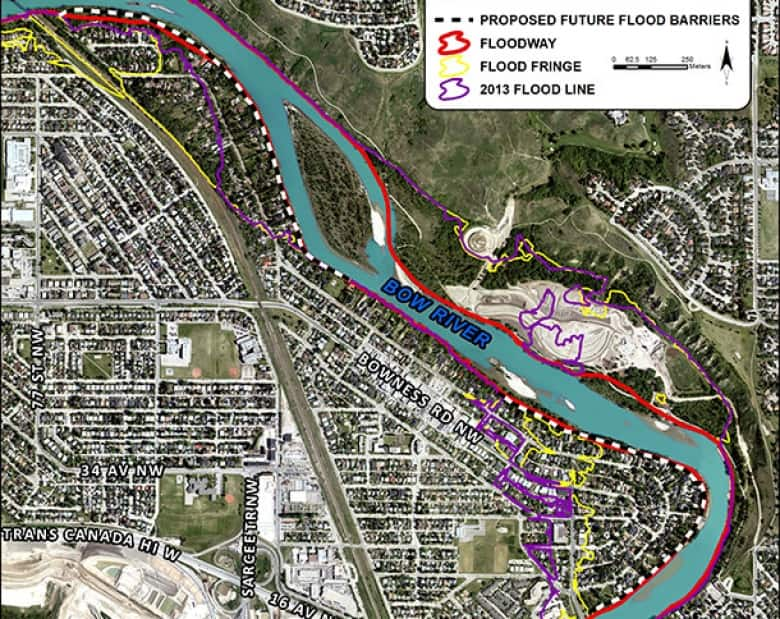 This map shows the location of the proposed flood barrier for Bowness. It would be built along the river and behind approximately 100 private properties. (City of Calgary)
The city says it's by no means a done deal — even though the project has been approved in principle by city council and has moved into the design phase of community consultation.
NIMBY 
The Bowness Community Association is not taking a position on the project but will instead try to provide residents with information about what's being proposed.
The president of the group acknowledges the barrier has the potential to divide the community.
"The berm is a hot topic issue for a lot of people who are impacted. This is something that I know the people of Bowness have the capacity to figure it out. If they need resources, we're going to help them find it," said the association's Scott Hutchison.
Scott Hutchison represents the Bowness Community Association, which is not taking a position on the proposed Bowness flood barrier. Hutchison says the association's role is to provide information for residents who have questions about the project. (Bryan Labby/CBC)
Hutchison says the city needs to do a better job communicating the merits of the project.
So far, he says, the city hasn't properly engaged with people in the community, nor has it provided a compelling reason for the berm.
Hutchison says the opposition is based on a not-in-my-backyard argument.
"It's going to impact their property value, it's going to impact the esthetics," he said.
Hutchison says the berm has the potential to wreck property owners' views of the river — for many the very reason they bought there.
David Chalack predicts the value of his $3-million home will plummet if the Bowness berm goes ahead.
"That'll drop to $1.5 million, $1.7 million. So, if someone wants to pay me the difference, plus all the costs of this…," said Chalack. 
He purchased the riverfront home six weeks before the flood. He was then out of his home for two years while they rebuilt from scratch.
TransAlta's Ghost Reservoir has become a key piece in temporary flood mitigation efforts along the Bow River. The water level has been dropped to allow for more capacity from melting snowpack and precipitation. (Bryan Labby/CBC)
Chalack says he followed all of the requirements to floodproof his home. It's built about 1.2 metres higher than the previous house, the foundation is reinforced, there are no windows in the basement so overland floodwater can't pour in and the furnaces and water tank are on the main floor.
He says not once during the building process did anyone ever mention the possibility of a berm in his backyard.
"The amount of engagement or consultation to get to this point has been absolutely minimal. What would it have taken for them to say something to me: 'David, you're going to build a house that's worth quite a bit of money, you might want to consider that we're going to build a berm here.'  We might have made some different decisions," he said.
"You would have thought someone would have come and knocked on my door during the planning stages," he said.
Chalack, who is a veterinarian and former president of the Calgary Stampede, says several of his neighbours can't afford to implement the extra mitigation measures and have put their homes up for sale.
David Chalack, who lives on Bow Crescent, says he is not against the berm, but he questions whether it's needed if the province goes ahead with another reservoir on the Bow River upstream of the existing Ghost reservoir. (Bryan Labby/CBC)
There are a number of "for sale" signs along Bow Crescent — and a handful of properties are abandoned.
Chalack wants the city and the province to focus first on building a new upstream reservoir before the berm is built.
Bowness better protected, but more needed
The city says overall flood mitigation and resilience efforts since 2013 have dropped the risk from another 2013-type event by 30 per cent. The so-called "flood of the century" was considered a 1-in-70-year event.
One of the most significant mitigation efforts didn't involve any large scale infrastructure projects at all but it still comes with a hefty price tag of $27.5 million.
There is no shortage of waterfront properties for sale in Bowness, there are also a number of vacant lots in the community since 2013. (Bryan Labby/CBC )
That's how much the province has agreed to pay TransAlta Utilities to drop the level of its electricity-generating Ghost Reservoir west of Calgary. It's a five-year agreement that guarantees annual payments of $5.5 million per year.
The reservoir is down about six metres from its usual level to accommodate an above normal rain event and or rapid snowmelt.
It's that combination that triggered the 2013 flood, resulting in $5 billion in damages and five deaths in southern Alberta.
TransAlta also agreed to manage the levels of the Upper and Lower Kananaskis and Barrier lakes to control the amount of water that could potentially roar through the city. 
The flow rate on the Bow River reached 1,840 cubic metres per second through Calgary in June 2013. Normally, the river peaks at about 250, according to the city. On the Elbow River, downstream of the Glenmore dam, the rate reached 699 cubic metres of water per second. The average peak is 35.
The city has highlighted some of the challenges with the barriers, which include:
Need for negotiation of several private property easements for some sites.
Lack of adaptability for other climate considerations such as drought and water supply.
Would not provide any mitigation during larger flood events.
May not provide the groundwater or stormwater protection required in some cases.
Community disruption during construction.
The city says the barriers, along with a new upstream reservoir and the TransAlta agreement, would provide protection against a 2013-type event and beyond, up to a 1-in-200-year event. 
The reservoir and "low height" barriers would cost up to $775 million.
The Bowness barrier alone is being designed to withstand a 1-in-20-year flood event.
The newly formed Bowness Responsible Flood Mitigation group says the "vast majority" of property owners along the river are opposed to the barrier.
"What's really, really needed is another reservoir to keep the water out of the city," said Jean Woeller, who lives on Bow Crescent. She lived in Sunnyside in 2013 and had to deal with a flooded basement in her property there right by the river.
Jean Woeller is part of a group called the Bowness Responsible Flood Mitigation Society, which questions the need for a berm if a new reservoir is built along the Bow River upstream of the Ghost Reservoir. (Bryan Labby/CBC)
Woeller has been out counting and measuring trees along the river where the berm is expected to go.
They want to document how many trees are at risk — they're also worried about the impact on wildlife, esthetics and a loss of privacy — if the top of the barrier is turned into a recreational pathway.
They say the city hasn't properly communicated plans for the berm.
"It came as a big shock. The first introduction was the berm will be built. It automatically puts you into a protective, defensive mode," said Patti Peck, another Bow Crescent property owner whose losses from 2013 reached at least $300,000.
"There was no consultation," she said.
Peck, Woeller and Chalack question the benefit of a berm when so many properties in Bowness were inundated with groundwater or stormwater and wastewater backup.
"There's so many big questions that haven't been answered," said Peck. 
"It's a big cost to the environment and a big cost to property owners and a big cost to the bank account of the city," she said.
Patti Peck, who lives on Bow Crescent N.W. is critical of the way the city has communicated with the 100 or so property owners in Bowness who may lose their view and a chunk of land to make way for a flood barrier (Bryan Labby/CBC)
Peck fears the issue could drive a wedge between riverfront owners and others in Bowness.
"I don't like conflict and I hate to think that, but it's probably a real possibility," she said.
She says it doesn't help "that we're operating in a vacuum of information."  
Peck is urging the city to commit to being open to re-evaluating the decision.
"If we realize that everyone is working as a team and everything is out on the table, I would get a lot more comfort knowing that decisions are going to be made and they weren't just made already in the absence of [a] big stakeholder group being part of the decision," she said.
Some Calgarians are praising their berms. 
'Saved our bacon'
In Inglewood, another flood prone community, Chuck Rose has a message for people in Bowness.
"I think the berm saved our bacon here," he said.
Rose's property on New Street backs onto the river. In 2008, the city built a berm to keep out floodwater. In 2013, about a foot of groundwater came up into his basement — something that was covered by insurance, he said. 
Chuck Rose lives in Inglewood where a berm was installed between his house and the Bow River. He says it saved his property from overland flooding in 2013. (Bryan Labby/CBC)
"I was one of the people who said we don't need it, why are you wasting taxpayers money? It's going to be ugly, it's yuck, don't do it. I had to eat my words in 2013 because the water was 15 inches below the top of the berm, a good five feet higher than it was in 2005, which we all thought was the flood of the century," said Rose.
"I'm so glad now that the city overruled all of us. There was a bunch of us who were against it, and they overruled us all. Thank goodness they did because that kept us from overland water," he said.
That's what John Myles is hoping to see in Bowness.
"It's going to make a good job of any impending flood," he said.
The city is in the process of hiring an engineering design consultant that will, according to the city's website, "develop the best flood protection strategy for Bowness."
Impacted properties will be visited, homeowners consulted and property and riverbank areas surveyed.
A detailed design is expected by 2021. Construction is expected to start that year with completion planned for 2024.
---
Read more articles by CBC Calgary and like us on Facebook for updates.
[ad_2]