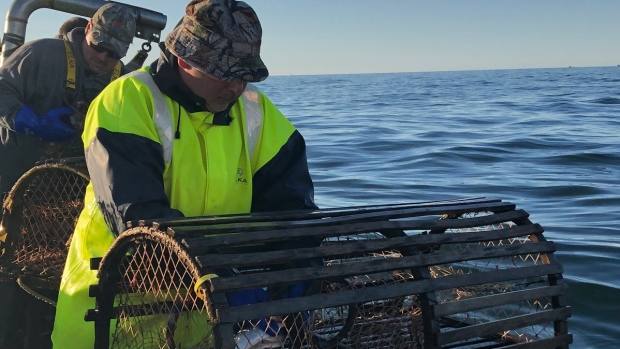 [ad_1]

It's a difficult choice — defend the livelihood of hundreds of fishermen in the Maritimes or protect North Atlantic right whales from extinction as a species.
As more of the right whales come into the Gulf of St. Lawrence, the predicament is still fairly new, said Shannon Arnold, the marine policy co-ordinator at the Halifax-based Ecology Action Centre.
"We just don't have the data yet to know where the right whales are going to be, and how and when to avoid them," she said.
"We don't have the data on exactly where the traps are and exactly where the whales are."
Over the weekend, lobster fishermen could be seen pulling up traps off Miscou Island in northeastern New Brunswick to comply with the latest fishing closure ordered by the Department of Fisheries and Oceans.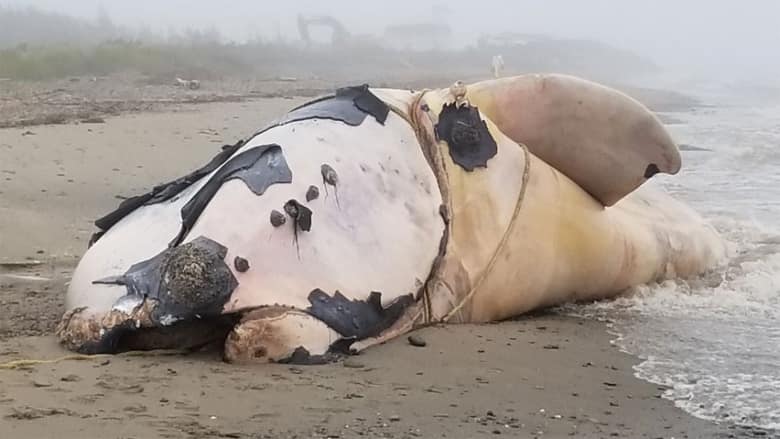 Last year 17 North Atlantic right whales died in Canadian and U.S. waters. Another two have been found dead off the U.S. coast this year. (Shane Fowler/CBC)
The department announced Monday evening the latest closures, set to come into effect Tuesday, have been delayed until Thursday at 4 p.m. In a statement, the department said the delay is a result of predicted high winds.
ALERT ⚠️: <a href="https://twitter.com/hashtag/Quebec?src=hash&amp;ref_src=twsrc%5Etfw">#Quebec</a> <a href="https://twitter.com/hashtag/NewBrunswick?src=hash&amp;ref_src=twsrc%5Etfw">#NewBrunswick</a>: We are delaying the closure date for the following grids: GU37 (portion), GU36 (portion) and GT37 (portion). <a href="https://twitter.com/hashtag/RightWhales?src=hash&amp;ref_src=twsrc%5Etfw">#RightWhales</a> <a href="https://t.co/CPzr1hBLaZ">https://t.co/CPzr1hBLaZ</a> <a href="https://t.co/6tvEBjMUPW">pic.twitter.com/6tvEBjMUPW</a>

&mdash;@FishOceansCAN
The closures in Area 23 were announced June 11, after five North Atlantic right whales were spotted between Miscou and the Gaspé Peninsula.
Fishermen say lobster fishing and right whales don't have to be mutually exclusive, and more flexible closures and other steps taken by the industry would avert deadly entanglements.
Federal Fisheries Minister Dominic LeBlanc met with representatives of the Maritime Fishermen's Union in Moncton last Friday but did not agree to relax the closures, including those affecting shallow areas near shore, where fishermen say they've never seen a whale.
While there isn't any data specific to the gulf, LeBlanc said, there is "reliable scientific data" from the United States that shows females and calves do go into shallow water for "considerable periods of time" to follow their food sources.
"The idea that we could have kept a certain portion of shallow water open, in my view, was not responsible. It wasn't a risk I was prepared to take."
Sees a shared cost
Arnold said fishermen and people working at fish plants shouldn't be the only ones to shoulder the cost of protecting whales in the gulf.  
Larger fleets are able to absorb some missing fishing days, but smaller fleets don't have a big cushion and will need compensation from government, she said.  
She said this should be a cost shared by Canadians through their taxes.
"We don't want people going out of business," Arnold said. "The ocean is a public resource … it's a resource all Canadians need to take care of."
A map showing where the fishing area closures are located. (CBC )
Twelve North Atlantic right whales died last year in Canadian waters and five died off the U.S. The bodies of another two whales have shown up in U.S. waters this year. Only about 450 of the whales, including 100 breeding females, remain.
Ship strikes and entanglement in fishing gear are considered the main culprits in the whale deaths.
Under the U.S. Marine Mammal Protection Act, which is being implemented over the next few years, fishermen in both countries will have to prove their activities aren't hurting whales.
Since 85 per cent of Canadian lobster exports go to the U.S., the impact could be huge on the East Coast fishery if the proof doesn't satisfy the Americans. 
"That's a really big one on the horizon that the government is trying to make sure we clear, and we have good data, and we can show that we're doing whatever we need to do to avoid that," Arnold said.       
She said it's important the fishery be seen as sustainable and exports continue to be accepted into the U.S. and Europe.
"If they don't take care of reducing and [doing] their part in terms of reducing the number of deaths we're seeing in Canadian waters, then there's certainly going to be a long-term economic impact for the fleet as well," Arnold said.  
Important to ecosystem
If the whales aren't protected, she said, there's a consensus the species will be functionally extinct in 20 years.
"This is a really important species for the ocean … and spends a lot of its time in Canadian waters," she said. "Canadians as a whole, I think we have a responsibility to work to try and protect this species."    
The fishing closures are only one of the steps taken to try to save the whales. Others include enforcement of slower speeds through parts of the gulf, making sure lobster and snow-crab gear isn't abandoned in the water, and testing gear that is less threatening to whales.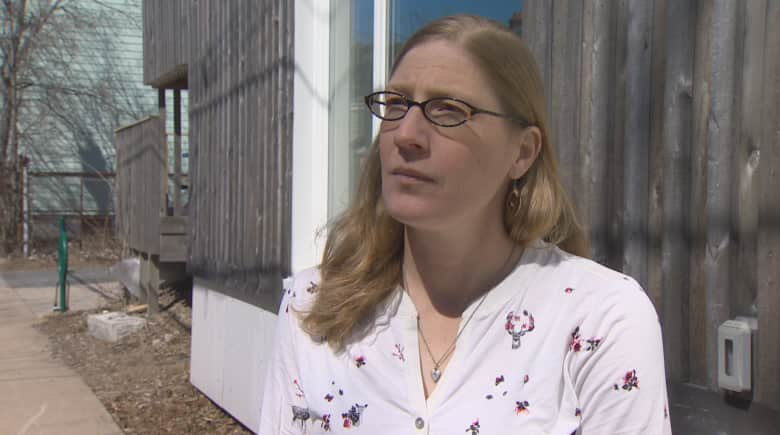 Shannon Arnold, marine policy co-ordinator with the Halifax-based Ecology Action Centre, says fishermen and fish plant workers shouldn't shoulder the cost of protecting whales. (CBC)
"Everyone is hands on deck to do everything they can this season to figure out what's going to work," Arnold said.
"There haven't been any deaths, so this is positive for the species this year, but It's a really tough blow for the fishermen."
The fishing closure Sunday was the sixth this season and includes a shallow coastal area. Four grids that were closed earlier have been reopened.
"This is tough for everyone," Arnold said. "And I can really feel for the fishermen at this point because it's obviously impacting their income and their livelihood and what they can bring home for their family," said Arnold.
[ad_2]